An investigation into illegal animal trafficking has discovered more than 80 puppies being kept in BUCKETS.
The RSPCA investigation uncovered 87 puppies in raids on three addresses across Stockport and Greater Manchester, as part of Operation Pagan aimed at shutting down the sale of dogs over the internet.
In one address at least six large plastic buckets filled with live puppies were discovered.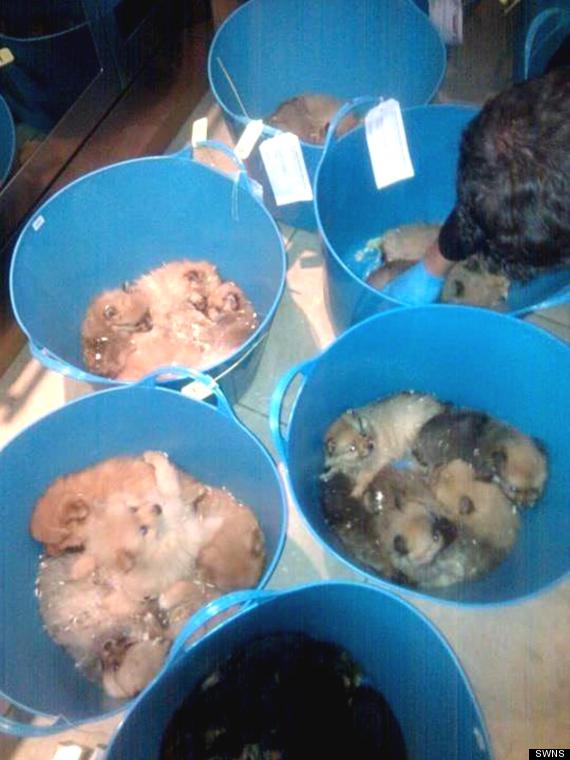 Six large plastic buckets filled with live puppies were discovered at one of the addresses
Inspectors also found four dead pups, including two which were callously left in a bucket in the footwell of a car.
The puppies were of several different breeds, including French Bulldogs, West Highland Terriers and Pomeranians.
SEE ALSO:
An independent vet inspected the puppies and determined that six were in need of treatment for sickness, and all the animals are now in the RSPCA's care.
A man was arrested on suspicion of breaching a ban on keeping animals, while a woman was arrested on suspicion of aiding and abetting the male to breach that ban.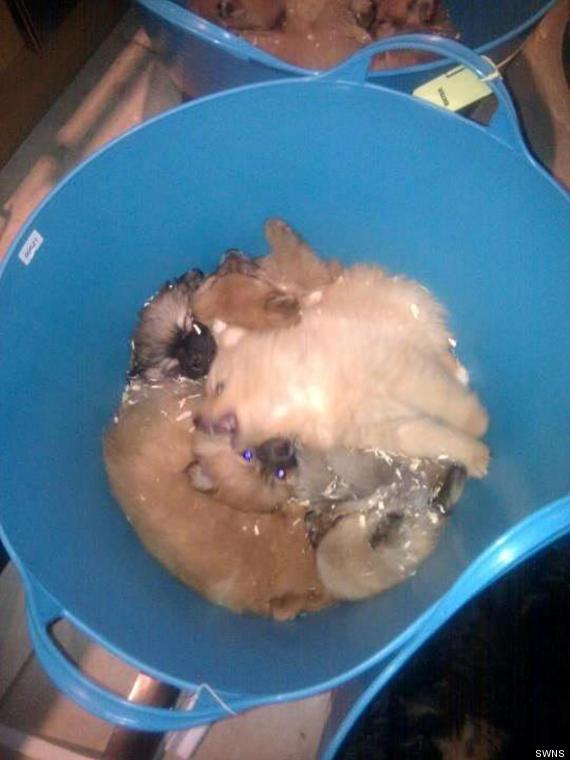 Four dead puppies were found during the raids, which are part of Operation Pagan
Mobile phones and computers were seized from the addresses, and the pair were later bailed.
Chief inspector Ian Briggs, from the RSPCA's special operations unit, said: "There are thousands of dogs in rescue centres desperately looking for new homes, but many people continue to fuel the trade in imported puppies by buying from rogue sellers who simply see the animals as money makers.
"At this time of year especially, we want to hammer home the message that people should never buy a dog as a Christmas present.
"Having a pet is a major responsibility, and not something that should be done on a whim as a gift for someone.
"Never let your heart rule your head and buy a puppy because you feel sorry for it. If you have any reservations at all, you should always walk away."
Sergeant Mike Cooper, from Greater Manchester Police, said: "We have worked extremely closely with our colleagues at the RSPCA in the planning and execution of this operation.
"Two people have been arrested and are now on police bail pending further enquiries. We witnesses some shocking scenes yesterday and we will do everything we can to assist the RSPCA in any future prosecution or operation.
"People should only buy pets through the proper channels after considered thought and I would like to echo the RSPCA's sentiments that they should not be given as gifts this Christmas."
Illegal Animal Trade: 11 Of The Dumbest Animal Smugglers (PHOTOS)
PHOTOS: 11 Dumbest Animal Smugglers -- Lizards In Underwear, Endangered Species On eBay And More
46-year-old Sony Dong was arrested at Los Angeles International Airport in 2009 for attempting to smuggle 15 songbirds from Vietnam. Who would have thought that feathers and bird poop on his feet would give him away? Dong used a custom cloth contraption that secured the birds to his calves via buttons, according to the AP.

Anson Wong, whose prior wildlife smuggling capers were documented in the book "The Lizard King," was recently arrested in Malaysia when his bag burst open, revealing 95 boa constrictors, 2 vipers, and a turtle inside, according to Mongabay.com. Wong was previously sentenced to 71 months of jail in the US for wildlife trafficking charges in 2000.

Last month, a 31-year-old Thai woman, Piyawan Palasarn, was caught trying to smuggle a baby tiger through Bangkok's international airport. Her brilliant scheme involved putting the live, drugged tiger in a suitcase with stuffed tigers, apparently unaware that an x-ray wouldn't be so easily fooled. When confronted, Palasarn denied the luggage was hers, claiming another passenger asked her to carry it. The three-month-old cub was dehydrated and couldn't walk when brought to a wildlife conservation center following its discovery. Palasarn faces up to four years in prison and a $1,300 fine, according to the AP. See more photos of the tiger HERE.

In 2009, an unidentified 22-year-old was caught in Norway with 14 snakes and 10 lizards strapped to his body, and a tarantula roaming around his baggage, Daily Mail reports. The non-venomous baby royal pythons were taped to his body inside of rolled-up socks, while the albino leopard geckos were in small tins attached to his legs. According to office manager Helge Breilid at Kristiansand customs in Norway, "Customs officers quickly realized the man was smuggling animals, because his whole body was in constant motion."

Graham and Norah Pitchforth just seemed like a lovable couple in their 60s who ran the local pet shop for 20 years in West Yorkshire, England. Who would've thought that they were illegally selling the skin and bones of endangered species on eBay? Earlier this year, the Pitchforths pleaded guilty to multiple charges -- 22 specific transactions -- involving importing, exporting, selling and possessing endangered species, The Independent reports. The couple would furtively conduct their business by labeling packages as other items, like "table decorations," and requesting their buyers to destroy emails following the purchase. They now face 44 weeks locked up, and 200 hours of unpaid work.

Jeffrey Lendrum was recently sentenced to 30 months in jail for attempting to smuggle 14 rare peregrine falcon eggs from Britain to Dubai, where falconry is a national sport. According to the Guardian, Lendrum caught the curious eye of a cleaner who spotted him running in and out of the shower in the Emirates' business class lounge in Birmingham international airport. He was then discovered with the 14 eggs inside of socks strapped to his body. Lendrum is a former member of the Rhodesian Special Air Service, and allegedly developed risky techniques to acquire the eggs, including rappelling down cliffs and roping out of helicopters. "He knew exactly what he was doing," Andy McWilliam, from the National Wildlife Crime Unit, told the BBC. "Lendrum is the highest level of wildlife criminal."

58-year-old German reptile collector Hans Kurt Kubus was jailed for 14 weeks and fined $3,540 after being caught with 44 geckos and skinks in his underwear at a New Zealand international airport. Department of Conservation prosecutor Mike Bodie called it "the most serious case of its kind detected in New Zealand for a decade or more," and said each critter could have been worth around $2,800 on the European market, the AP reports.

Chris Mulloy and his traveling partner, Robert Cusack, were busted for smuggling various flora and fauna through the Los Angeles International Airport upon returning from a trip to Asia in 2002. According to the New York Times, federal agents became suspicious when large birds of paradise flew out of Cusack's luggage. A closer inspection found more birds and rare orchids in his belongings, and he even had two pygmy monkeys in his pants. Mulloy wasn't actually found guilty of any crime until 2006, when information from Cusack helped investigators discover that he had smuggled in two leopards on that same 2002 trip.

When you have a suitcase big enough to fit eight live foxes and 50 chameleons, it's enough to catch the attention of authorities in Egypt. A 36-year-old man was stopped by airport security in Cairo who, upon opening his enormous baggage, found "the squirming mass of animals confined in small plastic cages," according to the AP. The man intended to sell the animals in Thailand.

In July, Roberto Cabrera was busted in Mexico City's international airport after attempting to smuggle 18 endangered titi monkeys from Peru. Cabrera was so concerned with the x-rays harming the 6-inch creatures, that instead of putting them in a suitcase he strapped them to his body with a girdle, the AP reports. Well, the bulge of having 18-monkeys underneath your clothes was enough to tip off authorities, who then conducted a full body search. Unfortunately, two of the little fellows didn't survive. So much for keeping them safe from the x-rays.

Last year, Michael Plank was caught trying to get through Los Angeles International Airport with 15 live lizards strapped to his chest. According to the AP, the lizards were collectively worth more than $8,500.