Kate Middleton Pregnant: Hospitalised Duchess Of Cambridge Suffering From Hyperemesis Gravidarum
The Duchess of Cambridge has been admitted to King Edward VII Hospital suffering from severe morning sickness.
Hyperemesis gravidarum is a rare condition which causes severe vomiting during pregnancy.
The severity of the vomiting can cause dehydration, weight loss and a build-up of toxins in the blood or urine called ketosis. The Duchess of Cambridge is suffering from hyperemesis gravidarum
It affects 3.5 per 1,000 pregnant women and in severe cases, can cause women to vomit blood.
Symptoms may also include severe nausea, low blood pressure and fast heart rate, headaches, lethargy or confusion.
Hyperemesis gravidarum is treated by giving women fluids intravenously and by anti-sickness tablets.
"In very simple terms hyperemesis means vomiting a lot and gravidarum means in pregnancy," said consultant obstetrician Daghni Rajasingam, spokeswoman for the Royal College of Obstetricians and Gynaecologists.
SEE ALSO:
"The diagnosis is given when women cannot keep food or fluid down because she has severe vomiting.
"The women who are vomiting pretty much constantly, that cannot keep any nutrients down, they need to be admitted to hospital."
She said the length of stay in hospital depends on each patient but many women are discharged in a matter of days.
"It depends on how well the woman is keeping fluids down," Ms Rajasingam added.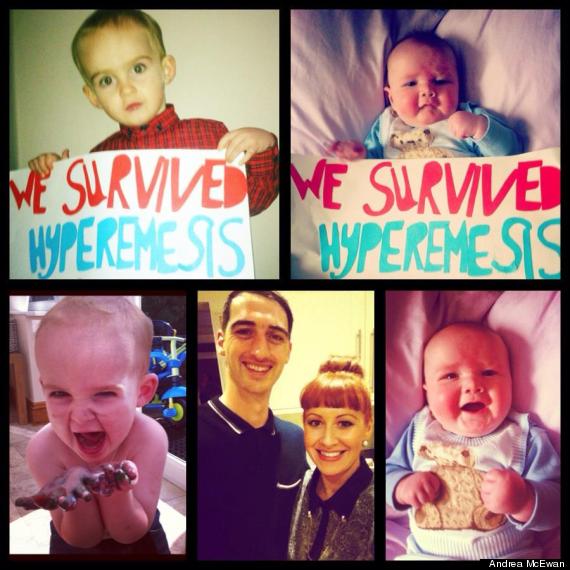 Andrea McEwan, pictured with husband Kevin McEwan and their sons Flynn and Kurt, suffered from hyperemesis gravidarum for both her pregnancies, but gives Kate a message of hope
She said the condition is thought to be caused by elevated levels of the "pregnancy hormone" hCG. The body begins to produce human chorionic gonadotrophin (hCG) after conception.
Huffington Post UK spoke to Andrea McEwan, a 28-year-old who suffered from the condition during both of her pregnancies.
LIKE HUFFPOST UK LIFESTYLE ON FACEBOOK | FOLLOW US ON TWITTER
McEwan, from Alnwick, Northumberland, was admitted to A&E several times and was vomiting "up to 100 times a day".
She said: "I tore my oesophagus, vomited blood and became extremely jaundiced. I lost three-and-a-half stone in the space of a few months. I looked ill, I didn't look pregnant."
Despite her trials, the 28-year-old is now the proud mother of two and wishes the Duchess of Cambridge all the best.
She said: "God bless every woman who is currently suffering from hyperemesis gravidarum, it's the hardest journey I've ever encountered and Kate's news reminds me of my own experience.
"Always remember, it will end, keep strong and don't be afraid to cry. Remember what you are fighting for and picture the day you will be holding your baby in your arms."
McEwan was supported throughout her pregnancies by the Pregnancy Sickness Support group.