The national men's magazine FHM has experienced the full force of Twitter's outrage, after making jokey remarks about violence against women in its January issue.
A comment that advises readers against wearing their "girlfriend/mother/victim's socks", made in the magazine's style pages, has lead Twitter users to accuse FHM of 'normalising gender-based violence'.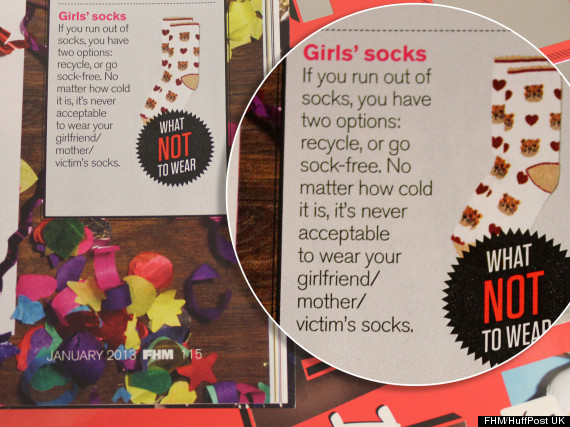 The section in question forms part of a 'winning socks' feature (page 115, if you're interested)
The section was highlighted on Twitter by the Everyday Sexism project, a service allowing women to document experiences of sexism online.
Everyday Sexism wrote: "Tweet @FHM & @bauermedianews if you think this normalisation of gender based violence is not OK"
@EverydaySexism

EverydaySexism
Twitter users have accused the magazine of normalising violence against women, but FHM has said that its intentions have been "misinterpreted".
The magazine issued the following statement:
"FHM apologises unreservedly if the comment that appears in this month's issue has been misinterpreted and has caused offence. We would like to make it clear that FHM does not condone and will never make light of violence against women."
However, rather than calming the situation, the response appears to have only stoked the fire, with Twitter users accusing the magazine of failing to take responsibility for their actions.
Laura Bates, founder of Everyday Sexism project, told HuffPost UK Lifestyle:
"For Bauer Media to release a statement that they apologise 'if the comment...has been misinterpreted' is no kind of apology at all. FHM's statement suggests that the joke was somehow meant in a different way, but in no way even attempts to provide an explanation for what this might be."
Twitter Reacts To FHM's January Issue
Ah yes, the "You *misinterpreted* our rape joke as a rape joke" defense/notpology from @FHM. Good call! http://t.co/IzAwYIgT @EverydaySexism

@EverydaySexism @fhm @bauermedianews rape jokes aren't funny or ok. And your 'apology' was abysmal.

@FHM stop, think - half the world are implicated in your "girlfriend/mother/victim" statement https://t.co/b5SB4fPF @EverydaySexism

Hey @FHM So whats the 'hilarious' def of victim in your clever lads only dictionary? The victims are waiting for the banter @EverydaySexism

@stellajyoung @FHM @EverydaySexism Victim? Victim? How'dyou like someone to think of your mother, sister, daughter, aunt like that? #sick

@EverydaySexism @FHM I mean when did rape/abuse/vulgarity become 'banter'- banter belongs to those with wit and intelligence.

@stellajyoung @fhm @everydaysexism what the hell?! This is revolting!!!

@flutterbyplant @EverydaySexism @FHM if you don't condone or make light of violence against women , why do you use the word victim in the ad

@MsJenniferH @fhm @everydaysexism That's not funny. Deeply saddened.

@the_author_ @fhm @everydaysexism Next apology: "We're sorry you were offended."

Fail to see how this has been misinterpreted. What else did @FHM mean by victim? http://t.co/srnxynBM @EverydaySexism

@the_author_ @FHM @EverydaySexism Oh yes, there are SO MANY ways to interpret what they wrote. We must be confused. Silly female brains.

Hey @FHM, what the hell is wrong with you? Hoho, those heeelarious victims of sexual violence. Ahahaha. @EverydaySexism http://t.co/XgQrcKu0

@FHM @EverydaySexism apparently we've all misinterpreted. Because the word "victim" is hard for little girly brains to grasp.

@FHM Ever considered that someone's "victim" is perhaps also someone's girlfriend or mother? @EverydaySexism

I can't believe that they think it is acceptable. IT IS NOT! Disgusting. @EverydaySexism @FHM https://t.co/4zZ5W4p8

Hi @FHM just so you know I won't be buying your mag again. Unamused former reader. http://t.co/DaPdNeiq via @EverydaySexism

(@EverydaySexism) Shame on you @FHM, and any person who comes to the defence of that vile "joke". You sicken me.

@EverydaySexism @FHM to FHM - I really don't like your 'joke'.

@FHM Real men don't wear women's socks - nor do they have 'victims'. Not cool. @EverydaySexism
She added: "The sheer number of people who have reacted with shock, anger and disgust shows beyond doubt that this is a very real issue and one that FHM needs to seriously address."
"We are living in a society in which 80,000 women are raped every year and 400,000 sexually assaulted; in which 2 women per week on average are killed by a current or former partner.
"And a major obstacle to tackling these problems is the cultural attitudes that blur the boundaries and sometimes even seem to condone sexual assault and gender based violence under the false excuse of jokes and 'banter'. Already, huge numbers of victims are silenced by the belief that they wouldn't be taken seriously, that they are 'over-reacting', that what happened to them was 'normal', 'not a big deal' or 'just the way things are'."