The Huffington Post picture desk live bringing you the best pictures of the day from around the world chosen by our very own photo editors.
We would love to hear your thoughts on the stories of the day - leave a comment at the bottom of the blog.
Follow The Huffington Post picture desk and our picture editors Elliot Wagland, Tahira Mirza and Matthew Tucker on twitter.

10/12/2012 17:30 GMT
Washington Pea Souper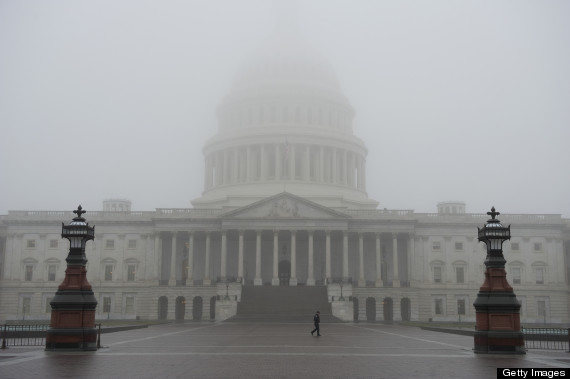 A policemen walks across the East Front Plaza of the U.S. Capitol in heavy fog.
10/12/2012 16:18 GMT
Nobel Peace Prize Ceremony From left, European Council President Herman Van Rompuy, European Commission President Jose Manuel Barroso and European Parliament President Martin Schulz with the Nobel diploma on the podium at the City Hall, Oslo, during the Nobel Peace Prize ceremony, Monday Dec. 10, 2012. The European Union has received this year's Nobel Peace Prize in the Norwegian capital, for promoting "peace and reconciliation, democracy and human rights" in Europe for six decades following the tremendous devastation of World War II.
10/12/2012 16:14 GMT
Espresso Elephant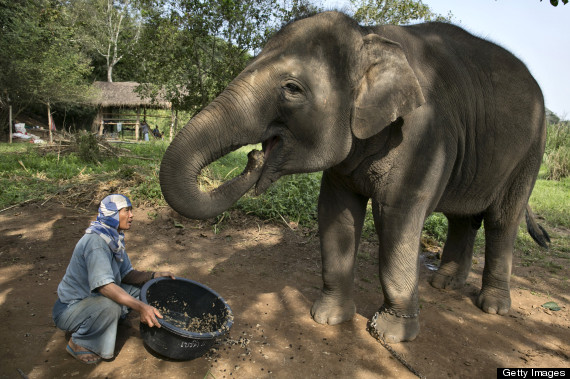 Lun, a Thai mahout, serves a coffee bean mixture at an elephant camp at the Anantara Golden Triangle resort on December in Golden Triangle, northern Thailand. Black Ivory Coffee, started by Canadian coffee expert Blake Dinkin is made from Thai arabica hand picked beans. The coffee is created from a process whereby coffee beans are naturally refined by a Thai elephant. It takes about 15-30 hours for the elephant to digest the beans, and later they are plucked from their dung and washed and roasted. Approximately 10,000 beans are picked to produce 1kg of roasted coffee. At USD 1,100 per kilogram or USD 500 per pound, the cost per serving of the elephant coffee equals USD 50, making the exotic new brew the world's priciest. It takes 33 kilograms of raw coffee cherries to produce 1 kilo of Black Ivory Coffee.
10/12/2012 15:40 GMT
The Real Life Noahs Ark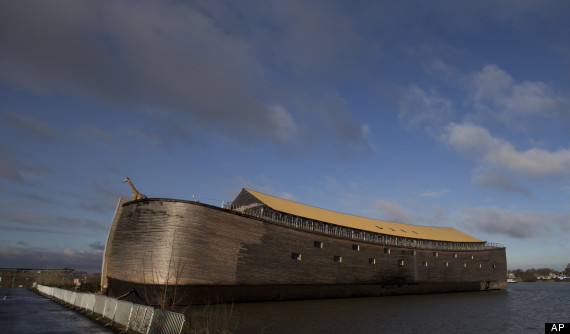 A full scale replica of Noah's Ark in seen in Dordrecht, Netherlands, Monday Dec. 10, 2012. The Ark opened its doors in the Netherlands after receiving permission to receive up to 3,000 visitors per day. For those who don't know or remember the Biblical story, God ordered Noah to build a boat massive enough to save animals and humanity while God destroyed the rest of the earth in an enormous flood.
10/12/2012 14:18 GMT
Hockney For Sale (If You Have £150,000 To Spare)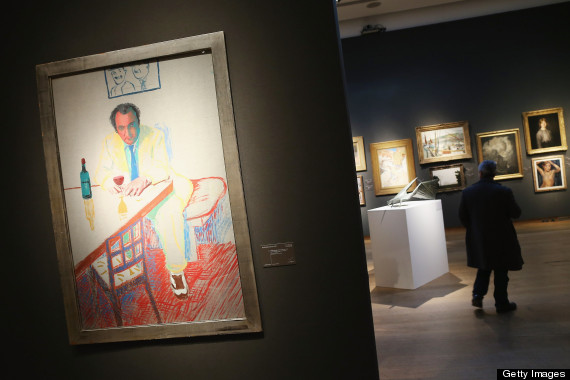 A man walks past a painting entitled 'Portrait of Peter Langan,' by David Hockney during a press call at Christie's auction house in London. The painting makes up part of the 'Rule Britannia' modern British art evening sale and is expected to fetch between £100,000 and £150,000 when it goes on sale 12 December 2012. The sale includes pieces from restauranteur and art collector Peter Langan, whose Langan's 'Brasserie' and 'Odin's' will sell some of their collection which includes works by David Hockney.
10/12/2012 13:24 GMT
No Smoking Zone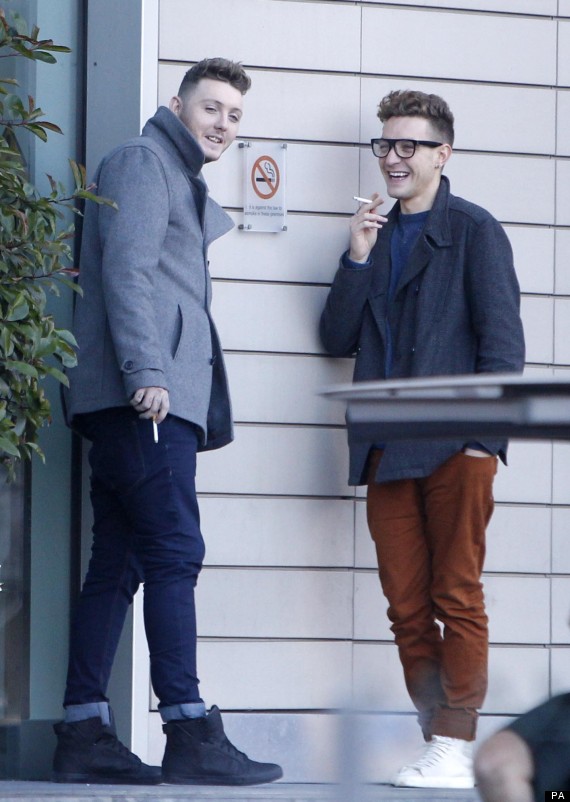 X Factor winner James Arthur takes a break from interviews at The Lowry Hotel, Manchester, the morning after he won the contest. The X Factor's ratings slide has continued with Sunday's final pulling in 2 million fewer viewers than last year. Figures from ITV show that last night's 2 hour programme, which was won by James Arthur had an average audience of 11.1 million compared with the 13.1 million who watched Little Mix win in 2011.
10/12/2012 12:33 GMT
Protest Commemorates International Human Rights Day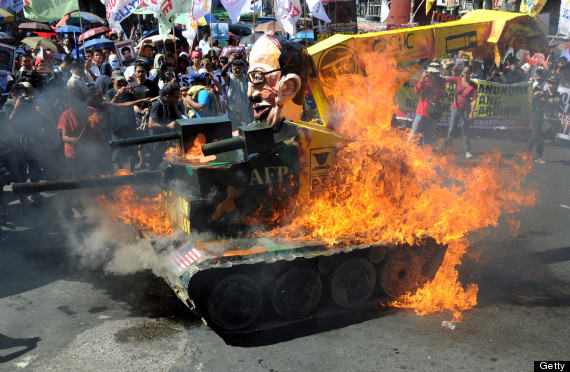 Protesters burn an effigy of Philippine President Benigno Aquino on board a mock tank as they commemorate International Human Rights Day near the Presidential Palace in Manila on December 10, 2012.
10/12/2012 12:31 GMT
Big Hands Boris Launches New Overground Extension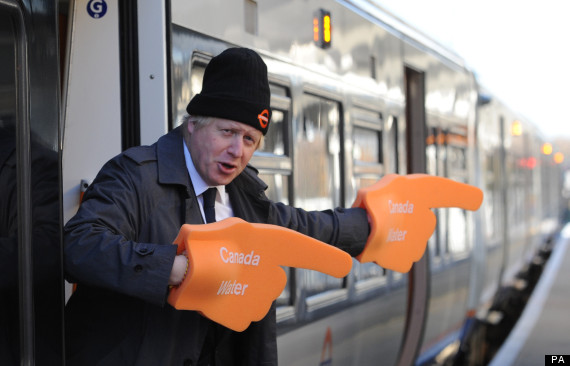 London Mayor Boris Johnson boards one of the first trains of the new London Overground extension connecting Clapham Junction with Canada Water. The new service will be London's first new orbital Journey times from south and east London. See PA story RAIL Link. Photo credit should read: Stefan Rousseau/PA
10/12/2012 12:30 GMT
Curtains Up! The Old Vic Celebrate The 24 Hour Musicals Gala Performance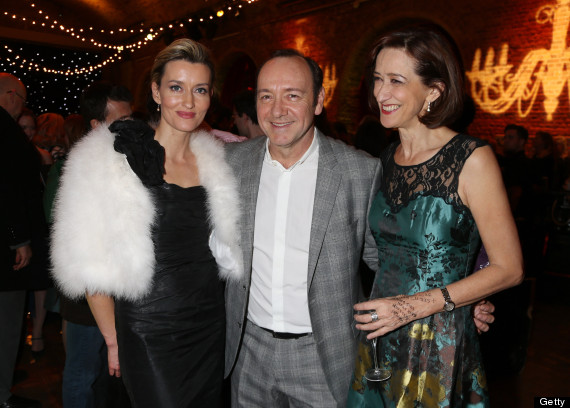 (L-R) Natalie McElhone, Kevin Spacey and Haydn Gwynne celebrate at the post-show party, The 25th Hour, following The Old Vic's 24 Hour Musicals Celebrity Gala 2012 during which guests drank Jack Daniels Single Barrel, Curtain Raiser cocktails in The Great Halls, Vinopolis, Borough on December 9, 2012 in London.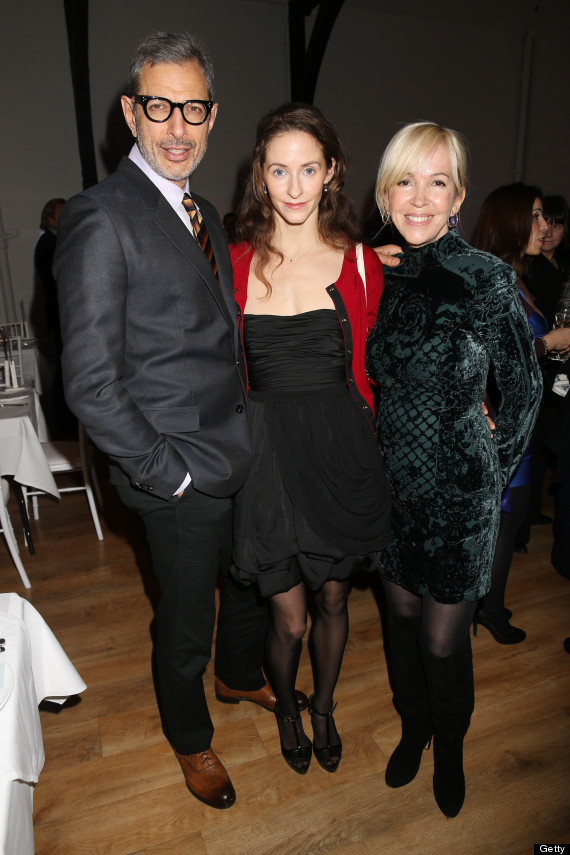 (L-R) Jeff Goldblum, Emilie Livingston and Sally Greene attend the VIP backstage dinner ahead of this year's Old Vic 24 Hour Musicals Celebrity Gala at The Old Vic Theatre.
Read our interview with Jeff Goldblum here.
10/12/2012 12:00 GMT
DNA project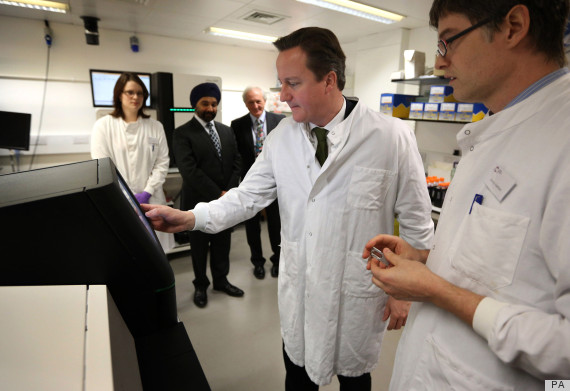 Prime Minister David Cameron (second right) stands with Dr James Hadfield (right) as he uses a personal genome sequencing machine during a visit to the Cancer Research UK Cambridge Research Institute in Cambridge, England.
SUBSCRIBE TO & FOLLOW UK DAILY BRIEF