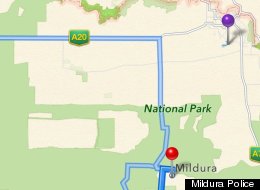 An Australian police force has advised people not to use the notoriously inaccurate Apple Maps after four people went missing.
Apple switched from using Google's mapping data to its own custom-built solution in September.
It was immediately criticised for featuring misleading and outdated information, poor 3D images and lacking features such as Street View. Apple later apologised and promised - first in October and as recently as last week - that it was putting everything behind improving the service.
But according to police in Mildura, Victoria, using the application could be potentially life-threatening - and four people have already been lost
The problem stems from Apple's maps locating 'Mildura' miles from its actual location. Those using the application are apparently following the directions into the Murray-Sunset National Park, up to 70km away from town.
Mildura Police said that several people have been lost after following the misleading directions, leading them to be stuck in remote areas of shifting sands, without water and amid soaring temperatures.
Those lost include a man who was apparently left stranded for 24 hours last week, as temperatures rocketed past 46 degrees C.
The man apparently drove into the park at 6pm following Apple Maps directions, but had to stop driving because his car was getting stuck in the sand. He was only rescued after an entire day in the park.
Mildura police said:
"Police are extremely concerned as there is no water supply within the Park and temperatures can reach as high as 46 degrees, making this a potentially life threatening issue.

Some of the motorists located by police have been stranded for up to 24 hours without food or water and have walked long distances through dangerous terrain to get phone reception.

Police have contacted Apple in relation to the issue and hope the matter is rectified promptly to ensure the safety of motorists travelling to Mildura.

Anyone travelling to Mildura or other locations within Victoria should rely on other forms of mapping until this matter is rectified."
Here are our ten favourite errors found so far in Apple's Maps app:

Apple was just as distraught as you when Woolworths shut down. So they brought it back. Our Price, Electronics Boutique and other defunct stores are also listed.

Apple removed public transport search from its new Map app - but included Aldwych Station which has been closed since 1994. And was never in Lincoln's Inn. Also, the Sir John Soane museum is not located in the Fields, but around the edge of the square.

Apple's new maps seem to not know that Shakespeare's birth place exists.

Apple has decided to stay out of the whole Falklands/Las Malvinas debate by removing all directions, roads and towns from the islands.

Apple has turned the ancient spires and colleges of Cambridge into a wasteland with its recent Maps app. And has moved Downing College from the outskirts of the town into the centre - miles from its actual location.

This greengrocers is listed on Apple's maps - but has been closed for 15 years.

This man's 35-acre city farm is named Airfield. It is not an Air Field - but Apple has decided otherwise.

The Apple store in Sydney is listed as being on the other side of the road than it really is. Oops.

The marina of St. Katherine's Dock is now filled with cement, according to Apple.

The town of Hagley is listed as being the town of Dudley - at least seven miles away.

The town of Uckfield is almost entirely missing from Apple's Maps.