Arsenal playmaker Santi Cazorla became the latest player this season to execute a dive in the Gunners' 2-0 Premier League win against West Brom, only the Spaniard was savvy enough to make it look convincing enough, with the infamous Mike Jones refereeing, to get away with it.
Baggies midfielder Steven Reid pointed an accusatory finger at him and team-mate James Morrison even put a conciliatory arm around Cazorla. Perhaps he was instantly regretting his tumble, but Cazorla wasn't honest enough to confess he had taken a dive. Mikel Arteta clipped the ball into the net after the protests had ended.
Even Arsène Wenger, a man loathe to commenting on incidents he ostensibly did not see, said Arsenal were lucky to have been awarded a spotkick. He stopped short of criticising Cazorla, saying the Spain international had told him he'd been kicked, but the replays showed this was nothing but a fib.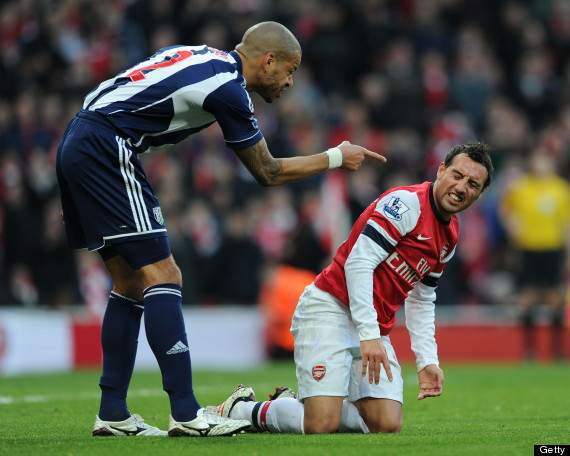 There is little to debate about diving despite what some have otherwise stated. It's an act of cheating deplored in English football but it is also a tribal one. Gary Lineker clarified it was "ludicrous" foreigners were scapegoated ahead of British divers. "The last 2 Saturdays on MOTD we analysed Ridgewell, Bale & Neville", he confirmed, probably after Liverpool's Twitteratti bombarded him.
Uefa nearly laid a marker down when they banned Arsenal striker Eduardo da Silva for diving against Celtic in 2009 but the Gunners successfully appealed, apparently proving there was contact. It would have been minimal at best, which encourages players to make going down easily legal when it should be regarded as simulation.
SUBSCRIBE TO & FOLLOW UK SPORT