The Huffington Post picture desk live bringing you the best pictures of the day from around the world chosen by our very own photo editors.
We would love to hear your thoughts on the stories of the day - leave a comment at the bottom of the blog.
Follow The Huffington Post picture desk and our picture editors Elliot Wagland, Tahira Mirza and Matthew Tucker on twitter.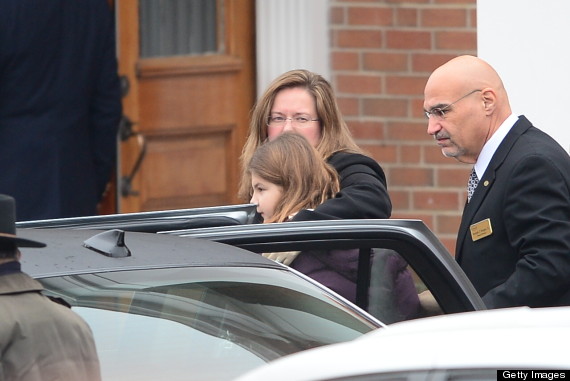 The casket of James Mattioli, 6 is carried into Saint Rose of Lima Church on December 18, 2012 in Newtown, Connecticut as his sister Anna and mother Cindy(C) arrive for the funeral. Lawmakers are under mounting pressure to address the issue of gun laws in the aftermath of last week's school massacre in Newtown, Connecticut.
Loading Slideshow
Pallbearers carry a casket out of St. Rose of Lima Roman Catholic Church after funeral services for James Mattioli, Tuesday, Dec. 18, 2012, in Newtown, Conn. Mattioli, 6, was killed when Adam Lanza walked into Sandy Hook Elementary School in Newtown, Conn., Dec. 14, and opened fire, killing 26 people, including 20 children, before killing himself. (AP Photo/Julio Cortez)

Friends and co-workers hold a sign as the hearse and funeral procession for James Mattioli, 6, who died in the Sandy Hook Elementary School shootings, approaches the St. John's Cemetery Tuesday, Dec. 18, 2012, in Darien, Conn. Adam Lanza walked into Sandy Hook Elementary School in Newtown Dec. 14, and opened fire, killing 26 people, including 20 children. Tuesday, Dec. 18, 2012. (AP Photo/Craig Ruttle)

Susan Sheperd wipes a tear as she stands with friends and co-workers as the funeral procession for James Mattioli, 6, who died in the Sandy Hook Elementary School shootings, approaches the St. John's Cemetery Tuesday, Dec. 18, 2012, in Darien, Conn. Center are his wife Debbie and daughter Emily, 10. Adam Lanza walked into Sandy Hook Elementary School in Newtown Dec. 14, and opened fire, killing 26 people, including 20 children. (AP Photo/Craig Ruttle)

The funeral procession for James Mattioli, 6, who died in the Sandy Hook Elementary School shootings, approaches the St. John's Cemetery Tuesday, Dec. 18, 2012, in Darien, Conn. Gunman Adam Lanza walked into Sandy Hook Elementary School in Newtown, Dec. 14, and opened fire, killing 26 people, including 20 children. (AP Photo/Craig Ruttle)

Tom Doyle, back left, standing with family and co-workers, wipes his face as the funeral procession for 6-year-old James Mattioli, who died in the Sandy Hook Elementary School shootings, approaches the St. John's Cemetery Tuesday, Dec. 18, 2012, in Darien, Conn. Center are his wife Debbie and daughter Emily, 10. Adam Lanza opened fire at the Sandy Hook Elementary School in Newtown on Friday, killing 26 people, including 20 children. (AP Photo/Craig Ruttle)

Mourners embrace outside of St. Rose of Lima Roman Catholic Church during funeral services for James Mattioli, Tuesday, Dec. 18, 2012, in Newtown, Conn. Mattioli, 6, was killed when Adam Lanza walked into Sandy Hook Elementary School in Newtown, Conn., Dec. 14, and opened fire, killing 26 people, including 20 children, before killing himself. (AP Photo/Julio Cortez)

US-CRIME-SCHOOL SHOOTING

The casket of James Mattioli, 6 is carried into Saint Rose of Lima Church on December 18, 2012 in Newtown, Connecticut as his sister Anna and mother Cindy(C) arrive for the funeral. Lawmakers are under mounting pressure to address the issue of gun laws in the aftermath of last week's school massacre in Newtown, Connecticut. AFP PHOTO/EMMANUEL DUNAND (Photo credit should read EMMANUEL DUNAND/AFP/Getty Images)

US-CRIME-SCHOOL SHOOTING

Mourners attend the funeral services of James Mattioli, 6 at Saint Rose of Lima Church on December 18, 2012 in Newtown, Connecticut. Lawmakers are under mounting pressure to address the issue of gun laws in the aftermath of last week's school massacre in Newtown, Connecticut. AFP PHOTO/EMMANUEL DUNAND (Photo credit should read EMMANUEL DUNAND/AFP/Getty Images)

US-CRIME-SCHOOL SHOOTING

Mourners attend the funeral services of James Mattioli, 6 at Saint Rose of Lima Church on December 18, 2012 in Newtown, Connecticut. Lawmakers are under mounting pressure to address the issue of gun laws in the aftermath of last week's school massacre in Newtown, Connecticut. AFP PHOTO/EMMANUEL DUNAND (Photo credit should read EMMANUEL DUNAND/AFP/Getty Images)

US-CRIME-SCHOOL SHOOTING

Mourners attend the funeral services of James Mattioli, 6 at Saint Rose of Lima Church on December 18, 2012 in Newtown, Connecticut. Lawmakers are under mounting pressure to address the issue of gun laws in the aftermath of last week's school massacre in Newtown, Connecticut. AFP PHOTO/EMMANUEL DUNAND (Photo credit should read EMMANUEL DUNAND/AFP/Getty Images)

US-CRIME-SCHOOL SHOOTING

Mourners arrive to attend the funeral services of James Mattioli, 6 at Saint Rose of Lima Church on December 18, 2012 in Newtown, Connecticut. Lawmakers are under mounting pressure to address the issue of gun laws in the aftermath of last week's school massacre in Newtown, Connecticut. AFP PHOTO/EMMANUEL DUNAND (Photo credit should read EMMANUEL DUNAND/AFP/Getty Images)

US-CRIME-SCHOOL SHOOTING

Mourners attend the funeral services of James Mattioli, 6 at Saint Rose of Lima Church on December 18, 2012 in Newtown, Connecticut. Lawmakers are under mounting pressure to address the issue of gun laws in the aftermath of last week's school massacre in Newtown, Connecticut. AFP PHOTO/EMMANUEL DUNAND (Photo credit should read EMMANUEL DUNAND/AFP/Getty Images)

US-CRIME-SCHOOL SHOOTING

The casket of James Mattioli, 6 is driven to Saint Rose of Lima Church on December 18, 2012 in Newtown, Connecticut for his funeral. Lawmakers are under mounting pressure to address the issue of gun laws in the aftermath of last week's school massacre in Newtown, Connecticut. AFP PHOTO/EMMANUEL DUNAND (Photo credit should read EMMANUEL DUNAND/AFP/Getty Images)

US-CRIME-SCHOOL SHOOTING

Mourners attend the funeral services of James Mattioli, 6 at Saint Rose of Lima Church on December 18, 2012 in Newtown, Connecticut. Lawmakers are under mounting pressure to address the issue of gun laws in the aftermath of last week's school massacre in Newtown, Connecticut. AFP PHOTO/EMMANUEL DUNAND (Photo credit should read EMMANUEL DUNAND/AFP/Getty Images)

US-CRIME-SCHOOL SHOOTING

Mourners arrive to attend the funeral services of James Mattioli, 6 at Saint Rose of Lima Church on December 18, 2012 in Newtown, Connecticut. Lawmakers are under mounting pressure to address the issue of gun laws in the aftermath of last week's school massacre in Newtown, Connecticut. AFP PHOTO/EMMANUEL DUNAND (Photo credit should read EMMANUEL DUNAND/AFP/Getty Images)

US-CRIME-SCHOOL SHOOTING

Mourners attend the funeral services of James Mattioli, 6 at Saint Rose of Lima Church on December 18, 2012 in Newtown, Connecticut. Lawmakers are under mounting pressure to address the issue of gun laws in the aftermath of last week's school massacre in Newtown, Connecticut. AFP PHOTO/EMMANUEL DUNAND (Photo credit should read EMMANUEL DUNAND/AFP/Getty Images)

US-CRIME-SCHOOL SHOOTING

A man arrives with flowers for the funeral services of James Mattioli, 6 at Saint Rose of Lima Church on December 18, 2012 in Newtown, Connecticut. Lawmakers are under mounting pressure to address the issue of gun laws in the aftermath of last week's school massacre in Newtown, Connecticut. AFP PHOTO/EMMANUEL DUNAND (Photo credit should read EMMANUEL DUNAND/AFP/Getty Images)

US-CRIME-SCHOOL SHOOTING

Mourners arrive to attend the funeral services of James Mattioli, 6 at Saint Rose of Lima Church on December 18, 2012 in Newtown, Connecticut. Lawmakers are under mounting pressure to address the issue of gun laws in the aftermath of last week's school massacre in Newtown, Connecticut. AFP PHOTO/EMMANUEL DUNAND (Photo credit should read EMMANUEL DUNAND/AFP/Getty Images)

Pallbearers carry the casket containing the body of James Mattioli into St. Rose of Lima Roman Catholic Church for funeral services, Tuesday, Dec. 18, 2012, in Newtown, Conn. Mattioli, 6, was killed when Adam Lanza walked into Sandy Hook Elementary School in Newtown, Conn., Dec. 14, and opened fire, killing 26 people, including 20 children, before killing himself.(AP Photo/Julio Cortez)

Mourners arrive at St. Rose of Lima Roman Catholic Church during funeral services for James Mattioli, Tuesday, Dec. 18, 2012, in Newtown, Conn. Mattioli, 6, was killed when Adam Lanza walked into Sandy Hook Elementary School in Newtown, Conn., Dec. 14, and opened fire, killing 26 people, including 20 children, before killing himself. (AP Photo/Julio Cortez)

Pallbearers carry the casket containing the body of James Mattioli into St. Rose of Lima Roman Catholic Church for funeral services, Tuesday, Dec. 18, 2012, in Newtown, Conn. Mattioli, 6, was killed when Adam Lanza walked into Sandy Hook Elementary School in Newtown, Conn., Dec. 14, and opened fire, killing 26 people, including 20 children, before killing himself.(AP Photo/Julio Cortez)

A makeshift memorial stands outside of St. Rose of Lima Roman Catholic Church as the hearse carrying the body of James Mattioli, Tuesday, Dec. 18, 2012, in Newtown, Conn. Mattioli, 6, was killed when Adam Lanza walked into Sandy Hook Elementary School in Newtown, Conn., Dec. 14, and opened fire, killing 26 people, including 20 children, before killing himself.(AP Photo/Julio Cortez)

Pallbearers carry the casket containing the body of James Mattioli into St. Rose of Lima Roman Catholic Church for funeral services, Tuesday, Dec. 18, 2012, in Newtown, Conn. Mattioli, 6, was killed when Adam Lanza walked into Sandy Hook Elementary School in Newtown, Conn., Dec. 14, and opened fire, killing 26 people, including 20 children, before killing himself.(AP Photo/Julio Cortez)

A procession leads a hearse toward St. Rose of Lima Roman Catholic Church during funeral services for James Mattioli, Tuesday, Dec. 18, 2012, in Newtown, Conn. Mattioli, 6, was killed when Adam Lanza walked into Sandy Hook Elementary School in Newtown, Conn., Dec. 14, and opened fire, killing 26 people, including 20 children, before killing himself. (AP Photo/Julio Cortez)

A makeshift memorial stands outside of St. Rose of Lima Roman Catholic Church as the hearse carrying the body of James Mattioli, Tuesday, Dec. 18, 2012, in Newtown, Conn. Mattioli, 6, was killed when Adam Lanza walked into Sandy Hook Elementary School in Newtown, Conn., Dec. 14, and opened fire, killing 26 people, including 20 children, before killing himself.(AP Photo/Julio Cortez)

A procession leads a hearse toward St. Rose of Lima Roman Catholic Church during funeral services for James Mattioli, Tuesday, Dec. 18, 2012, in Newtown, Conn. Mattioli, 6, was killed when Adam Lanza walked into Sandy Hook Elementary School in Newtown, Conn., Dec. 14, and opened fire, killing 26 people, including 20 children, before killing himself. (AP Photo/Julio Cortez)

A hearse arrives at St. Rose of Lima Roman Catholic Church during funeral services for James Mattioli,Tuesday, Dec. 18, 2012, in Newtown, Conn. Mattioli, 6, was killed when Adam Lanza walked into Sandy Hook Elementary School in Newtown, Conn., Dec. 14, and opened fire, killing 26 people, including 20 children, before killing himself.(AP Photo/Julio Cortez)