A 13-year-old girl has brought a toy giant to its knees in a battle encompassing play ovens, sexism and kiddies' Christmas lists.
McKenna Pope took on Hasbro over the packaging of its pink and purple Easy Bake Ovens - which feature female children delightedly baking cakes.
Pope's anti-gender stereotyping crusade was on behalf of her four-year-old brother Gavin, a budding cook who wants an Easy Bake Oven for Christmas, but wisely queried: "Why they only put girls in the commercial?"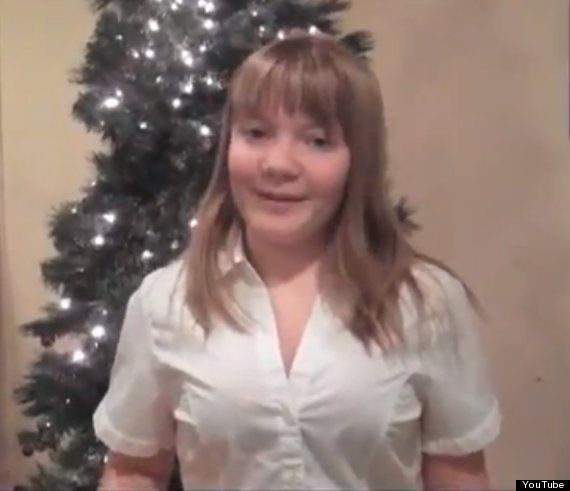 McKenna Pope petitioned Hasbro to include boys on the packaging for Easy Bake Ovens
McKenna began a petition on Change.org - which now numbers more than 44,000 signatures - and in an accompanying pitch made her case:
However, we soon found it quite appalling that boys are not featured in packaging or promotional materials for Easy Bake Ovens -- this toy my brother's always dreamed about. And the oven comes in gender-specific hues: purple and pink.

I feel that this sends a clear message: women cook, men work.

I have always been adamantly against anything that promotes specific roles in society for men and women, and having grown up with toys produced by the Hasbro corporation, it truly saddens me that such a successful business would resort to conforming to society's views on what boys do and what girls do.

I want my brother to know that it's not "wrong" for him to want to be a chef, that it's okay to go against what society believes to be appropriate. There are, as a matter of fact, a multitude of very talented and successful male culinary geniuses, i.e. Emeril, Gordon Ramsey, etc. Unfortunately, Hasbro has made going against the societal norm that girls are the ones in the kitchen even more difficult.
Hasbro has now met with McKenna and and says its will soon reveal a gender-neutral Easy Bake Oven.
In an accompanying video to her pitch, McKenna added: "We continue to force this stereotype that men don't cook, they work. Please, sign this petition and join me in my fight to create gender equality in our products and in our youth."
McKenna peppered her fight with appearances on talk show and news channels, and even had celebrity chefs Bobby Flay and Manuel Trevino in her corner. And it's all paid off.
According to AP McKenna and her family have met with Hasbro executives who revealed a prototype of their newest model, which is black, silver and blue (which incidentally they say they've been working on for 18 months.)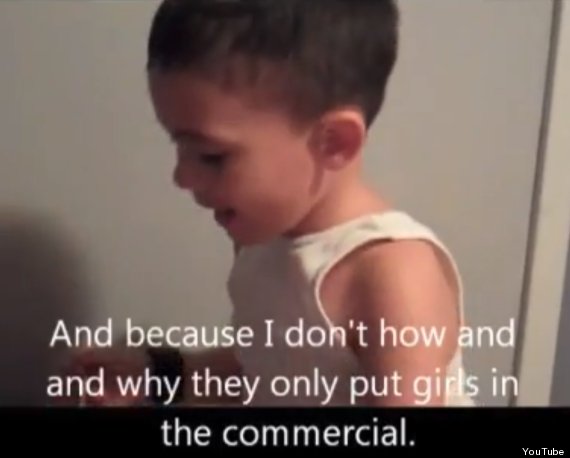 Four-year-old Gavin expresses his bemusement over the packaging and marketing of the toy
In a statement released to the New York Daily News, the company said it invited McKenna and her family to view the new oven: "given the widespread interest" in her story.
It added: "Consumers can look forward to it becoming available in fall of 2013."
McKenna is not the first youngster to point out the gender stereotyping many toy manufacturers indulge in.
Last year a video of five-year-old Riley Barry delivering an impassioned speech on the matter went viral.
SEE ALSO:
Standing against a backdrop of pink baby dolls, Riley Barry says it isn't fair "for all the girls to buy princesses and all the boys to buy superheroes."
Slapping her forehead for emphasis, the erudite toddler points out: "Girls want superheroes and the boys want superheroes."
When asked why she thinks toys at marketed like that, Riley points at the doll display and says: "Because the companies who make these try to trick the girls into buying the pink stuff instead of stuff that boys want to buy, right?"
Her tirade continues: "Well then, why does all the girls have to buy pink stuff and all the boys have to buy different colour stuff?"
The man behind the camera concedes: "It's a good question Riley."
Loading Slideshow
Doc McStuffins Time For Your Check Up Doll

Doc McStuffins Time for Your Check Up doll by Just Play, $39.99: Doctor doll based on Disney Jr. show character.

Furby

Furby by Hasbro, $59.99: Update on hit 1998 furry interactive toy robot.

Gelarti Designer Studio

Gelarti Designer Studio by Moose Toys, $24.99: Sticker set that lets kids paint and customize reusable stickers.

Hot Wheels R/C Terrain Twister

Hot Wheels R/C Terrain Twister by Mattel, $99.99: Radio-controlled car that takes on all terrains.

Jake's Musical Pirate Ship Bucky

Jake and the Never Land Pirates Jake's Musical Pirate Ship Bucky by Mattel's Fisher-Price, $44.99: Ship from Disney Jr. animated series.

Lalaloopsy Silly Hair Stars Harmony B. Sharp

Lalaloopsy Silly Hair Stars Harmony B. Sharp by MGA Entertainment, $69.99: Version of popular button-eyed dolls that talks and sings.

LeapPad2 Explorer

LeapPad2 Explorer by LeapFrog, $99.99: Latest iteration of LeapFrog's kids tablet with faster processor and more memory.

Micro Chargers TimeTrack

Micro Chargers TimeTrack by Moose Toys, $34.99: Miniature car racing track set.

Teenage Mutant Ninja Turtles Secret Sewer Lair

Nickelodeon Teenage Mutant Ninja Turtles Secret Sewer Lair Playset by Playmates, $119.99: 42-inch playset that recreates TMNT's lair.

Ninjago Epic Dragon Battle

Ninjago Epic Dragon Battle by Lego Systems Inc., $139.99: Ninja-themed Lego board game.

One Direction Collector Dolls

One Direction collector dolls by Hasbro, $19.99: Dolls of each of the five members of One Direction.

Skylanders Giants Starter Pack

Skylanders Giants Starter Pack by Activision Publishing Inc., not yet priced: A sequel to Skylanders Spyro's adventure that combines real-life action figures with a video game.

Tabeo

Tabeo by Toys R Us, $149.99: Toys R Us' own tablet offering with enhanced safety features and 50 preloaded apps.

Wii U

Wii U by Nintendo, not yet priced: Nintendo's new two-screen gaming console.

Y Volution Fliker F1 Flow Series Scooter

Y Volution Fliker F1 Flow Series Scooter by Atomic Sports, $99.99: A three-wheeled scooter that is self-propelled by the rider's movement.