The Huffington Post picture desk live bringing you the best pictures of the day from around the world chosen by our very own photo editors.
We would love to hear your thoughts on the stories of the day - leave a comment at the bottom of the blog.
Follow The Huffington Post picture desk and our picture editors Elliot Wagland, Tahira Mirza and Matthew Tucker on twitter.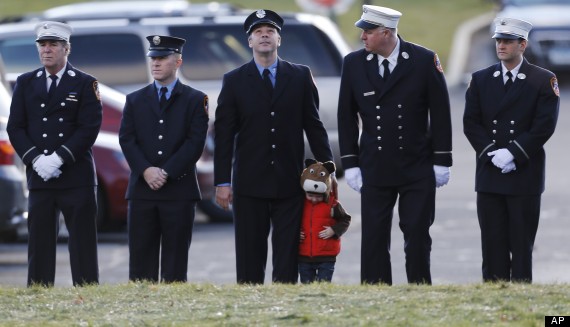 A child lines up with firefighters outside the funeral for school shooting victim Daniel Gerard Barden,at St. Rose of Lima Catholic Church in Newtown, Conn., Wednesday, Dec. 19, 2012. According to firefighters, Daniel wanted to be a firefighter when he grew up and they honored him at the service. Gunman Adam Lanza opened fire killing 26 people, including 20 children, at Sandy Hook Elementary School in Newtown before killing himself on Friday.
Loading Slideshow
Fire officials wait for a procession at the main intersection in the Sandy Hook village of Newtown, Conn., as they pay respects for Daniel Gerard Barden, one of the students killed during the Sandy Hook Elementary shooting, Wednesday, Dec. 19, 2012. The small, quiet town has seen gridlock traffic caused by funeral processions as well as the large number of national and international media covering the aftermath of the shooting. Barden, 7, was killed when the gunman, Adam Lanza, walked into the school, Dec. 14, and opened fire, killing 26 people, including 20 children, before killing himself. (AP Photo/Julio Cortez)

J.C. Tortora

Shelton, Conn., firefighter J.C. Tortora, wears a ribbon to remember the Sandy Hook Elementary School shooting victims as he joins area firefighters visiting a memorial outside the school before the funeral procession for 7-year-old Daniel Gerard Barden, Wednesday, Dec. 19, 2012, in Newtown, Conn. Barden was killed when Adam Lanza walked into Sandy Hook Elementary School in Newtown, Conn., Dec. 14, and opened fire, killing 26 people, including 20 children, before killing himself. (AP Photo/David Goldman)

A child lines up with firefighters outside the funeral for school shooting victim Daniel Gerard Barden,at St. Rose of Lima Catholic Church in Newtown, Conn., Wednesday, Dec. 19, 2012. According to firefighters, Daniel wanted to be a firefighter when he grew up and they honored him at the service. Gunman Adam Lanza opened fire killing 26 people, including 20 children, at Sandy Hook Elementary School in Newtown before killing himself on Friday. (AP Photo/Charles Krupa)

Firefighters stand as the procession heads to the cemetery outside the funeral for school shooting victim Daniel Gerard Barden at St. Rose of Lima Catholic Church in Newtown, Conn., Wednesday, Dec. 19, 2012. According to firefighters, Daniel wanted to be a firefighter when he grew up and they honored him at the service. Barden, 7, was killed when Adam Lanza walked into Sandy Hook Elementary School in Newtown, Conn., Dec. 14, and opened fire, killing 26 people, including 20 children, before killing himself. (AP Photo/Charles Krupa)

A man holds a sign while riding on a procession through one of the main streets in Sandy Hook village of Newtown, Conn., during a procession toward St. Rose of Lima parish cemetery before burial services for Daniel Gerard Barden, one of the students killed during the Sandy Hook Elementary shooting, Wednesday, Dec. 19, 2012, in Newtown, Conn. The small, quiet town has seen gridlock traffic caused by funeral processions as well as the large number of national and international media covering the aftermath of the shooting. Barden, 7, was killed when the gunman, Adam Lanza, walked into the school, Dec. 14, and opened fire, killing 26 people, including 20 children, before killing himself. (AP Photo/Julio Cortez)

Firefighters salute as a hearse passes for the funeral procession to the burial of 7-year-old Sandy Hook Elementary School shooting victim Daniel Gerard Barden, Wednesday, Dec. 19, 2012, in Newtown, Conn. Barden was killed when Adam Lanza walked into Sandy Hook Elementary School in Newtown, Conn., Dec. 14, and opened fire, killing 26 people, including 20 children, before killing himself. (AP Photo/David Goldman)

Firefighters stand as the procession heads to the cemetery outside the funeral for school shooting victim Daniel Gerard Barden at St. Rose of Lima Catholic Church in Newtown, Conn., Wednesday, Dec. 19, 2012. According to firefighters, Daniel wanted to be a firefighter when he grew up and they honored him at the service. Barden, 7, was killed when Adam Lanza walked into Sandy Hook Elementary School in Newtown, Conn., Dec. 14, and opened fire, killing 26 people, including 20 children, before killing himself. (AP Photo/Charles Krupa)

People walk at St. Rose of Lima parish cemetery before funeral services for Daniel Gerard Barden, one of the students killed during the Sandy Hook Elementary shooting, Wednesday, Dec. 19, 2012, in Newtown, Conn. Barden, 7, was killed when the gunman, Adam Lanza, walked into the school, Dec. 14, and opened fire, killing 26 people, including 20 children, before killing himself. (AP Photo/Julio Cortez)

A hearse crosses the main intersection in the Sandy Hook village of Newtown, Conn., during a procession toward St. Rose of Lima parish cemetery before burial services for Daniel Gerard Barden, one of the students killed during the Sandy Hook Elementary shooting, Wednesday, Dec. 19, 2012. The small, quiet town has seen gridlock traffic caused by funeral processions as well as the large number of national and international media covering the aftermath of the shooting. Barden, 7, was killed when the gunman, Adam Lanza, walked into the school, Dec. 14, and opened fire, killing 26 people, including 20 children, before killing himself. (AP Photo/Julio Cortez)

A hearse, right, makes its way down one of the main streets in Sandy Hook village of Newtown, Conn., passing a television news satellite vehicle during a procession toward St. Rose of Lima parish cemetery before burial services for Daniel Gerard Barden, one of the students killed during the Sandy Hook Elementary shooting, Wednesday, Dec. 19, 2012, in Newtown, Conn. The small, quiet town has seen gridlock traffic caused by funeral processions as well as the large number of national and international media covering the aftermath of the shooting. Barden, 7, was killed when the gunman, Adam Lanza, walked into the school, Dec. 14, and opened fire, killing 26 people, including 20 children, before killing himself. (AP Photo/Julio Cortez)

Pedestrians look on as a hears makes its way down one of the main streets in the Sandy Hook village of Newtown, Conn., during a procession toward St. Rose of Lima parish cemetery before burial services for Daniel Gerard Barden, one of the students killed during the Sandy Hook Elementary shooting, Wednesday, Dec. 19, 2012, in Newtown, Conn. The small, quiet town has seen gridlock traffic caused by funeral processions as well as the large number of national and international media covering the aftermath of the shooting. Barden, 7, was killed when the gunman, Adam Lanza, walked into the school, Dec. 14, and opened fire, killing 26 people, including 20 children, before killing himself. (AP Photo/Julio Cortez)

Police officers on motorcycles lead a procession toward St. Rose of Lima parish cemetery before burial services for Daniel Gerard Barden, one of the students killed during the Sandy Hook Elementary shooting, Wednesday, Dec. 19, 2012, in Newtown, Conn. The small, quiet town has seen gridlock traffic caused by funeral processions as well as the large number of national and international media covering the aftermath of the shooting. Barden, 7, was killed when the gunman, Adam Lanza, walked into the school, Dec. 14, and opened fire, killing 26 people, including 20 children, before killing himself. (AP Photo/Julio Cortez)

Firefighters salute as a hearse passes for the funeral procession to the burial of 7-year-old Sandy Hook Elementary School shooting victim Daniel Gerard Barden, Wednesday, Dec. 19, 2012, in Newtown, Conn. Barden was killed when Adam Lanza walked into Sandy Hook Elementary School in Newtown, Conn., Dec. 14, and opened fire, killing 26 people, including 20 children, before killing himself.(AP Photo/David Goldman)

A man holds a sign while riding on a procession through one of the main streets in Sandy Hook village of Newtown, Conn., during a procession toward St. Rose of Lima parish cemetery before burial services for Daniel Gerard Barden, one of the students killed during the Sandy Hook Elementary shooting, Wednesday, Dec. 19, 2012, in Newtown, Conn. The small, quiet town has seen gridlock traffic caused by funeral processions as well as the large number of national and international media covering the aftermath of the shooting. Barden, 7, was killed when the gunman, Adam Lanza, walked into the school, Dec. 14, and opened fire, killing 26 people, including 20 children, before killing himself. (AP Photo/Julio Cortez)

A child peers through firefighters standing as the procession heads to the cemetery outside the funeral for school shooting victim Daniel Gerard Barden at St. Rose of Lima Catholic Church in Newtown, Conn., Wednesday, Dec. 19, 2012. According to firefighters, Daniel wanted to be a firefighter when he grew up and they honored him at the service. Barden, 7, was killed when Adam Lanza walked into Sandy Hook Elementary School in Newtown, Conn., Dec. 14, and opened fire, killing 26 people, including 20 children, before killing himself. (AP Photo/Charles Krupa)

A firefighter wear a memorial ribbon on his hat as he waits for the funeral procession of 7-year-old Sandy Hook Elementary School shooting victim Daniel Gerard Barden, Wednesday, Dec. 19, 2012, in Newtown, Conn. Barden was killed when Adam Lanza walked into Sandy Hook Elementary School in Newtown, Conn., Dec. 14, and opened fire, killing 26 people, including 20 children, before killing himself.(AP Photo/David Goldman)

Firefighters gather for the burial of 7-year-old Sandy Hook Elementary School shooting victim Daniel Gerard Barden at St. Rose of Lima Parish Cemetery, Wednesday, Dec. 19, 2012, in Newtown, Conn. Barden was killed when Adam Lanza walked into Sandy Hook Elementary School in Newtown, Conn., Dec. 14, and opened fire, killing 26 people, including 20 children, before killing himself.(AP Photo/David Goldman)

Firefighters salute as a hearse passes for the funeral procession to the burial of 7-year-old Sandy Hook Elementary School shooting victim Daniel Gerard Barden, Wednesday, Dec. 19, 2012, in Newtown, Conn. Barden was killed when Adam Lanza walked into Sandy Hook Elementary School in Newtown, Conn., Dec. 14, and opened fire, killing 26 people, including 20 children, before killing himself.(AP Photo/David Goldman)

Connecticut School Shooting

Connecticut School Shooting

Mourners embrace before entering the wake of shooting victim Daniel Gerard Barden at Saint Rose of Lima Roman Catholic Church, Tuesday, Dec. 18, 2012, in Newtown, Conn. Barden was killed when a gunman forced his way into Sandy Hook Elementary School in Newtown Friday and opened fire, killing 26 people, including 20 children. (AP Photo/Jason DeCrow)

Mourners pay their respects at a makeshift memorial before entering the wake of shooting victim Daniel Gerard Barden at Saint Rose of Lima Roman Catholic Church, Tuesday, Dec. 18, 2012, in Newtown, Conn. Barden was killed when a gunman forced his way into Sandy Hook Elementary School in Newtown Friday and opened fire, killing 26 people, including 20 children. (AP Photo/Jason DeCrow)

Area firefighters visit a memorial to the Sandy Hook Elementary School shooting victims outside the school's entrance before the funeral procession for 7-year-old Daniel Gerard Barden, Wednesday, Dec. 19, 2012, in Newtown, Conn. Barden was killed when Adam Lanza walked into Sandy Hook Elementary School in Newtown, Conn., Dec. 14, and opened fire, killing 26 people, including 20 children, before killing himself. (AP Photo/David Goldman)

Area firefighters visit a memorial to the Sandy Hook Elementary School shooting victims outside the school's entrance before the funeral procession for 7-year-old Daniel Gerard Barden, Wednesday, Dec. 19, 2012, in Newtown, Conn. Barden was killed when Adam Lanza walked into Sandy Hook Elementary School in Newtown, Conn., Dec. 14, and opened fire, killing 26 people, including 20 children, before killing himself. (AP Photo/David Goldman)

Area firefighters line the street outside the entrance to Sandy Hook Elementary School as they visit a memorial for the shooting victims before the funeral procession for 7-year-old Daniel Gerard Barden, Wednesday, Dec. 19, 2012, in Newtown, Conn. Barden was killed when Adam Lanza walked into Sandy Hook Elementary School in Newtown, Conn., Dec. 14, and opened fire, killing 26 people, including 20 children, before killing himself. (AP Photo/David Goldman)

J.C. Tortora

Shelton, Conn., firefighter J.C. Tortora, wears a ribbon to remember the Sandy Hook Elementary School shooting victims as he joins area firefighters visiting a memorial outside the school before the funeral procession for 7-year-old Daniel Gerard Barden, Wednesday, Dec. 19, 2012, in Newtown, Conn. Barden was killed when Adam Lanza walked into Sandy Hook Elementary School in Newtown, Conn., Dec. 14, and opened fire, killing 26 people, including 20 children, before killing himself. (AP Photo/David Goldman)

A child lines up with firefighters outside the funeral for school shooting victim Daniel Gerard Barden,at St. Rose of Lima Catholic Church in Newtown, Conn., Wednesday, Dec. 19, 2012. According to firefighters, Daniel wanted to be a firefighter when he grew up and they honored him at the service. Gunman Adam Lanza opened fire killing 26 people, including 20 children, at Sandy Hook Elementary School in Newtown before killing himself on Friday. (AP Photo/Charles Krupa)

Firefighters line up outside the funeral for school shooting victim Daniel Gerard Barden at St. Rose of Lima Catholic Church in Newtown, Conn., Wednesday, Dec. 19, 2012. According to firefighters, Daniel wanted to be a firefighter when he grew up and they honored him at the service. Gunman Adam Lanza opened fire killing 26 people, including 20 children, at Sandy Hook Elementary School in Newtown before killing himself on Friday. (AP Photo/Charles Krupa)

Funerals Continue To Be Held For Victims Of CT Elementary School Massacre

NEWTOWN, CT - DECEMBER 19: The family of Daniel Barden, 7, a victim of the shooting at Sandy Hook Elementary School, arrive at St. Rose of Lima Church for his funeral December 19, 2012 in Newtown, Connecticut. Six victims of the Newtown school shooting are being honored at funerals and visitations across the state today. (Photo by Allison Joyce/Getty Images)

Funerals Continue To Be Held For Victims Of CT Elementary School Massacre

NEWTOWN, CT - DECEMBER 19: The family of Daniel Barden, 7, a victim of the shooting at Sandy Hook Elementary School, arrive at St. Rose of Lima Church for his funeral December 19, 2012 in Newtown, Connecticut. Six victims of the Newtown school shooting are being honored at funerals and visitations across the state today. (Photo by Allison Joyce/Getty Images)

Funerals Continue To Be Held For Victims Of CT Elementary School Massacre

NEWTOWN, CT - DECEMBER 19: A firefighter and his child attend the funeral for Daniel Barden, 7, a victim of the shooting at Sandy Hook Elementary School, at St. Rose of Lima Church December 19, 2012 in Newtown, Connecticut. Six victims of the Newtown school shooting are being honored at funerals and visitations across the state today. (Photo by Allison Joyce/Getty Images)

Funerals Continue To Be Held For Victims Of CT Elementary School Massacre

NEWTOWN, CT - DECEMBER 19: Firefighters attend the funeral for Daniel Barden, 7, a victim of the shooting at Sandy Hook Elementary School, at St. Rose of Lima Church December 19, 2012 in Newtown, Connecticut. Six victims of the Newtown school shooting are being honored at funerals and visitations across the state today. (Photo by Allison Joyce/Getty Images)

Funerals Continue To Be Held For Victims Of CT Elementary School Massacre

NEWTOWN, CT - DECEMBER 19: The family of Daniel Barden, 7, a victim of the shooting at Sandy Hook Elementary School, arrive at St. Rose of Lima Church for his funeral December 19, 2012 in Newtown, Connecticut. Six victims of the Newtown school shooting are being honored at funerals and visitations across the state today. (Photo by Allison Joyce/Getty Images)

Funerals Continue To Be Held For Victims Of CT Elementary School Massacre

NEWTOWN, CT - DECEMBER 19: Firefighters attend the funeral for Daniel Barden, 7, a victim of the shooting at Sandy Hook Elementary School, at St. Rose of Lima Church December 19, 2012 in Newtown, Connecticut. Six victims of the Newtown school shooting are being honored at funerals and visitations across the state today. (Photo by Allison Joyce/Getty Images)

Funerals Continue To Be Held For Victims Of CT Elementary School Massacre

NEWTOWN, CT - DECEMBER 19: The family of Daniel Barden, 7, a victim of the shooting at Sandy Hook Elementary School, arrive at St. Rose of Lima Church for his funeral December 19, 2012 in Newtown, Connecticut. Six victims of the Newtown school shooting are being honored at funerals and visitations across the state today. (Photo by Allison Joyce/Getty Images)