An Afghan woman whose nose and ears were hacked off after she fled a forced, abusive marriage has spoken of her ongoing recovery.
Aesha Mohammadzai was mutilated by her Taliban husband and in-laws and left for dead three years ago.
Having passed out through pain and shock, Aesha came to on the side of a mountainside, choking on her own blood, and managed to walk to her village where her father took her to hospital.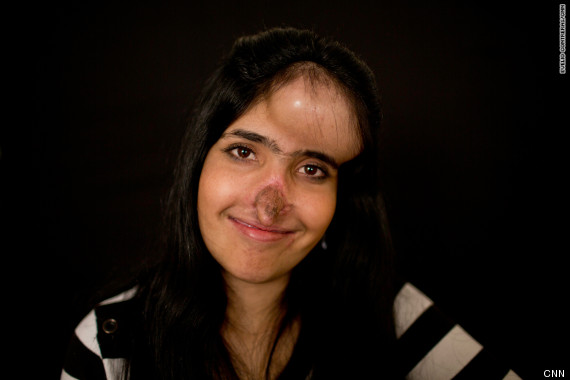 Aesha Mohammadzai was mutilated after she fled a forced, abusive marriage
After the world heard of her ordeal, Aesha was interviewed in hospital and appeared on the cover of Time magazine.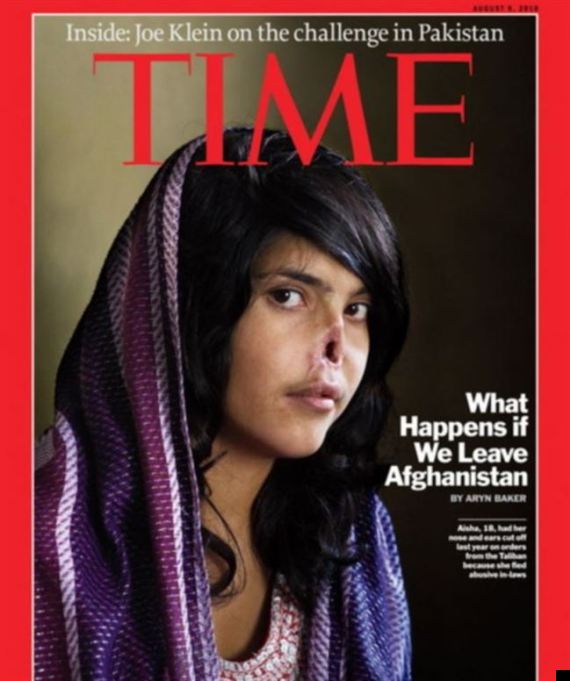 Aesha became 'a symbol of the price Afghan women have to pay for the repressive ideology of the Taliban' after her apperance on the cover of Time magazine
She said: "What happened, it's part of me, part of my life and it's all the time in my mind and with me.
"But I have to live and I have to love."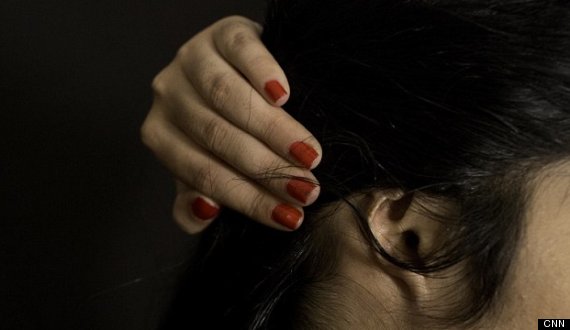 As well as her nose, Aesha's ears were hacked off in the attack
At present, Aesha's forehead is swollen with saline and her nose is slowly taking shape with gradual tissue transplants taken from other parts of her body.
In six months time, she hopes to have the nose she wants.
Of her appearance, she said: "At the beginning, I was very scared. I was scared to look at my face in the mirror…I was scared to think what will happen in the future to me. But now I'm not scared anymore."
SEE ALSO:
Aesha's father-in-law, known only as Sulaiman, was reportedly freed because "there was no one in Afghanistan to press the case against him – because the victim is now in the United States – and that he did not cut off the girl's nose himself."
Provincial attorney Ghulam Farouq said: "If someone commits a crime, then nobody else should be punished or arrested. The crime was committed by his son, Quadratullah, and this innocent guy was imprisoned for 11 months."
Police officials had said Sulaiman had confessed to taking part in the mutilation, but later insisted he was innocent.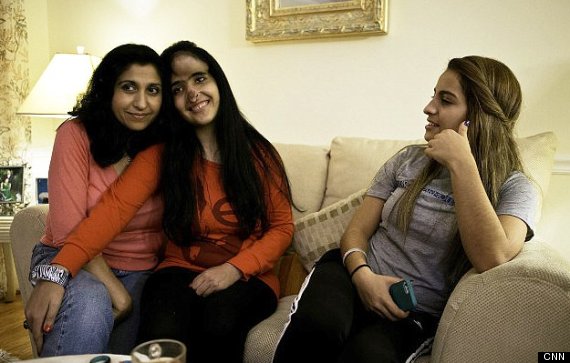 Aesha with her host family in the United States
The Taliban were overthrown by the American-led invasion of Afghanistan in 2001. It later regrouped as an insurgency movement.
According to the ACSOR poll, 70 percent of Afghans say that the Taliban is the biggest threat to their country, and 68 percent support the presence of the international Coalition forces in Afghanistan.
SUBSCRIBE TO & FOLLOW UK DAILY BRIEF