The Huffington Post pictures of the day brings you the very best images from around the world chosen by our own photo editors, Elliot Wagland, Matthew Tucker and Tahira Mirza.
We would love to hear your thoughts on the stories of the day - leave a comment at the bottom of the blog.
Follow The Huffington Post picture desk on twitter.
27/12/2012 16:30 GMT
New Year's Fireworks - Be Safe

A composite photo shows a firework exploding on the clothing of a mannequin in Hamburg, Germany, 27 December 2012. The fire department is showing the danger of fireworks shortly before New Year's.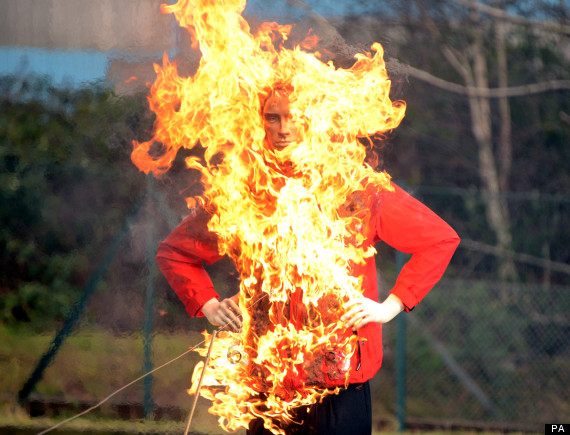 The clothing of a mannequin is ablaze from an exploded firework in Hamburg, Germany, 27 December 2012.
27/12/2012 16:24 GMT
What You Looking At?? A ring-tailed lemur (L, Lemur catta) sniffs at a tomato frog (Dyscophus antongilii) during an animal inventory at the Tierpark Hagenbeck zoo in Hamburg, northern Germany. During the annual inventory, all animals are counted, weighed and measured
27/12/2012 16:11 GMT
There's A Storm Coming...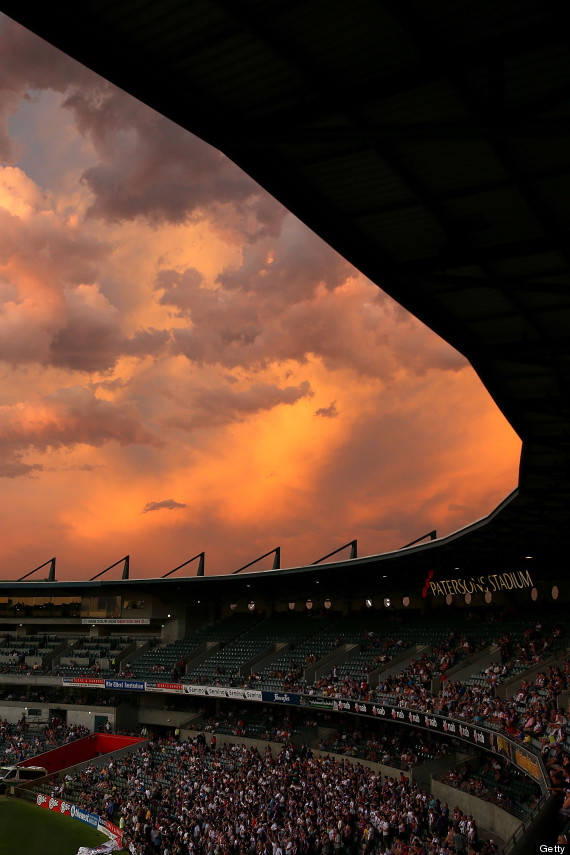 Storm clouds are pictured during the round 13 A-League match between the Perth Glory and the Western Sydney Wanderers at Patersons Stadium on December 27, 2012 in Perth, Australia.
27/12/2012 16:07 GMT
Israeli Graduation Ceremony: Anti-Missile Flares Launched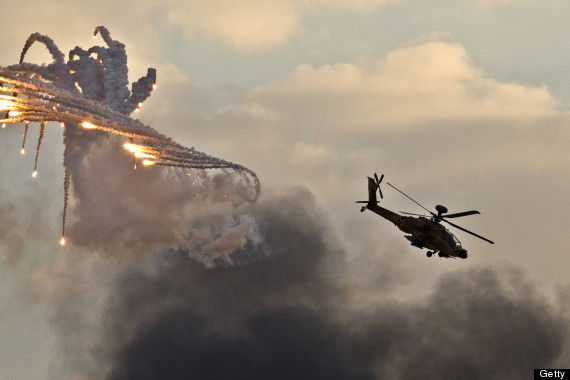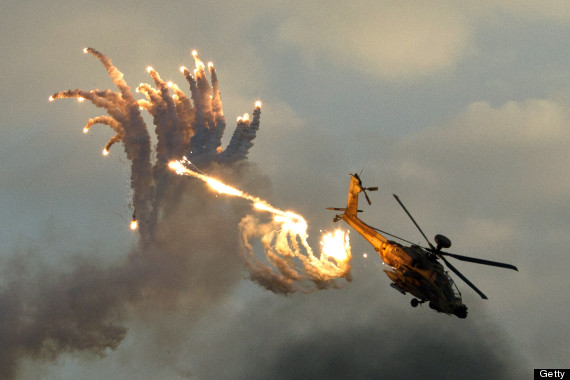 An Israeli Boeing AH-64 Apache longbow helicopter launches anti-missile flares during an air show at the graduation ceremony of Israeli pilots at the Hatzerim air force base in the Negev desert, near the southern Israeli city of Beersheva on December 27, 2012.
27/12/2012 15:23 GMT
Waking Up Welsh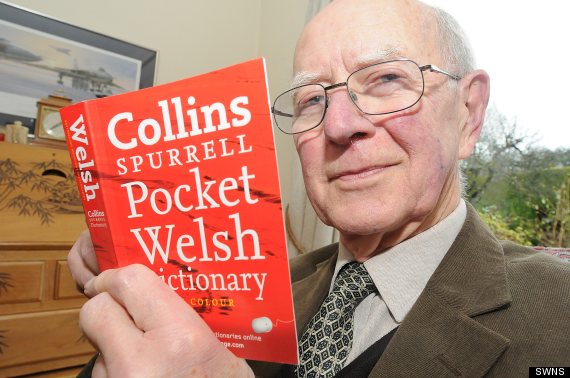 Englishman Al Morgan, 81, regained consciousness three weeks after suffering a stroke, but spoke only Welsh, a language he had not heard for more than seventy years. Mr Morgan, from Bath, Somerset, had to teach himself English again, In the meantime, long-suffering wife Yvonne acted as his translator, because she speaks some of the Celtic language.
27/12/2012 15:15 GMT
Hainan Airlines Building Demolished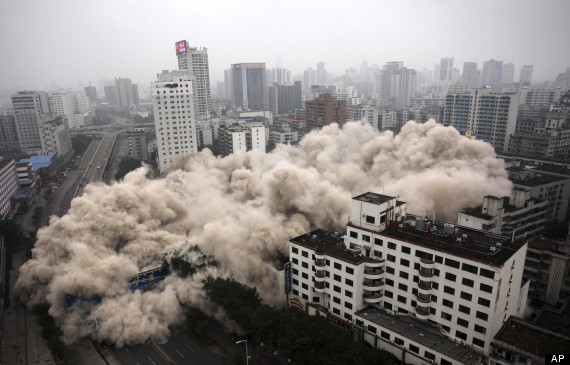 An office building is demolished to make way for a redevelopment project in Haikou, in southern China's Hainan province. The 63 meter (206 foot) tall building was built in 1996 and functioned as the headquarters of Hainan Airlines.
27/12/2012 11:09 GMT
Hawaii Loves Obama President Barack Obama boards Air Force One at Honolulu Joint Base Pearl Harbor-Hickam, in Honolulu, en route to Washington. With a yearend deadline looming before the economy goes off the so called fiscal cliff, the president is cutting short his traditional Christmas holiday in Hawaii
27/12/2012 10:38 GMT
Did You See The Moon This Christmas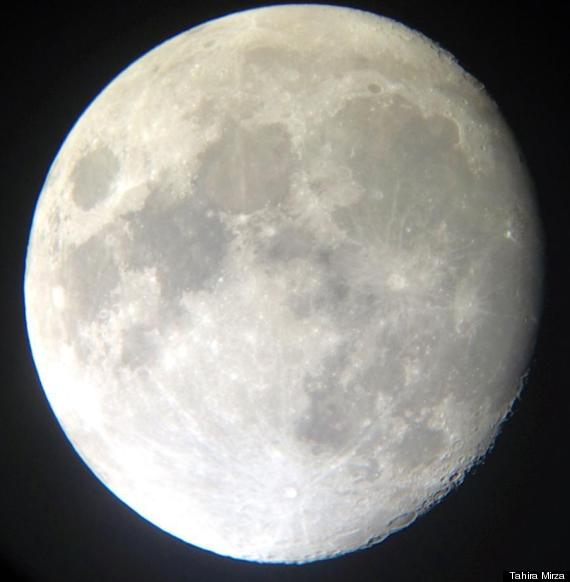 A picture of the moon taken on a iPhone on a clear Christmas night
27/12/2012 10:31 GMT
Boxing Day Football Revellers Soccer - npower Football League Championship - Nottingham Forest v Leeds United - City Ground, Leeds United's fans dressed as blue Santa Claus' Soccer - Barclays Premier League - Everton v Wigan Athletic - Goodison Park
Fans pose in fancy dress in the stands before the match
27/12/2012 10:16 GMT
Ion Thruster Sets World Record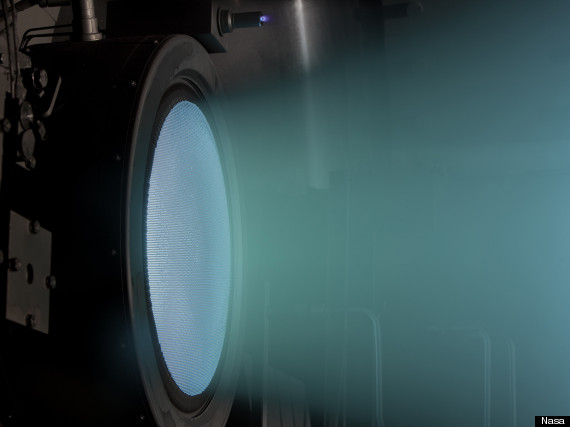 While the Dawn spacecraft is visiting the asteroids Vesta and Ceres, NASA Glenn has been developing the next generation of ion thrusters for future missions. NASA's Evolutionary Xenon Thruster (NEXT) Project has developed a 7-kilowatt ion thruster that can provide the capabilities needed in the future. An ion thruster produces small levels of thrust relative to chemical thrusters, but does so at higher specific impulse (or higher exhaust velocities), which means that an ion thruster has a fuel efficiency of 10-12 times greater than a chemical thruster. The higher the rocket's specific impulse (fuel efficiency), the farther the spacecraft can go with a given amount of fuel. Given that an ion thruster produces small levels of thrust relative to chemical thrusters, it needs to operate in excess of 10,000 hours to slowly accelerate the spacecraft to speeds necessary to reach the asteroid belt or beyond. The NEXT ion thruster has been operated for over 43,000 hours, which for rocket scientists means that the thruster has processed over 770 kilograms of xenon propellant and can provide 30 million-newton-seconds of total impulse to the spacecraft. This demonstrated performance permits future science spacecraft to travel to varied destinations, such as extended tours of multi-asteroids, comets, and outer planets and their moons.
SUBSCRIBE TO & FOLLOW UK DAILY BRIEF