A stop smoking campaign which shows a tumour growing from a cigarette will be launched on Friday.
They are the first shock anti-smoking adverts since the fatty cigarette ad eight years ago.
According to the Department of Health (DoH), just 15 cigarettes can cause a mutation than can lead to cancerous tumours.
Chief Medical Officer Professor Dame Sally Davies said smokers play Russian roulette with every cigarette.
"This is a hard-hitting campaign to get at the hidden harms of smoking," she said.
"People will see a man smoking and then a cancer growing out of the cigarette. That is what happens in people's bodies.
"One-in-two smokers die from smoking, most from cancer. We know that people don't personalise the harms of smoking and don't understand what's happening in their bodies. This will show them."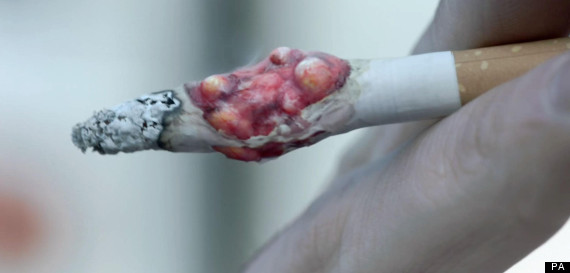 The advert shows a cancerous tumour growing out of a cigarette
The campaign is in response to statistics which show more than a third of smokers still think the health risks are greatly exaggerated, the DoH said. Dame Sally described the figures as "absolutely shocking".
The last graphic adverts, in 2004, showed fatty deposits being squeezed from a smoker's artery and fat dripping from the end of cigarettes. The following eight years have seen softer campaigns but the DoH says it believes the time is right to deliver a stronger message.
LIKE HUFFPOST UK LIFESTYLE ON FACEBOOK | FOLLOW US ON TWITTER
Dame Sally said: "It is extremely worrying that people still underestimate the serious health harms associated with smoking. We want smokers to understand that each packet of cigarettes increases their risk of cancer."
The campaign, which cost £2.7 million, will run for nine weeks on television, billboards and online.
England's eight million smokers are being urged to pick up a free NHS Quit Kit from pharmacies.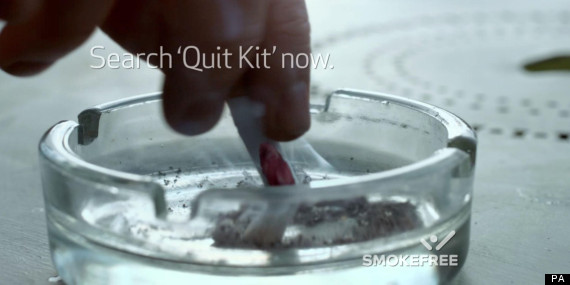 The advert urges smokers to pick up a free NHS Quit Kit
Dr Harpal Kumar, chief executive of Cancer Research UK, insisted the startling images in the ads are necessary.
"We have got to reduce the impact that tobacco has on the lives of far too many people," he said.
"It's not a lifestyle choice, it's an addiction that creeps into people's lives and results in death and disease.
"Giving up smoking can be extremely difficult, so providing extra motivation and reminding people of just how harmful the habit is can help smokers to take that first step in quitting for good."
Loading Slideshow
A stop smoking campaign which shows a tumour growing from a cigarette was launched in December 2012. According to the Department of Health (DoH), just 15 cigarettes can cause a mutation than can lead to cancerous tumours. <a href="http://www.huffingtonpost.co.uk/2012/12/27/shocking-anti-smoking-advert-cancer-cigarette-tumour-tv_n_2370655.html">Read the full story here.</a>
Also on HuffPost UK Lifestyle:
Loading Slideshow
Five Ways To Quit Smoking

Battle the addiction with these top tips by hypnotherapist, <a href="www.elledormerhypnotherapy.co.uk" target="_hplink"><strong>Elle Dormer</strong></a>.

Close Your Eyes

"Close your eyes and take 3 deep breaths in and out. Now build a mental picture of yourself in the future as a non smoker. "Make it real by filling in the detail - where you are, what you're doing, who you're with and how much better you look and feel. This is known as future pacing. If you can imagine yourself having achieved your goal you a mentally a step closer to it."

Plan Your Escape

"Smokers often use cigarettes as a form of escapism. To have a break away from their desk after a stressful call. Or to provide thinking time when they are procrastinating. "Go for a brisk walk instead. Or to the kitchen to make a cup of tea. Any simple, familiar task that we can do without much thought allows us to simultaneously access our unconscious or 'zone out' which can be both relaxing and enable greater creative thought."

Imagine Other People's Disappointment

"Make a list of all the people (alive or dead) in your life who care for you - or have cared for you, like your friends, partner, parents or children. Then close your eyes and imagine them all together gathered in a room. "You are standing before them with a large beautifully gift wrapped box. This present represents you quitting smoking. Explain this to them in your mind. See or imagine their reactions. "Make them real. The relief, love, pride, appreciation. Then imagine asking for the gift back and how sad and disappointed they would be. And resolve that you cannot do this to the people you love."

Breathe!

"Cigarettes do not relax you. Nicotine is a stimulant so it is actually making you edgier and more stressed by elevating your heart rate and releasing stress hormones like adrenalin and cortisol into your blood stream. "Try an experiment: replace one of your regular cigarettes of the day with the following pattern of breathing. Breathe in for a count of 4 and out for a count of 8. Do this 10 x, consciously relaxing your body on every out breath. "This will physiologically de-stress you by slowing your heart rate and releasing endorphins. And prove to you you can truly relax yourself without a cigarette.

Use Your Imagination

"Take a moment somewhere quiet and close your eyes. Remember a time when you felt really confident, relaxed and in control. Take yourself back to that time, fill in the details and make it real. When you're feeling those emotions at their strongest, squeeze our thumb and forefinger together. "Clear your mind and repeat. Then practice recalling those helpful, positive emotions at points during the day by squeezing your thumb and forefinger together. The physical trigger should help to access those beneficial feelings that will help at moments of weakness."