The Huffington Post pictures of the day brings you the very best images from around the world chosen by our own photo editors, Elliot Wagland, Matthew Tucker and Tahira Mirza.
We would love to hear your thoughts on the stories of the day - leave a comment at the bottom of the blog.
Follow The Huffington Post picture desk on twitter.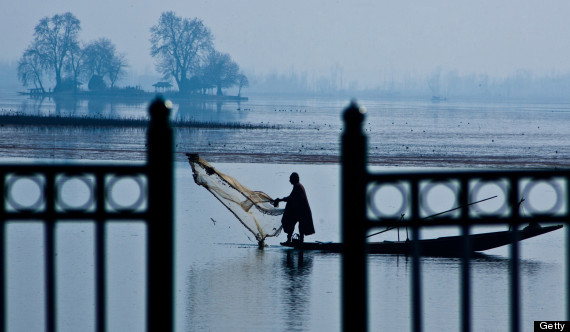 A fisherman casts his net on the waters of Dal lake on a cold day January 2, 2013 in Srinagar, the summer capital of Indian-administered Kashmir, India.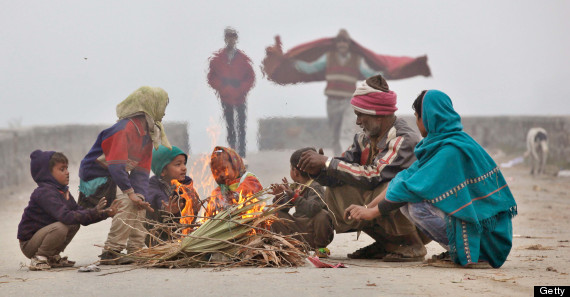 People sit around a bonfire to keep themselves warm on a cold in dense fog at Mayur Vihar, as temperature dips below 6 degree Celsius on January 2, 2013 in New Delhi, India. There was no respite from cold and dense fog in North India as mercury dipped two degrees below normal to stay at 4.8 degree Celsius.
Loading Slideshow
An Indian girl sits on her luggage as she with her parent, unseen, wait for a train at a railway station in New Delhi, India Wednesday, Jan. 2, 2013. Dense fog enveloped the city in the morning hours affecting road and rail traffic as well as operations at the International Airport, according to a local news agency. (AP Photo/Manish Swarup)

Indians ride a horse-drawn cart on a cold morning in New Delhi, India, Wednesday, Jan. 2, 2013. Dense fog enveloped the city in the morning hours affecting road and rail traffic as well as operations at the International Airport, according to a local news agency. (AP Photo/Altaf Qadri)

An elderly Indian man, wrapped in a shawl, walks on a cold morning in New Delhi, India, Wednesday, Jan. 2, 2013. Dense fog enveloped the city in the morning hours affecting road and rail traffic as well as operations at the International Airport, according to a local news agency. (AP Photo/Altaf Qadri)

Indians keep themselves warm around a fire on a cold morning in New Delhi, India, Wednesday, Jan. 2, 2013. Dense fog enveloped the city in the morning hours affecting road and rail traffic as well as operations at the International Airport, according to a local news agency. (AP Photo/Altaf Qadri)

A young underprivileged Indian boy keeps himself warm near burning trash on a cold morning in New Delhi, India, Wednesday, Jan. 2, 2013. Dense fog enveloped the city in the morning hours affecting road and rail traffic as well as operations at the International Airport, according to a local news agency. (AP Photo/Altaf Qadri)

Indian laborers stand on a railway track amidst morning fog, in New Delhi, India , Wednesday, Jan. 2, 2013. Dense fog enveloped the city in the morning hours affecting road and rail traffic as well as operations at the International Airport, according to a local news agency. (AP Photo/Manish Swarup)

A construction worker keeps her child under a shawl as she sits outside her makeshift tent on a cold morning in New Delhi, India, Wednesday, Jan. 2, 2013. Dense fog enveloped the city in the morning hours affecting road and rail traffic as well as operations at the International Airport, according to a local news agency.(AP Photo/Altaf Qadri)

Indian tourists take a walk amidst morning fog at Raisina Hills, housing India's most important government buildings, including the presidential palace, in New Delhi, India , Wednesday, Jan. 2, 2013. Dense fog enveloped the city in the morning hours affecting road and rail traffic as well as operations at the International Airport, according to a local news agency. (AP Photo/ Manish Swarup)

An Indian commuter crosses railway tracks amidst morning fog in New Delhi, India Wednesday, Jan. 2, 2013. Dense fog enveloped the city in the morning hours affecting road and rail traffic as well as operations at the International Airport, according to a local news agency. (AP Photo/Manish Swarup)

Delhi municipal workers warm themselves around a bonfire, in New Delhi, India , Wednesday, Jan. 2, 2013. Dense fog enveloped the city in the morning hours affecting road and rail traffic as well as operations at the International Airport, according to a local news agency. (AP Photo/ Manish Swarup)

Indian tourists take a walk amidst morning fog at Raisina Hills, housing India's most important government buildings, including the presidential palace, in New Delhi, India , Wednesday, Jan. 2, 2013. Dense fog enveloped the city in the morning hours affecting road and rail traffic as well as operations at the International Airport, according to local news news agency. (AP Photo/ Manish Swarup)

A homeless person waits under a table for free food in New Delhi, India, Tuesday, Jan. 1, 2013. There are over 300,000 homeless people in New Delhi, living on the streets, braving extreme weather and economic hardship, according to news reports. (AP Photo/ Manish Swarup)

Indian homeless people receive free food from a voluntary organization outside a temple, in New Delhi, India , Tuesday, Jan. 1, 2013. There are over 300,000 homeless people in New Delhi, living on the streets, braving extreme weather and economic hardship, according to news reports. (AP Photo/ Manish Swarup)

Indians warm themselves near a bonfire at a roadside tea stall on a cold day in New Delhi, India, Tuesday, Jan. 1, 2013. (AP Photo/Dar Yasin)

INDIA-RAPE-PROTEST

Indian protestors look at a display of lighted candles left in memory of a gangrape victim in New Delhi on January 2, 2013. The family of an Indian gang-rape victim said that they would not rest until her killers are hanged as police finalised their investigation before charges are laid against suspects this week. As the ruling Congress party reportedly pushed for tougher punishments for sex crimes, including chemical castration, authorities in New Delhi launched a hotline to improve safety for women in a city dubbed 'India's rape capital'. AFP PHOTO/RAVEENDRAN (Photo credit should read RAVEENDRAN/AFP/Getty Images)

INDIA-WEATHER-FOG

An Indian vegetable and fruit vendor rides a tricycle rickshaw with his supplies on a cold and foggy morning in New Delhi on January 2, 2013. AFP PHOTO/ Prakash SINGH (Photo credit should read PRAKASH SINGH/AFP/Getty Images)

INDIA-WEATHER-FOG

An Indian vegetable and fruit vendor rides a tricycle rickshaw with his supplies on a cold and foggy morning in New Delhi on January 2, 2013. AFP PHOTO/ Prakash SINGH (Photo credit should read PRAKASH SINGH/AFP/Getty Images)