The Huffington Post pictures of the day brings you the very best images from around the world chosen by our own photo editors, Elliot Wagland, Matthew Tucker and Tahira Mirza.
We would love to hear your thoughts on the stories of the day - leave a comment at the bottom of the blog.
Follow The Huffington Post picture desk on twitter.
04/01/2013 18:04 GMT
The National Geographic Photo Contest - Winners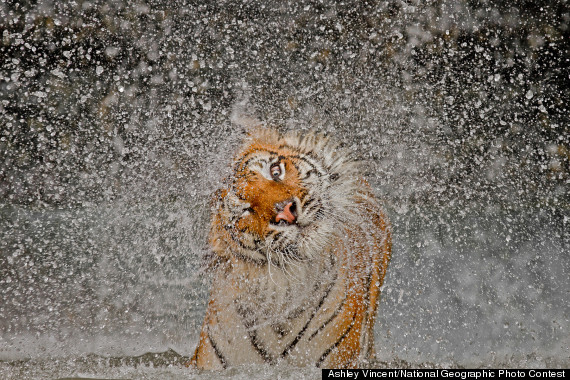 Grand-Prize: The Explosion! by Ashley Vincent
"The subject's name is Busaba, a well cared for Indochinese Tigress whose home is at Khao Kheow Open Zoo, Thailand. I had taken many portraits of Busaba previously and it was becoming more and more difficult to come up with an image that appeared any different to the others. Which is why I took to observing her more carefully during my visits in the hope of capturing something of a behavioural shot. The opportunity finally presented itself while watching Busaba enjoying her private pool then shaking herself dry. In all humility I have to say that Mother Nature smiled favourably on me that day!" - Ashley Vincent.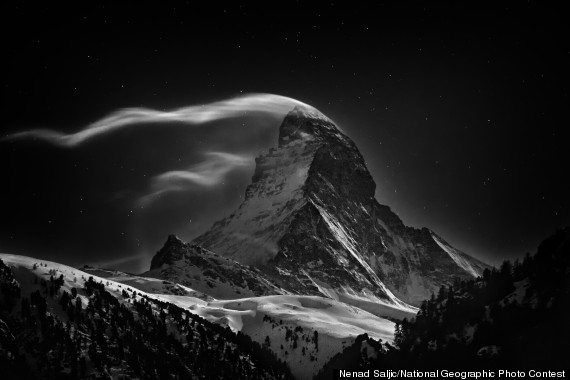 First Place for Places: The Matterhorn by Nenad Saljic
"The Matterhorn 4478 m at full moon." - Nenad Saljic
Find out more about the National Geographic Photo Contest here.
04/01/2013 16:02 GMT
Tea Break For Mahakumbh Followers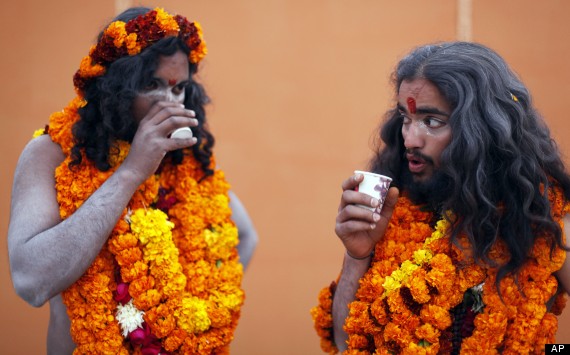 Naga Sadhus, or naked Hindu holy men of the Panchayati Akhada Sri Niranjani group, drink tea after a religious procession towards Sangam, the confluence of rivers Ganges, Yamuna and mythical Saraswati, as part of the Mahakumbh festival in Allahabad, India. Millions of Hindu pilgrims are expected to take part in the large religious congregation on the banks of Sangam during the Mahakumbh festival in January 2013, which falls every 12th year.
04/01/2013 15:35 GMT
Yes, Angela, I Am A King German chancellor Angela Merkel, right, looks at a caroler, depicting one of the 'Three Kings' during a reception for carol singers from all over Germany at the chancellery in in Berlin, Germany, Friday, Jan. 4, 2013.
04/01/2013 14:42 GMT
Up Up And Away Indian children fly kites on a rooftop ahead of a kite festival in Ahmadabad, India, Friday, Jan. 4, 2013. The Kite festival Uttarayan or Makar sankranti will be celebrated on Jan. 14, 2013. Kites are flown in many parts of India during Makar Sakranti, a festival that marks the transition of winter to spring.
04/01/2013 12:59 GMT
You've Been Served Serena Willimas of United States poses on court after her opponent Victoria Azarenka of Belarus withdrew due to injury on day six of the Brisbane International at Pat Rafter Arena in Brisbane, Australia.
04/01/2013 12:20 GMT
Hong Kong Ivory Seizure Ivory tusks are displayed after being confiscated by Hong Kong Customs in Hong Kong, Hong Kong authorities have made their third big seizure of illegal ivory in three months after confiscating more than a ton of the elephant tusks worth $1.4 million. The city's customs department said it seized 779 pieces of ivory weighing about 1,300 kilograms (2,866 pounds). The department said Friday that the ivory was found in a shipping container sent to the Hong Kong port.
04/01/2013 12:15 GMT
Nicked! Top Tax Criminals of 2012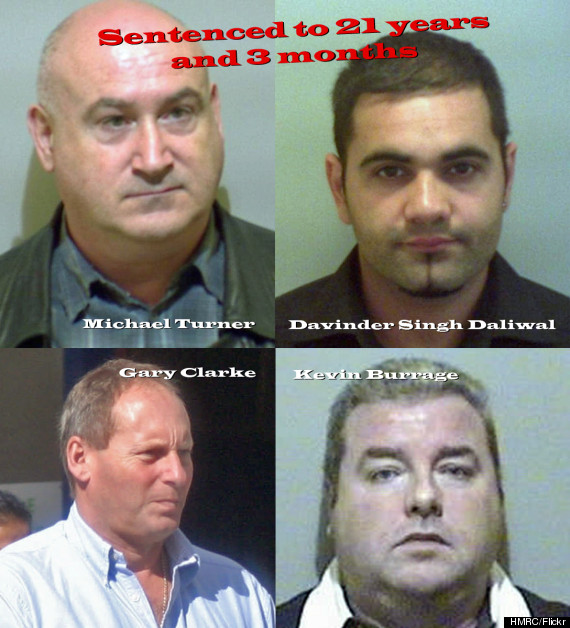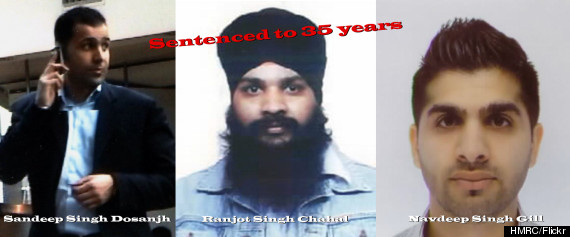 The top tax criminals of 2012 have been sentenced to a combined total of 155 years and 10 months behind bars. HMRC have released details and images of the top tax criminals of 2012. Reporting Fraud - tell HMRC about customs or excise fraud, or tax evasion here.
04/01/2013 11:59 GMT
Boom! Lightning Strikes From Storm Clouds In New South Wales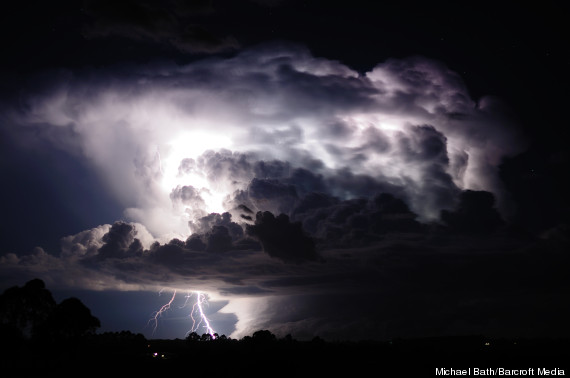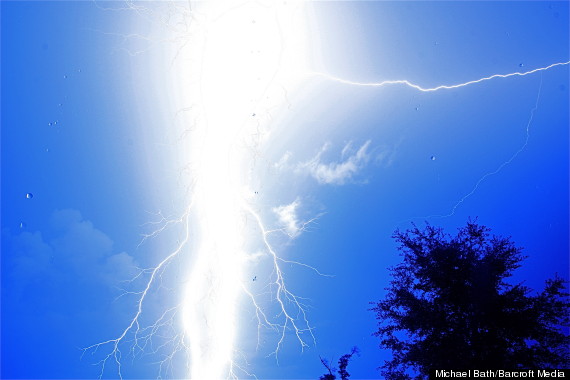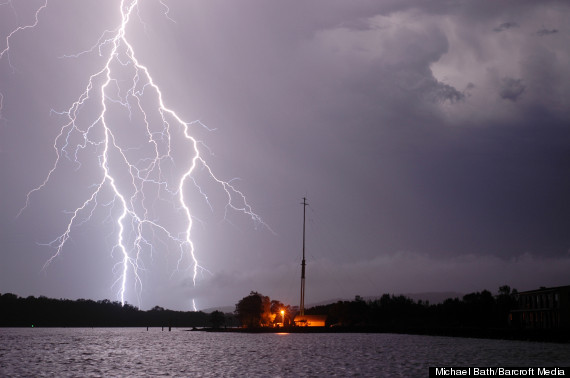 These are the striking images captured on camera by storm-chasing photographer Michael Bath. The Australian who is "obsessed" with weather and photography has been finding and picturing lightning storms for the past 25 years. Most of the high-voltage strikes have been captured around Greater Sydney or the northern part of New South Wales.
04/01/2013 11:45 GMT
Lottery Winners Bentley Is Flooded A Bentley Continental submurged in flood water after it tried to get through floods in Tewkesbury, Gloucestershire. See SWNS story SWBENTLEY. A lottery winner's luck ran out when he wrote off his GBP100,000 Bentley Continental – after he tried to drive through a flooded road. Hapless Robert Johnson, 65, splashed out on the brand new motor three years ago after scooping the GBP5million lottery jackpot in 2008. But he was forced to ditch his "pride and joy" when he drove through flood water in Tewkesbury, Glos, shortly after 8am on Wednesday 2 January 2013. The wealthy management consultant and landowner was driving along a country lane on the outskirts of the town when his car got swamped by 3ft of water after a stream burst its banks. Grandad-of-one Robert rang the AA and a rescue truck arrived but was unable to tow the car to dry land because Bentley's can only be towed from the front. Rising flood water meant the AA truck was unable to reach the car – forcing Robert to leave the jet black vehicle to the mercy of the floods
04/01/2013 11:22 GMT
Malala Yousafzai Leaves Hosiptal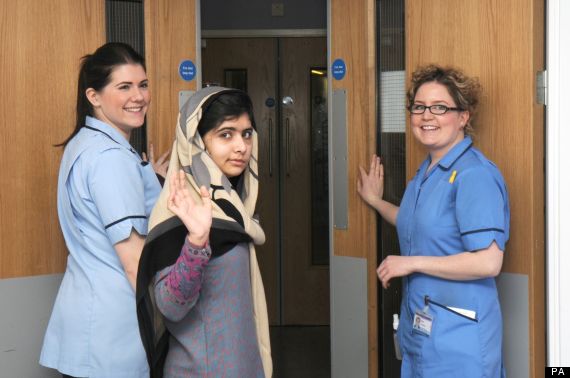 A Pakistani girl shot in the head by the Taliban has been discharged from hospital. Malala Yousafzai, 15, was targeted for backing women's rights to education in her home country and was later flown to the UK for specialist care. British doctors have been delighted with her recovery which will continue at her family's temporary home in the West Midlands.
SUBSCRIBE TO & FOLLOW UK DAILY BRIEF