Comedian Omid Djalili and Benidorm star Jake Canuso are preparing to don their swimwear again after sailing into the next round of new talent show Splash!
Djalili topped the leaderboard last night with a daring 10-metre "swan dive" on the first show of the ITV series as a host of famous figures took the plunge to learn how to dive.
Canuso also made it through after winning a head-to-head "splash off" against TV presenter Jenni Falconer.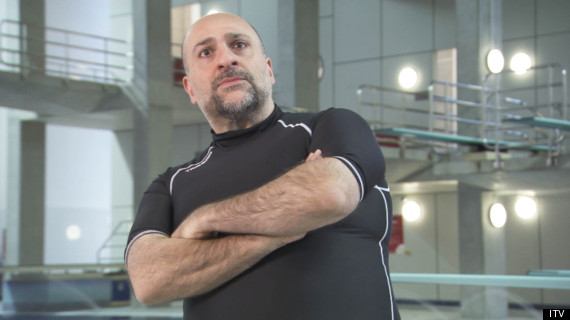 Omid Djalili was one of the celebs through to the next round
The contestants have spent weeks building up the courage to be able to dive into an Olympic-sized pool under the tutelage of London 2012 diving star Tom Daley.
British Iranian Djalili impressed the judging panel - featuring Team GB's diving coach Andy Banks, comedienne Jo Brand and former Olympic diving medallist Leon Taylor - as the only contestant to dive from the highest board.
The Gladiator star described his effort as being "like a pig flying into a trough" but the judges disagreed, awarding him their highest points total of 23.
Banks said: "I've haven't been that much on the edge of my seat since the Olympic final."
Brand described the comic as "a majestic turkey", while Taylor said Djalili had shown the qualities of a professional diver - "courageous, determined and absolutely mad".
Djalili will be joined in the next round by actor Canuso, who went through after beating Falconer in a head-to-head second dive.
The pair had finished in second and third place after the judges' scores were combined with the viewers' votes.
After failing to impress the judges, Falconer joins Sugababes singer Jade Ewen and comedy actress Helen Lederer in leaving the series.
Earlier Canuso had scored the second highest points total of 22 from the judges after performing a somersault dive from the five-metre diving board.
He revealed how his diving training brought back horror memories of how he nearly drowned in the 2004 tsunami.
The actor was holidaying in Thailand, at the paradise resort of Golden Buddha, when the freak wave hit.
Canuso, who plays Spanish barman Mateo in ITV1 sitcom Benidorm, also overcame a nose injury during practice which nearly ruled him out of the competition.
After his first dive, Taylor said: "I was not expecting to see anything of that complexity", while Banks claimed that his effort usually takes years of practice to perform.
Falconer scored 20.5 points from the judges after an ambitious front somersault dive from the three-metre board.
Taylor said her take-off was "superb" but her entry into the water was "absolutely awful".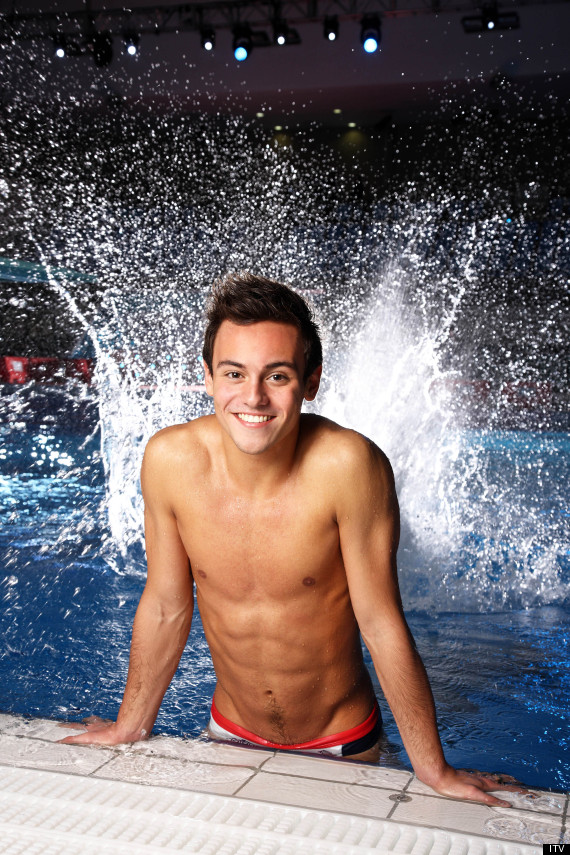 Tom Daley will coach the celebrities
Brand described Falconer, who suffered a shoulder injury in training, as "a cheeky little elf" while Banks said her dive was a "really good effort".
Singer Ewen overcame her fear of water to score 18 points from the judges, while Lederer scored 14 after Daley described her as the "most scared" contestant he worked with.
Ten more celebrities - including Olympic boxer Anthony Ogogo, Sky presenter Charlotte Jackson and ski jumper Eddie 'The Eagle' Edwards - will compete over the next two weeks.
Hollyoaks star Jennifer Metcalfe pulled out of the show just days after she was reported to have split with boyfriend Sylvain Longchambon, a professional from Dancing On Ice.
SUBSCRIBE AND FOLLOW
Get top stories and blog posts emailed to me each day. Newsletters may offer personalized content or advertisements.
Learn more