The Huffington Post pictures of the day brings you the very best images from around the world chosen by our own photo editors, Elliot Wagland, Matthew Tucker and Tahira Mirza.
We would love to hear your thoughts on the stories of the day - leave a comment at the bottom of the blog.
Follow The Huffington Post picture desk on twitter.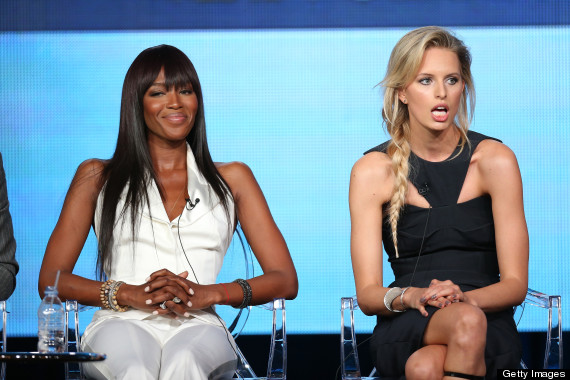 Naomi Campbell, Supermodel Coach and Executive Producer faces the press for the first time since her mugging and Karolina Kurkova, Supermodel Coach speak onstage at the 'The Face' panel discussion during the Oxygen portion of the 2013 Winter TCA Tour- Day 4 at the Langham Hotel on January 7, 2013 in Pasadena, California.
Loading Slideshow
Naomi Campbell

Model Naomi Campbell attends the NBC Universal Winter TCA Tour at the Langham Huntington Hotel on Monday, Jan. 7, 2013, in Pasadena, Calif. (Photo by Dan Steinberg/Invision/AP)

Naomi Campbell

Model Naomi Campbell attends the NBC Universal Winter TCA Tour at the Langham Huntington Hotel on Monday, Jan. 7, 2013, in Pasadena, Calif. (Photo by Dan Steinberg/Invision/AP)

Karolina Kurkova, Nigel Barker, Naomi Campbell, Coco Rocha

From left, television personality, Nigel Barker, models, Naomi Campbell, Karolina Kurkova, and Coco Rocha, attend the NBC Universal Winter TCA Tour at the Langham Huntington Hotel on Monday, Jan. 7, 2013, in Pasadena, Calif. (Photo by Dan Steinberg/Invision/AP)

2013 Winter TCA Tour - Day 4

PASADENA, CA - JANUARY 07: Naomi Campbell, Supermodel Coach and Executive Producer speaks onstage at the 'The Face' panel discussion during the Oxygen portion of the 2013 Winter TCA Tour- Day 4 at the Langham Hotel on January 7, 2013 in Pasadena, California. (Photo by Frederick M. Brown/Getty Images)

2013 Winter TCA Tour - Day 4

PASADENA, CA - JANUARY 07: Naomi Campbell, Supermodel Coach and Executive Producer speaks onstage at the 'The Face' panel discussion during the Oxygen portion of the 2013 Winter TCA Tour- Day 4 at the Langham Hotel on January 7, 2013 in Pasadena, California. (Photo by Frederick M. Brown/Getty Images)

2013 Winter TCA Tour - Day 4

PASADENA, CA - JANUARY 07: Naomi Campbell, Supermodel Coach and Executive Producer (L) and Karolina Kurkova, Supermodel Coach speak onstage at the 'The Face' panel discussion during the Oxygen portion of the 2013 Winter TCA Tour- Day 4 at the Langham Hotel on January 7, 2013 in Pasadena, California. (Photo by Frederick M. Brown/Getty Images)

2013 Winter TCA Tour - Day 4

PASADENA, CA - JANUARY 07: Naomi Campbell, Supermodel Coach and Executive Producer speaks onstage at the 'The Face' panel discussion during the Oxygen portion of the 2013 Winter TCA Tour- Day 4 at the Langham Hotel on January 7, 2013 in Pasadena, California. (Photo by Frederick M. Brown/Getty Images)

2013 Winter TCA Tour - Day 4

PASADENA, CA - JANUARY 07: Naomi Campbell, Supermodel Coach and Executive Producer (L) and Karolina Kurkova, Supermodel Coach speak onstage at the 'The Face' panel discussion during the Oxygen portion of the 2013 Winter TCA Tour- Day 4 at the Langham Hotel on January 7, 2013 in Pasadena, California. (Photo by Frederick M. Brown/Getty Images)

2013 Winter TCA Tour - Day 4

PASADENA, CA - JANUARY 07: Naomi Campbell, Supermodel Coach and Executive Producer speaks onstage at the 'The Face' panel discussion during the Oxygen portion of the 2013 Winter TCA Tour- Day 4 at the Langham Hotel on January 7, 2013 in Pasadena, California. (Photo by Frederick M. Brown/Getty Images)

2013 Winter TCA Tour - Day 4

PASADENA, CA - JANUARY 07: Naomi Campbell, Supermodel Coach and Executive Producer (ring detail) speaks onstage at the 'The Face' panel discussion during the Oxygen portion of the 2013 Winter TCA Tour- Day 4 at the Langham Hotel on January 7, 2013 in Pasadena, California. (Photo by Frederick M. Brown/Getty Images)

2013 Winter TCA Tour - Day 4

PASADENA, CA - JANUARY 07: (L-R) Naomi Campbell, Supermodel Coach and Executive Producer, Karolina Kurkova, Supermodel Coach, and Coco Rocha, Supermodel Coach speak onstage at the 'The Face' panel discussion during the Oxygen portion of the 2013 Winter TCA Tour- Day 4 at the Langham Hotel on January 7, 2013 in Pasadena, California. (Photo by Frederick M. Brown/Getty Images)

2013 Winter TCA Tour - Day 4

PASADENA, CA - JANUARY 07: Naomi Campbell, Supermodel Coach and Executive Producer (L) and Karolina Kurkova, Supermodel Coach speak onstage at the 'The Face' panel discussion during the Oxygen portion of the 2013 Winter TCA Tour- Day 4 at the Langham Hotel on January 7, 2013 in Pasadena, California. (Photo by Frederick M. Brown/Getty Images)

2013 Winter TCA Tour - Day 4

PASADENA, CA - JANUARY 07: (L-R) Naomi Campbell, Supermodel Coach and Executive Producer, Karolina Kurkova, Supermodel Coach, Coco Rocha, Supermodel Coach, and host Nigel Barker speak onstage at the 'The Face' panel discussion during the Oxygen portion of the 2013 Winter TCA Tour- Day 4 at the Langham Hotel on January 7, 2013 in Pasadena, California. (Photo by Frederick M. Brown/Getty Images)

2013 Winter TCA Tour - Day 4

PASADENA, CA - JANUARY 07: Naomi Campbell, Supermodel Coach and Executive Producer speaks onstage at the 'The Face' panel discussion during the Oxygen portion of the 2013 Winter TCA Tour- Day 4 at the Langham Hotel on January 7, 2013 in Pasadena, California. (Photo by Frederick M. Brown/Getty Images)

2013 Winter TCA Tour - Day 4

PASADENA, CA - JANUARY 07: (L-R) Eden Gaha, Executive Producer, Naomi Campbell, Supermodel Coach and Executive Producer, Karolina Kurkova, Supermodel Coach, Coco Rocha, Supermodel Coach, and host Nigel Barker speak onstage at the 'The Face' panel discussion during the Oxygen portion of the 2013 Winter TCA Tour- Day 4 at the Langham Hotel on January 7, 2013 in Pasadena, California. (Photo by Frederick M. Brown/Getty Images)

2013 Winter TCA Tour - Day 4

PASADENA, CA - JANUARY 07: (L-R) Naomi Campbell, Supermodel Coach and Executive Producer, Karolina Kurkova, Supermodel Coach, Coco Rocha, Supermodel Coach, and host Nigel Barker speak onstage at the 'The Face' panel discussion during the Oxygen portion of the 2013 Winter TCA Tour- Day 4 at the Langham Hotel on January 7, 2013 in Pasadena, California. (Photo by Frederick M. Brown/Getty Images)

2013 Winter TCA Tour - Day 4

PASADENA, CA - JANUARY 07: Naomi Campbell, Supermodel Coach and Executive Producer speaks onstage at the 'The Face' panel discussion during the Oxygen portion of the 2013 Winter TCA Tour- Day 4 at the Langham Hotel on January 7, 2013 in Pasadena, California. (Photo by Frederick M. Brown/Getty Images)

2013 Winter TCA Tour - Day 4

PASADENA, CA - JANUARY 07: Naomi Campbell, Supermodel Coach and Executive Producer (L) and Karolina Kurkova, Supermodel Coach speak onstage at the 'The Face' panel discussion during the Oxygen portion of the 2013 Winter TCA Tour- Day 4 at the Langham Hotel on January 7, 2013 in Pasadena, California. (Photo by Frederick M. Brown/Getty Images)

2013 Winter TCA Tour - Day 4

PASADENA, CA - JANUARY 07: (L-R) Naomi Campbell, Supermodel Coach and Executive Producer, Karolina Kurkova, Supermodel Coach, and Coco Rocha, Supermodel Coach speak onstage at the 'The Face' panel discussion during the Oxygen portion of the 2013 Winter TCA Tour- Day 4 at the Langham Hotel on January 7, 2013 in Pasadena, California. (Photo by Frederick M. Brown/Getty Images)

2013 Winter TCA Tour - Day 4

PASADENA, CA - JANUARY 07: (L-R) Naomi Campbell, Supermodel Coach and Executive Producer, Karolina Kurkova, Supermodel Coach, and Coco Rocha, Supermodel Coach speak onstage at the 'The Face' panel discussion during the Oxygen portion of the 2013 Winter TCA Tour- Day 4 at the Langham Hotel on January 7, 2013 in Pasadena, California. (Photo by Frederick M. Brown/Getty Images)

2013 Winter TCA Tour - Day 4

PASADENA, CA - JANUARY 07: (L-R) Naomi Campbell, Supermodel Coach and Executive Producer, Karolina Kurkova, Supermodel Coach, and Coco Rocha, Supermodel Coach speak onstage at the 'The Face' panel discussion during the Oxygen portion of the 2013 Winter TCA Tour- Day 4 at the Langham Hotel on January 7, 2013 in Pasadena, California. (Photo by Frederick M. Brown/Getty Images)

2013 Winter TCA Tour - Day 4

PASADENA, CA - JANUARY 07: Naomi Campbell, Supermodel Coach and Executive Producer speaks onstage at the 'The Face' panel discussion during the Oxygen portion of the 2013 Winter TCA Tour- Day 4 at the Langham Hotel on January 7, 2013 in Pasadena, California. (Photo by Frederick M. Brown/Getty Images)

2013 Winter TCA Tour - Day 4

PASADENA, CA - JANUARY 07: Naomi Campbell, Supermodel Coach and Executive Producer speaks onstage at the 'The Face' panel discussion during the Oxygen portion of the 2013 Winter TCA Tour- Day 4 at the Langham Hotel on January 7, 2013 in Pasadena, California. (Photo by Frederick M. Brown/Getty Images)

2013 Winter TCA Tour - Day 4

PASADENA, CA - JANUARY 07: Naomi Campbell, Supermodel Coach and Executive Producer speaks onstage at the 'The Face' panel discussion during the Oxygen portion of the 2013 Winter TCA Tour- Day 4 at the Langham Hotel on January 7, 2013 in Pasadena, California. (Photo by Frederick M. Brown/Getty Images)

2013 Winter TCA Tour - Day 4

PASADENA, CA - JANUARY 07: Naomi Campbell, Supermodel Coach and Executive Producer speaks onstage at the 'The Face' panel discussion during the Oxygen portion of the 2013 Winter TCA Tour- Day 4 at the Langham Hotel on January 7, 2013 in Pasadena, California. (Photo by Frederick M. Brown/Getty Images)

2013 Winter TCA Tour - Day 4

PASADENA, CA - JANUARY 07: Naomi Campbell, Supermodel Coach and Executive Producer speaks onstage at the 'The Face' panel discussion during the Oxygen portion of the 2013 Winter TCA Tour- Day 4 at the Langham Hotel on January 7, 2013 in Pasadena, California. (Photo by Frederick M. Brown/Getty Images)

2013 Winter TCA Tour - Day 4

PASADENA, CA - JANUARY 07: Naomi Campbell, Supermodel Coach and Executive Producer speaks onstage at the 'The Face' panel discussion during the Oxygen portion of the 2013 Winter TCA Tour- Day 4 at the Langham Hotel on January 7, 2013 in Pasadena, California. (Photo by Frederick M. Brown/Getty Images)

2013 Winter TCA Tour - Day 4

PASADENA, CA - JANUARY 07: Naomi Campbell, Supermodel Coach and Executive Producer speaks onstage at the 'The Face' panel discussion during the Oxygen portion of the 2013 Winter TCA Tour- Day 4 at the Langham Hotel on January 7, 2013 in Pasadena, California. (Photo by Frederick M. Brown/Getty Images)

2013 Winter TCA Tour - Day 4

PASADENA, CA - JANUARY 07: Naomi Campbell, Supermodel Coach and Executive Producer speaks onstage at the 'The Face' panel discussion during the Oxygen portion of the 2013 Winter TCA Tour- Day 4 at the Langham Hotel on January 7, 2013 in Pasadena, California. (Photo by Frederick M. Brown/Getty Images)