This video of a three-week-old English bulldog puppy taking his first squeaky, faltering steps is so adorable it will probably make you pregnant.
The wrinkled ball of skin known as Tebow is fast on his way to becoming a YouTube superstar, with nearly 350,000 views having been clocked up already.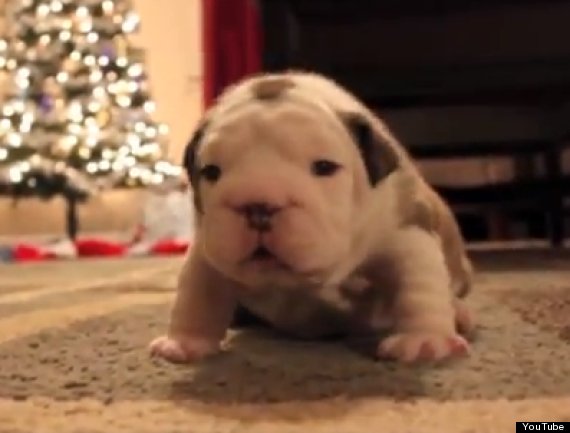 Tebow is currently with his breeder Scott Lathrop in Portales, N.M, who introduces him thus:
All of our puppies at Suburban Bullies are stars, but every now and then we get that one that is just a certified SUPERSTAR. Meet Tebow. Ironically, he's on his way to LA / Hollywood in a few weeks to live with his new family. He has to be the most handsome bulldog puppy we have ever seen and he hasn't even begun to get all of his wrinkles at the young age of 3 weeks.
Lathrop told the New York Daily News: ""He's likes getting into it with the other puppies. He's always sparring and punting them around.
"He's a firecracker, really feisty."
SEE ALSO: Puppy Has A Bad Dream (VIDEO)
Loading Slideshow
Trotter

This hipster French bulldog from San Francisco is one of the cutest and coolest things the Internet has ever seen. The <a href="http://www.huffingtonpost.com/2012/08/28/trotter-the-hipster-french-bulldog_n_1837790.html#slide=1442172">Instagram superstar</a> is simply a natural in front of the camera.

Chengdu Panda Cubs

In October this photo of <a href="http://www.huffingtonpost.com/2012/11/07/chengdu-panda-cubs-are-th_n_2083702.html">seven sleeping panda cubs </a> went viral. They were born in 2012 at the Chengdu Panda Base in China. Clearly, they give any animal a run for its money for 2012's cutest.

Baby Sloth

In March, this adorable baby sloth melted every heart on the Internet. The sloth was wrapped from the head down in colorful bandages that happened to look a lot like a 'onesie'. The bandages are <a href="http://www.huffingtonpost.com/2012/03/01/baby-sloths-wearing-onesies_n_1313389.html">a creative solution to the baby sloth's skin infection</a> -- but to us, they're just about the cutest thing we've seen all year.

Hedgehogs

In November <a href="http://www.huffingtonpost.com/2012/10/07/cute-hedgehogs_n_1941315.html#slide=1604891">hedgehogs took the political campaign</a> by storm. Not only are these little guys indisputably cute, but they also look good in just about every situation and costume. Now if only we could have voted one into the White House..

Zeus

This year, Zeus was officially named the <a href="https://www.facebook.com/zeustallestdog">World's Tallest Dog! </a> The 4-year-old canine stretches to an amazing 7'4" when standing on his hind legs.

Beyonce

In March, a star was born. And her name was Beyonce. A <a href="http://www.huffingtonpost.com/2012/03/28/beyonce-puppy_n_1384872.html">contender for World's Smallest Dog</a>, Beyonce was so small when she was born that she could fit into a spoon! We're anxious to see if she will nab a spot in the Guinness World Records.

Cleopatra

These two baby tigers, whose mother abandoned them, found an unusual wet nurse: a wrinkled, sand-colored Shar Pei named Cleopatra. <a href="http://www.huffingtonpost.com/2012/06/06/dog-nurses-tiger-cubs-photo_n_1574598.html">This image of the dog feeding her adopted cubs </a> is one of the most heartwarming things we saw all year.

Wally

When an adorable East-Prussian Skudde lamb's mother passed away, Wolfgang Grensens, who volunteers as a shepherd in Luebeck, northern Germany, decided to raise the <a href="http://www.huffingtonpost.com/2012/11/14/wolfgang-grensens-german-_n_2132209.html">6-week-old baby</a> himself. Now the little lamb frolics along with Grensen's three dogs. Say it with us now: awwwwww.

Echidnas

This adorable pet wasn't on our radar until late this year, and now we're big fans! In October, a tiny echidna was rescued from a trail in Australia. His good looks melted the hearts of Internet users worldwide. A truly fascinating creature, the echidna has remained <a href="http://www.huffingtonpost.com/2012/10/24/adorable-rare-echidna-puggle-rscued-laps-milk-from-nurses-hand_n_2011500.html">virtually unchanged since prehistoric times</a>. Plus, it's a mammal that lays eggs. How cool is that?

Shiba Inu Puppies

In June 2012, the world watched in fascination as cuteness unfolded live before its eyes. During the<a href="http://www.huffingtonpost.com/2012/06/08/shiba-inu-puppy-cam-live-_n_1581770.html"> Shibu Inu puppy cam's fourth installment</a>, we wouldn't tear our eyes away from the adorable puppies featured.

Hamlet

One of the year's most memorable videos featured <a href="http://www.huffingtonpost.com/2012/06/06/hamlet-mini-pig-goes-down-stairs-oatmeal_n_1574841.html">a mini-pig named Hamlet</a> making a quest down a staircase. As soon as he got a whiff of the oatmeal awaiting him, there was no doubt about it: He <em>needed</em> to get down those stairs!

Tard The Grumpy Cat

Earlier this month, we named Tard the Grumpy Cat <a href="http://www.huffingtonpost.com/2012/12/19/most-important-influential-cats-2012_n_2323065.html">the most influential cat of the year,</a> so it's no doubt she would show up on this list as well. Throughout 2012, Tard stole millions of hearts with her constant frown, which arguably changed Internet cat memes forever.

The Queen's Corgis

Queen Elizabeth II's corgis <a href="http://www.huffingtonpost.com/2012/09/09/queen-elizabeth-corgi-dies_n_1868282.html"> stole the show</a> during the opening ceremony at the Olympics, when they starred in a sketch alongside James Bond. Unfortunately, Monty and Cider, two of the four corgis, died in September. The other two, Willow and Holly, remain in the palace with the Queen.

Fiona

Last year, a Los Angeles couple found Fiona -- sick, blind, and dirty -- in a trash heap. In March, <a href="http://www.huffingtonpost.com/2012/03/26/blind-dog-fiona-in-trash-rescue_n_1379889.html">her story of recovery</a> went viral. Thanks the couple's fundraising efforts, Fiona received a full makeover, and a $4,000 eye surgery replaced the lens in one of her eyes, partially restoring her vision. She has since been adopted by a loving family.

IKEA Monkey

An Internet sensation was born this month when a <a href="http://www.huffingtonpost.com/2012/12/10/ikea-monkey-toronot_n_2270707.html">dapper monkey wearing a coat</a> and a diaper decided to make IKEA its playground. It was a great way to end 2012.