UK Weather: Snow Could Fall Across Most Of Britain By Weekend As Freezing Temperatures Continue
Most of the UK could see snow by the weekend as the cold snap continues to bring freezing temperatures across the country.
Eastern areas bore the brunt of the snowfall on Tuesday with 42 schools closing in Norfolk, all planes grounded at Norwich International Airport and a six-vehicle pile-up on the A11 leaving three people with injuries.
But it was police in County Durham who caused consternation after warning youngsters they could be arrested for throwing snowballs at cars, homes or people who do not want to be involved in games.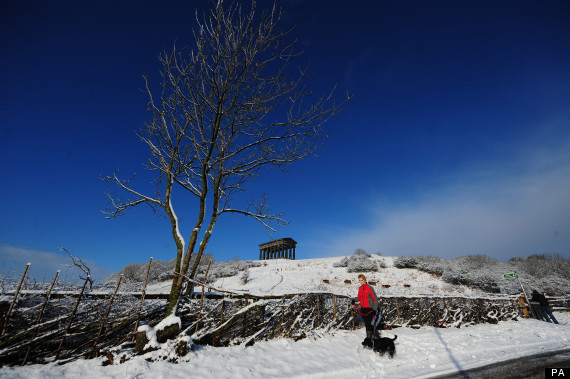 A dog walker walks past Penshaw Monument in Sunderland
The Crook Neighbourhood Police Team was accused of "sucking the fun from everything" after putting the message out on Facebook.
The Met Office recorded snow depths of 8cm (3in) in Norfolk and Suffolk this morning as the snow continued to fall.
The lowest temperature recorded overnight was minus 5.7C (22F) at Altnaharra in the Scottish Highlands, the Met Office said. A woman walks her dog past a snow covered thatched cottage in Thornton Le Dale, Pickering, North Yorkshire
Most of the country was dealing with temperatures of around 0C-1C (32F-34F) and the cold snap is set to continue, according to John Lee, forecaster for MeteoGroup, the weather division of the Press Association.
Many areas will dry out by tomorrow but there is a chance that snow could return to most of Britain on Friday, with some potentially heavy falls in central and eastern areas.
"This afternoon we have got some fairly heavy snow showers running down the North Sea coast but they are fairly scattered, but eastern areas are seeing some fairly heavy snowfalls," Lee said.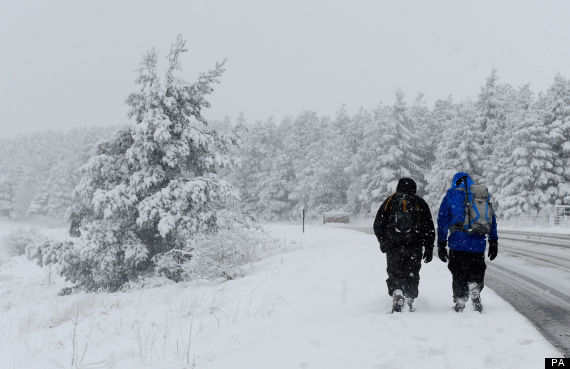 Two men start their walk at the snow covered Hole of Horcum on the North Yorkshire Moors
"Going into tonight those snow showers down the east of the country are going to become more isolated.
"Many areas will be dry tonight. With the light winds and low temperatures there is also potential for freezing fog.
"Central and eastern parts of the UK will be prone to that but it is uncertain at the moment.
"Tomorrow we will have dry and sunny spells. This time it seems to be in the west that there is an area of rain pushing into Northern Ireland and western Scotland, and this could turn to snow in western Scotland as it pushes further inland.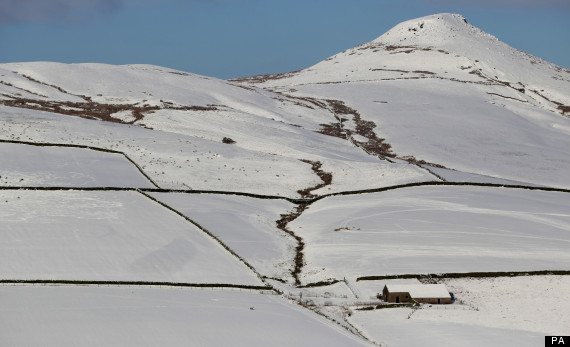 A farm house surrounded by snow close to Burntcliff Top in Cheshire as the winter weather continues across the UK
"There are signs that it will turn more unsettled into Thursday and Friday with increased wind and Atlantic weather systems pushing in.
"If that happens we could see some fairly heavy snowfalls and the majority of the UK will get some snow - eastern areas are slightly more prone with the cold weather.
"There is the possibility of some good snowfall in central and eastern areas.
"Today a lot of places haven't got above freezing. Coastal areas got up to 3C or 4C but inland most areas were around 0C or 1C. That is expected to continue."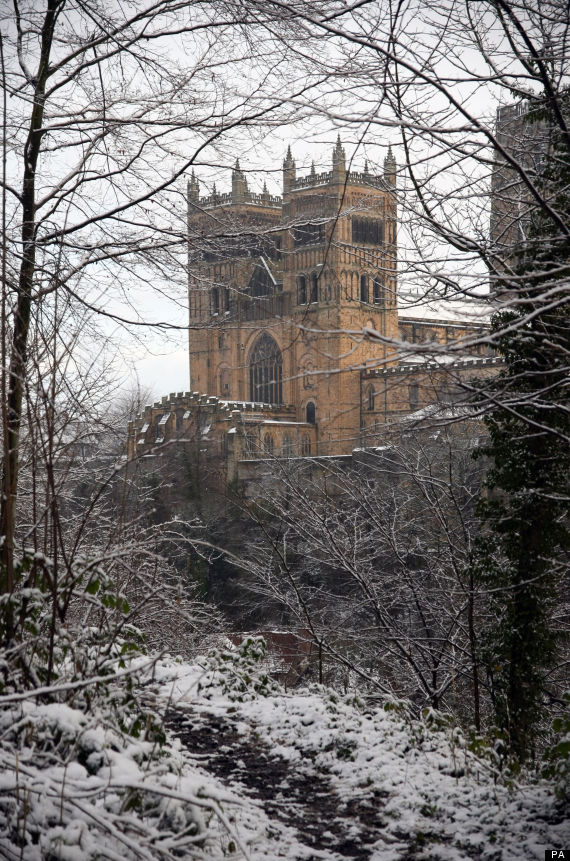 A general view of a snow covered Durham Cathedral in County Durham, as the winter weather continues across the UK
The Met Office has seven yellow warnings of severe weather, namely snow, in place.
The bad weather continued to cause havoc on transport networks.
The AA reported 7,700 breakdowns by lunchtime on Tuesday, around 1,000 an hour, with East Anglia and Essex the busiest regions.
Darron Burness of the AA said motorists should take measures to stop cars getting flat batteries.
"The main problem is flat or failed batteries, as the car's electrical system has to work much harder in the cold. When you get in your car, switch off all the electrics before starting it - for example, blowers, lights and heated windscreen - and dip the clutch while starting to take some of the load off the starter motor and, in turn, the battery," he said.
On Tuesday morning, the Highways Agency warned motorists to take extra care on slippery and icy roads. The agency has a 500-strong fleet of salt spreaders and snow ploughs on standby should there be a heavy dump of snow or heavily iced roads.
The sub-zero temperatures and increased heating bills mean there are concerns that the number of deaths this winter could top the 24,000 in the relatively mild 2011-12 winter, the Local Government Association said.