Investigations began on Wednesday into why an Agusta 109 helicopter collided with a construction crane in Vauxhall, London and crashed into the street below, killing two people and injuring nine others.
There are strict rules governing helicopter flights in the capital and the Air Accidents Investigation Branch (AAIB) team will want to know if proper procedures were followed. An Agusta 109 helicopter, the same type involved in Wednesday's crash
Pilots flying helicopters over London are subject to air traffic control clearance.
If they are flying over central London they must have twin-engined aircraft. Those flying one-engined aircraft must follow the route of the River Thames when operating in the capital.
Visibility over central London was poor enough to cause delays at London City Airport in London Docklands today.
Civil aviation expert Chris Yates, believes the weather on Wednesday morning could well have been a factor behind the incident.
He told the Huffington Post UK: "Fog is a particular issue. The question running round my mind at the moment is whether the fog appeared quite rapidly and caught the pilot unawares.
"It may well have disorientated the pilot and hence the reason why he apparently flew into this crane at the top of the building.
"Another possibility could be that he suffered some kind of medical condition during the flight, it really is too early to tell."
If conditions are poor, helicopters might only be able to operate if the pilot was qualified to fly his aircraft by instruments only.
All those flying helicopters in London would have to follow a set series of routes laid down by the Civil Aviation Authority (CAA).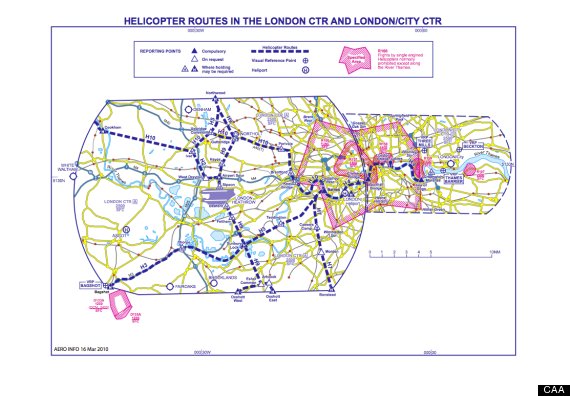 Civil Aviation Authority map of helicopter routes over London
One of the routes begins at Bagshot in Surrey where helicopters could be requested to hold before their flight. This route would take helicopters through Surrey and south-west London, with various compulsory and voluntary reporting points on the way.
Another route comes in from Cookham in Berkshire and another from Northwood in north-west London. There are also routes coming in from Oxshott and Banstead in Surrey.
The London heliport is at Battersea in south-east London and there is also a heliport at Ascot in Berkshire.
The AAIB will want to know if the proper route was being followed, if conditions were fit for flying and if all precautions were taken.
Yates said: "The AAI are on the ground, they will be looking at the wreckage and the radar picture in London at the time.
"They will listen to the conversations between air traffic control and the helicopter to make sure that the pilot has been given the right sort of information and too assure themselves that the pilot followed the instructions given to him."
The type of helicopter involved, the Agusta 109, has a good safety record.
Yates said: "This type of helicopter is not just used for civil purposes but is also used by a number of militaries around the world which shows a fair degree of confidence in it."
An AAIB report is likely to outline the basic facts of the incident, with a fuller report possibly taking some time to come out.
It could be that the AAIB, as it normally does in major incidents, will issue a short interim report within days.

SUBSCRIBE AND FOLLOW
Get top stories and blog posts emailed to me each day. Newsletters may offer personalized content or advertisements.
Learn more