The second man killed in a helicopter crash in central London today has been named by Scotland Yard as Matthew Wood.
Mr Wood, 39, from Sutton, south London, died after the AgustaWestland 109 Power hit a high-rise crane yards from Vauxhall Station during Monday morning's rush hour. It is believed that Mr Wood was killed on the ground.
It plunged to the ground and exploded into flames, also claiming the life of pilot Peter Barnes, 50, from Berkshire. Twelve other people were injured.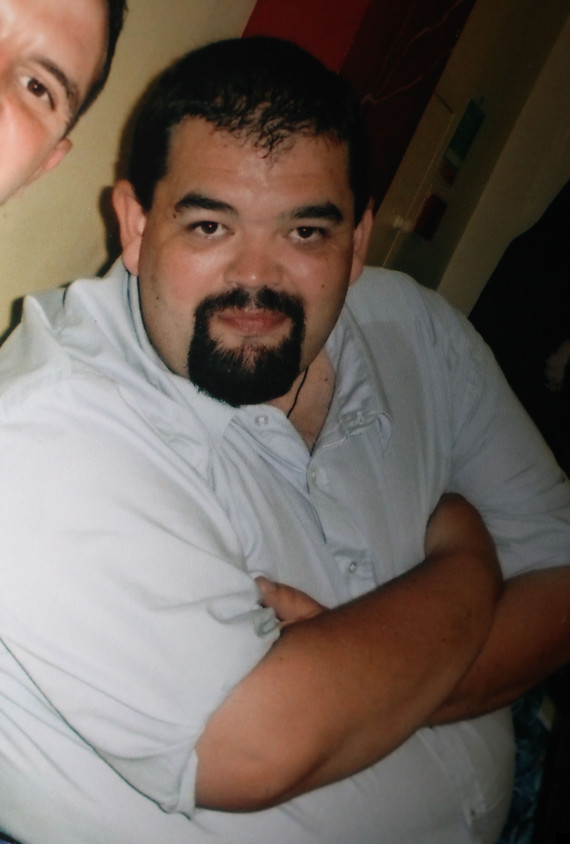 Matthew Wood, who was killed by the falling helicopter
Eyewitnesses have described scenes of chaos, 'fireballs' and body bags at a crash in central London after a helicopter sliced through a crane on top of a residential building in Vauxhall as "if it was a piece of paper".
One of the first firefighters on the scene said it was "absolute chaos", and revealed how the helicopter was still alight as it spiralled to the road below.
A mother of five living nearby said the crash sounded "like a massive explosion."
"It was like something whining in the sky and then it just went bang," Sharon Moore told the Press Association.
"You couldn't see a lot at first because of the fog. The helicopter did not seem to know which way to turn and then it just dropped, it sliced, screeching into the metal.
"It sliced it as if it was a piece of paper. It just ripped apart."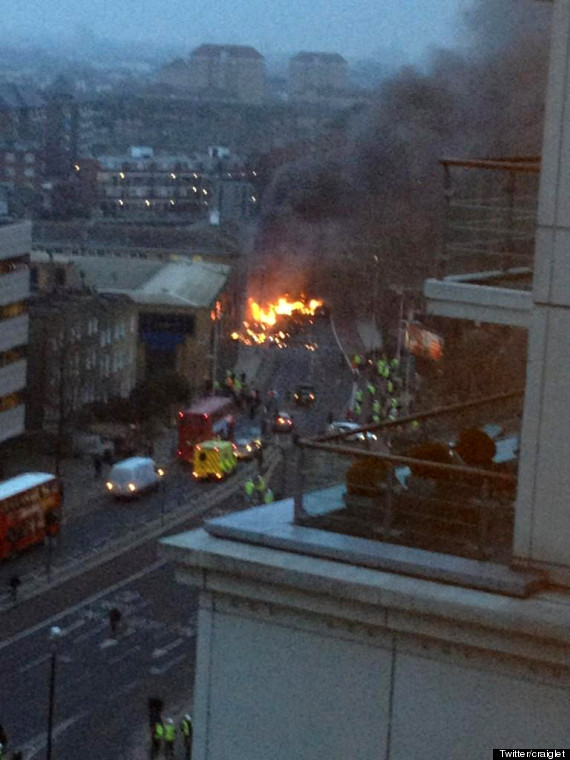 The helicopter was seen cartwheeling to the ground during rush hour Dense black smoke loomed over the morning commute
Two people died after the helicopter exploded into flames, just streets away from MI6 and the site for the new US embassy.
Another nine casualties have been reported, with four people in hospital and one victim critically ill. Emergency services at the scene after a helicopter collided with a crane attached to St George's Wharf Tower
Sharon Moore, 30, described seeing what appeared to be body bags. She told the Press Association:
"I called the police and they got there in seconds. We could then see them trying to pull people out of the cars. We saw someone pulled out and they were covered."
She said the incident was "like something out of an action movie".
"We saw the helicopter falling out of the sky, loads of smoke as it landed.
"It went bang. Another car went bang. There was lots of smoke and debris."
SEE ALSO: Vauxhaull Helicopter crash pictures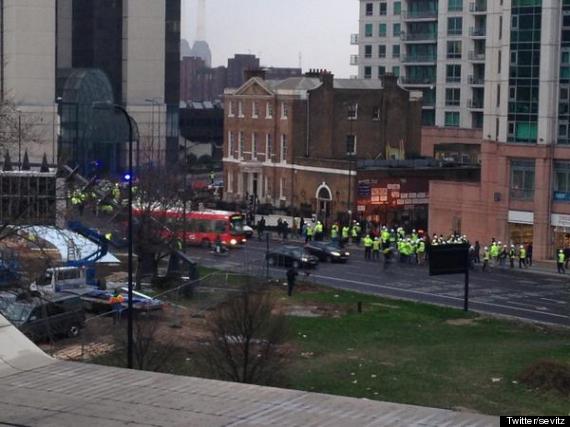 The helicopter is believed to have crashed near Wandsworth and South Lambeth Road after colliding with a crane shrouded by fog on top of St George's Tower, a residential building currently under construction.
London Fire Brigade confirmed that the crane at the St George's Wharf development appeared to have been left "in a precarious position".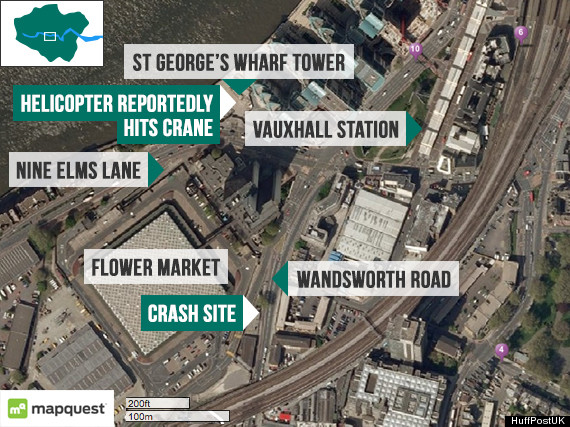 Station Officer Bruce Grain said part of the helicopter's rotor blade was still on the roof of nearby buildings and he could see the smoke from a mile away when he first appeared at the scene.
"It burst into flames, which spread to adjacent buildings," he told the Press Association.
"I could see smoke from a mile away. There was absolute chaos. The helicopter was still alight, part of the rotor blade was on the roof of nearby buildings.
Eyewitness Steve Carslake told BBC Radio 5 Live that he saw a car explode with someone apparently trapped inside. Flaming wreckage after the crash
Mr Carslake said he had got out of a van in Mill Street and saw the aircraft hit the crane.
"We heard someone was actually trapped in the car and went to run towards it and there was just a large explosion again.
"It was quite devastating to watch, I'm afraid. The wreckage of a car can be seen in Vauxhall
Mr Carslake confirmed that the helicopter didn't hit the tower block itself but "hit the crane and then just came down in a fireball." Fog shrouds the damaged crane on top of the building
Mark Louis Sidney, who was heading for Vauxhall station, told Sky News: "I heard a loud bang, I looked up and saw bits of propeller and parts of the aircraft falling off it and then plummeting down. Then a plume of smoke went up.
"I called the emergency services. It happened in a matter of a seconds before it was on the ground. I thought 'Wait a minute, has this thing been shot out of the sky or what?'.
"I could see the top of the crane was shaking on the top of the building. It was very foggy so the helicopter probably couldn't see it."
Mr Sidney said the emergency response was "very professional" and there was "no delay".
Helicopter Crash In Vauxhall, London
SUBSCRIBE AND FOLLOW
Get top stories and blog posts emailed to me each day. Newsletters may offer personalized content or advertisements.
Learn more