Triathlete brothers - one of whom has hypertonic cerebral palsy - have become the recipients of a prestigious sports award.
Cayden Long, 7, is unable to walk or talk unaided, but his older brother Conner sees no reason why he shouldn't join in their favourite sports.
The nine-year-old swims while pulling Cayden in a raft, he pulls his brother in a trailer when he cycles and pushes the trailer when they're running.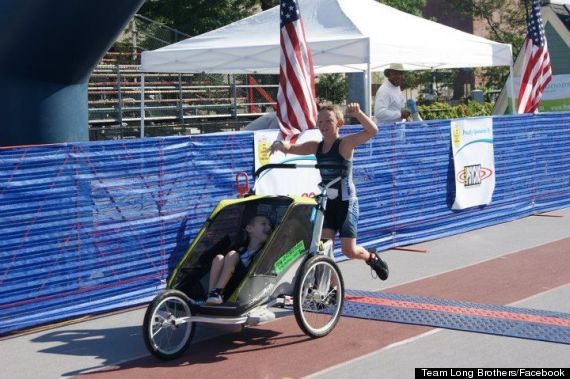 Brotherly love: Conner and Cayden Long have been competing in triathlons together for 18 months
Over the past 18 months the duo have competed in numerous races, and have now been crowned Sports Illustrated Magazine's 2012 SportsKids Of The Year.
Conner said: "If people would race with people who can't walk or talk, or who have any kind of autism, it might open the eyes of (those) who don't really care about it.
"Ten years from now, the perfect place for me and Cayden would be -- you know, how people have the American flag on the moon -- we would have a Team Long Brothers flag on the moon."
SEE ALSO: Father Competes In Triathlons With Daughter Maddy, Who Has Cerebral Palsy (PICTURES)
The boys shot to fame in July last year after competing in the New England Kids Triathlon in Cambridge, Massachusetts.
Although the pair came second to last, they remained undaunted, with Conner telling ESPN the only thing that mattered to him was to finish the race.
He added of his brother: "When I see him smiling and laughing, that means he's having a good time."
A member of the gold medal-winning all-around women's gymnastics team that represented the United States at the Atlanta Olympics in 1996, Kerri Strug will long be remembered as the pint-sized dynamo who refused to give up -- even in the face of tremendous pain. Strug had been the last gymnast to vault for the United States in the final rotation in the finals of the Games. With the US team trailing behind the Russians, a strong performance from Strug was paramount. However, Strug under-rotated the landing of her first attempt and fell, damaging her ankle. Despite her injury, Strug got up and performed the vault again -- this time, landing it perfectly. She scored a 9.712, securing the US team's gold medal. Strug's courageous performance has remained one of the most memorable moments in the history of the modern Olympics.

At the 2008 Beijing Olympics, Jamaican sprinter Usain Bolt became a three-time Olympic gold medalist in one fell swoop, simultaneously clinching the world records and Olympic records for the 100 metres, the 200 metres and the 4X100 metres relay. His three wins -- his remarkable 100m finish in particular -- stunned spectators and commentators alike, leaving one Guardian writer to call Bolt's 100m sprint "so thrilling, so astonishingly emphatic, so crushing yet also casual." What made Bolt's success even more impressive was the young man's back story. An unlikely Olympic champ, Bolt was born in a small rural town in Jamaica, where his parents ran a local grocery store.

At the 2000 Sydney Olympic games, Eric Moussambani did not win a medal. In fact, the swimmer from Equatorial Guinea did not even come close. But that hasn't stopped Moussambani from becoming an enduring Olympic legend. Hailing from one of the most despotic countries in the world and gaining entry into the Sydney games via a wild-card scheme, Moussambani -- who competed in the 100m freestyle -- had not even known how to swim eight months prior to his Olympic appearance. Arriving in Australia, Moussambani had also never even laid eyes on an Olympic-sized pool. But that didn't stop the newly-minted swimmer from giving his best in his Olympic debut. With both of his competitors disqualified due to false starts, Moussambani ended up being the only person to swim his heat. Flailing in the pool, Moussambani struggled to finish the race but he ultimately completed it -- "winning" his heat in a time of 1min 52.72sec, the slowest time in Olympic history. By the time Moussambani had reached the end of the pool, however, he had already won the hearts of millions -- and is still considered his own kind of Olympic hero.

American Lolo Jones is a track and field athlete who specializes in the 60m and 100m hurdles. Jones currently holds the American record for the 60m hurdles and will represent the USA in the 100m hurdles at the 2012 London Games. Jones' ability to overcome challenging hurdles, however, has not been limited to the running track. One of six children, Jones -- who was raised by their single mother -- had a difficult and impoverished childhood. "I grew up quite poor but, I mean, as a kid you don't realize you're living in poverty. My mom was trying to do by any means necessary to make sure that we have what we needed. I definitely do not think I'd be going for this dream had I not seen her pick herself up so many times and keep fighting for us. I think that's why I keep fighting," she told Yahoo! News.

Challenging age-old stereotypes and overcoming staggering odds, 17-year-old Sadaf Rahimi will be representing Afghanistan at the 2012 London Olympic games. Her sport? Boxing. Female boxers in Afghanistan do not have access to a real boxing ring, so Rahimi has been training in a makeshift gym, making do with limited training equipment to practice her sport. But Rahimi says she is excited to represent her country and hopes to gain "honor and dignity for herself and other [Afghani] women."

Often touted as one of the greatest athletes in history, American Jesse Owens had to overcome tremendous racial and physical obstacles to become a four-time Olympic gold medalist. Owens, who had been a sickly child from a small town in Alabama, participated in the 1936 Berlin Olympic games -- an event that Adolf Hitler had hoped would serve to showcase Aryan ideals. But Owens was determined to remain unshaken by the ethnic bias and in the end, clinched the gold medal for the 100 meters, the 200 meters, the long jump and the 4X100 meter relay. Owens was the most successful athlete at the Berlin games.

Representing South Africa at the 2008 Beijing Olympic games, swimmer Natalie Du Toit became the first female amputee in an able-bodied Olympics, competing in the women's 10 km race. Du Toit, whose left leg was amputated in 2001 after a car accident, is a successful Paralympian who competes without the aid of a prosthetic limb. In 2010, Du Toit was awarded the Laureus World Sportsperson of the Year with a Disability for "breaking down the barriers between disabled and able-bodied sport."

Despite being offered millions of dollars to join other national teams, Cuban boxer Teofilo Stevenson consistently refused to leave his beloved country. "No, I will not leave my country for one million dollars or for much more than that," he once said. "What is a million dollars against eight million Cubans who love me?" Many couldn't understand his rationale and many more underestimated his skills as a boxer. But in time, Stevenson would go on to gain a place as a national hero, a boxing legend and a three-time Olympic heavyweight champion. Stevenson won gold for Cuba at the 1972, 1976 and 1980 Olympic games.

British cyclist Chris Boardman was an unlikely Olympic champ. An unemployed carpenter at the time of the 1992 Barcelona Olympic games, Boardman -- who competed in the 4,000m individual pursuit -- did not think he was capable of winning a gold medal. His German opponent Jens Lehmann had been the World Champion in 1991 and was a favorite to win the event. But Boardman, riding on a new "super bike" called the 'uni-axle,' sped to victory -- winning Britain's first cycling Olympic gold in 72 years.

In the 1960 Olympic games, Ethiopian marathoner Abebe Bikila wowed the sporting world when he clinched the gold medal, running the marathon in a record time of 2 hours, 15 minutes and 16 seconds. Bikila was the first Sub-Saharan African to win an Olympic gold medal -- and he achieved this tremendous feat barefoot. After winning the race, Bikila was asked why he had run without shoes. He famously replied: "I wanted the world to know that my country, Ethiopia, has always won with determination and heroism." Bikila would go on to win another Olympic gold at the 1964 Games, becoming the first athlete in history to win the Olympic marathon twice.

Diver Greg Louganis of the United States had to overcome fear and injury to clinch a near-perfect dive at the 1988 Seoul Olympic games. In one of the most memorable -- and horrifying -- moments in Olympic history, Louganis had struck his head on the diving board during the preliminary section of the springboard competition. Temporary sutures were applied to his head and just half an hour later, Louganis attempted the very same dive -- a reverse somersault. This time, he achieved the highest score in the preliminary round. He would go on to win the gold medal.