A dog whose owner died two months ago visits the church where her funeral was held every day in the hope she will return.
Ciccio, a 12-year-old German Shepherd, attends Mass at the church of Santa Maria Assunta in San Donaci, Puglia, every day.
According to Sud Italia News, the grieving hound mourns daily for Maria Lochi, his former owner who was known in the area for her love of animals.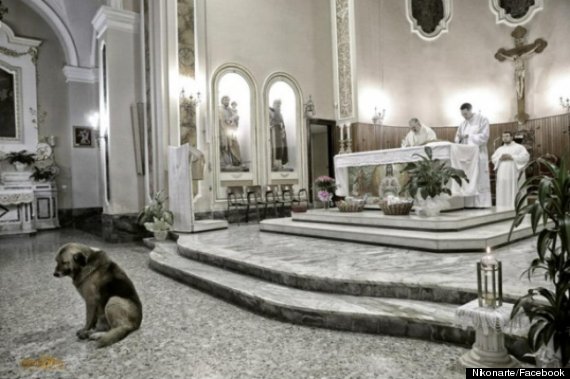 Ciccio at the altar of the church of Santa Maria Assunta in San Donaci, Puglia
The paper says: "As a sign of gratitude, Ciccio goes to church every morning, sitting beneath the altar, near the priest.
"His hope to see his beloved Maria, the person he accompanied everywhere, even in church, moves the faithful."
It adds the parish priest "does not dare" to chase him away.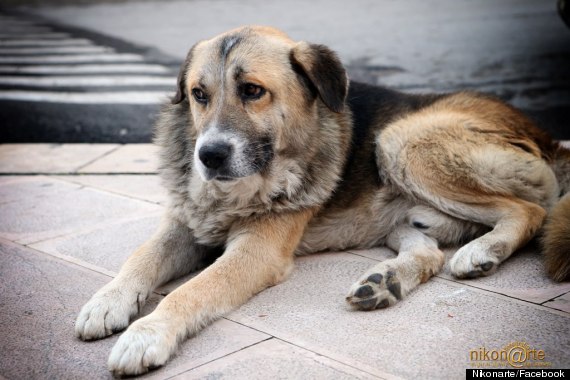 The 12-year-old hound sorely misses his former owner Maria Lochi
Father Donato Panna told the Daily Mail: ''He's there every time I celebrate Mass and is very well behaved - he doesn't make a sound, I've not heard one bark from him in all the time he has been coming in.
'He used to come to Mass with Maria and he was obviously devoted to her - I let him stay inside as he was always so well behaved and none of the other parishoners ever complained to me."
A Facebook page for The Church in Malta features pictures of Ciccio and his story - and has been shared more than 3,500 times.
SEE ALSO: Owner Tenderly Cradles Arthritic Dog In Lake To Soothe His Pain And Help Him Sleep
10 Reasons To Love A Mutt
You can find a mutt who is small, medium or large; a dog with a short, long, curly or wiry coat; a pup with prick or floppy ears; and a mixed-breed dog with a short nose or a long snout. Whatever you're looking for in a dog, a mixed breed can meet your needs in a one-of-a-kind package.

Whether you're looking for a dog who's friendly to everybody, one who will enjoy relaxing with you on the couch, or a pup who will eagerly accompany you on a run, there's a mixed breed who's just right for you and your family.

Your local shelter or rescue group has many wonderful mixes of all kinds ready for adoption.

Don't say that you have a mutt. Instead, come up with your own distinctive description for your dog: a Malibu chi-wienie, a wirehaired Golden Gate griffon or a North American calico shepherd.

Depending on where you live, the adoption fees at shelters usually range from $150 to $300. If that includes spay/neuter surgery, microchip implantation, vaccinations and the license fee, it's a great deal.

Studies conducted in Denmark and North America showed that mixed-breed dogs tended to have lengthier average life spans compared to purebreds.

If your all-American dog is an athlete, he can compete and earn titles in agility, dock diving, flyball, canine disc, freestyle (dancing with dogs), lure coursing, obedience, rally and more.

In appearance, many mutts bear features of the earliest domesticated dogs. So if your mixed breed sports a short, yellow-to-light-brown coat; has prick ears and is of medium height and weight, he likely resembles the ancestors of the modern dog.

Mutts represent about 75 percent of the shelter population, so adopting one of these dogs allows you to support your local shelter by reducing the population of pups who need homes.

These dogs can love you wholeheartedly -- and you'll both benefit from saving a mutt's life.

This fluffy little dog named Ralph tries to act tough towards that angry looking guy in the mirror!