The fate of "fewer than ten" British nationals caught up in the Algerian hostage crisis remains unknown as the four-day stand-off in the desert came to a bloody climax on Saturday.
"As of now there are fewer than ten British nationals at risk or unaccounted for. But that of course means that we continue to prepare ourselves bad news," he said.
Defence Secretary Philip Hammond said the Government had received information that the hostage situation "has now been brought to an end".
He described the loss of life as "appalling and unacceptable".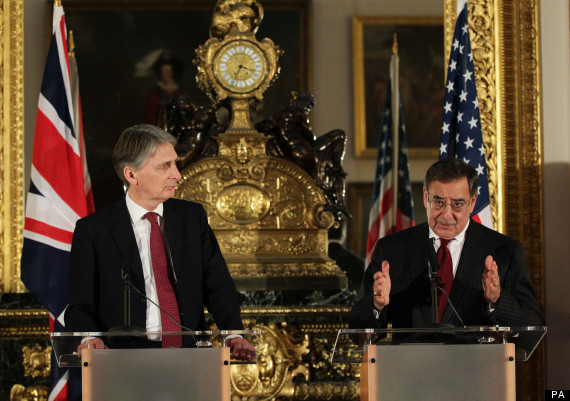 Hammond and Panetta in a joint news conference on Saturday afternoon
"We remain in close contact with the Algerian government," he told a joint news conference with US defence secretary Leon Panetta. "We remain determined to defeat terrorism and stand with the Algerian government."
The Algerian state news agency, APS, reported that seven hostages died as Algerian special forces mounted a "final assault" on the last terrorists holding out at the sprawling gas facility.
Eleven of the militants were also reported to have died in the shoot-out. The hostage situation has been underway since Wednesday
"This whole incident underlines the scale and ruthlessness of the terrorist threat that we and other nations face," he said.
"We underline our resolve to deal with that and to defeat terrorism and murder, working with allies across the world, including in north Africa."
He said that a consular team was now on the ground in In Amenas providing assistance to those Britons who had escaped while the ambassador Martyn Roper was travelling to the area.
The situation at the plant remained unclear, with reports that 16 foreign nationals - including two Americans, two Germans and a Portuguese - had been freed.
APS quoted an Algerian security source as saying that the hostages who died had been killed by their captors. The In Anemas hostages included Americans, Britons, Germans, Japanese and Portuguese
The drama began on Wednesday when a group of about 30 heavily-armed militants mounted a dawn raid at the plant close to the Libyan border, seizing hostages from among the 700 Algerian and foreign workers at the site.
Two workers - including one Briton - died in the initial assault.
The following day, Algerian special forces mounted an operation to take back the plant - to the initial dismay of the British and other governments, who were not notified in advance despite offering assistance to the Algerian authorities.
By Friday, APS was reporting that about 100 foreigners - from a total of 132 - and 573 Algerians had been freed, with a "provisional" figure of 12 hostages and 18 militants who had been killed in the fighting - although the militants claimed 35 foreigners had died.
However, it was also clear that a group of militants, still holding hostages, was continuing to hold out.
Hague said that he would be chairing a further meeting of the Cobra emergencies committee later today and that David Cameron - who is following events from Chequers - would be speaking to Algerian prime minister Abdelmalek Sellal.
"This has been and remains an Algerian operation, and our priority is the safety and welfare of our nationals. We continue to work hard on that," he said. Hague earlier said the hostage crisis was the Government's 'top priority' until all were accounted for
Despite the casualties among the hostages, an Algerian government source quoted on Friday by APS strongly defended the military operation, saying it prevented a "true disaster" which would have caused "immeasurable" human and material damage.
The rescue mission was carried out in "extremely complex circumstances" against terrorists armed with a huge arsenal of missiles, rocket launchers, grenades and assault rifles, the source said.
Swift action was the "only way to minimise or neutralise the deadly intent of the multinational terrorists - but not without the inevitable risks in all such situations".
It has been reported that two UK workers are among the casualties, which would bring the British death toll to three after one was killed in Wednesday's initial raid by the militants.
As freed hostages began to leave the plant, accounts emerged at their horrific treatment at the hands of the kidnappers.
One Algerian worker, who gave his name only as Chabane, described how from his hiding place he heard the militants speaking among themselves with Libyan, Egyptian and Tunisian accents. At one point, he said, they caught a Briton.
"They threatened him until he called out in English to his friends, telling them 'Come out, come out. They're not going to kill you. They're looking for the Americans'," he said.
"A few minutes later, they blew him away."
SUBSCRIBE AND FOLLOW
Get top stories and blog posts emailed to me each day. Newsletters may offer personalized content or advertisements.
Learn more