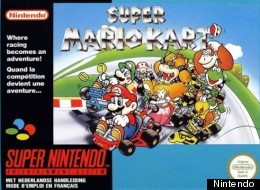 Super Mario Kart - arguably one of the finest video games ever made - was released in the UK 20 years ago today.
The original won hearts with its genre-defining mix of simple tracks and characters, merciless power-ups and weapons, varied locations and quick, twitchy controls.
While it features the cute, loveable characters of the Mario universe it was a surprisingly deep game and stood the test of time with many sequels, one each for almost every Nintendo system released after the Super Nintendo.
Joe Dowling of London's retro video game emporium Retro Game Base, said that Mario Kart's legacy was hard to match.
"Mario Kart changed the face of console racers for ever," he told HuffPost. "Taking the playability of early multiplayer classics like Super Sprint and Micro Machines and making a more accessible game with much more depth and perhaps the most replay value.
"While time has not been too kind graphically, the playability remains."
To celebrate the game's release, we've compiled 10 things you didn't already know about Mario Kart.
Take a look, below - and if you're in the mood, download the Super Nintendo game for Virtual Console via Wii or Wii U when you get home.
10 Things You Didn't Know About Mario Kart
The original Super Mario Kart is still played through emulators downloaded on shady 'romz' sites. But many of these use the original code but replace the levels with all-new tracks. A quick Google search should set you on your way.

... take a look.

Sorry to tell you this, but if you think you're good at Mario Kart... you're not. There are many, many experts in this game who have taken their Karting skills way beyond what is reasonable, including Leyla Hasso, one of the UK's finest drivers and niece to the current UK champion. Check out one of her laps...

A sealed copy of Super Mario Kart is currently listed for £800 on eBay.

That said, an old, used copy can be picked up for as little as a couple of quid.

The Guiness Book of World Records placed Super Mario Kart number one in their 2009 list of the top 50 video games of all time, based on initial impact and lasting legacy.

Mario Kart did not start off as a game about Mario. In fact it was a generic racing game. It only turned into a Mario game three months into development when, on a whim, the designers decided to see what it looked like with Mario in the kart. The rest was history.

Just look at it.

Super Mario Kart was the third best-selling SNES game of all time, with its 8 million sales leaving it behind only Super Mario World (20 million) and Donkey Kong Country (9 million).

One for hardcore fans here, but while SMK was known for its turquoise box, it also came in a very, very rare red edition. Current eBay price? £300.