A Marks & Spencer lingerie campaign featuring model Rosie Huntington-Whiteley has been cleared by the advertising watchdog following complaints that it was degrading to women and reinforced sexual stereotypes.
The three digital outdoor ads featured moving images of Huntington-Whiteley modelling bras and knickers from her Rosie For Autograph collection for the retailer, showing her in a bedroom first looking left then rotating her body to the front.
Seven people complained that the ads were offensive and unsuitable for public display where they could be seen by children because they believed they were overtly sexual, explicit, degrading to women and reinforced sexual stereotypes of women.
LIKE HUFFPOST UK LIFESTYLE ON FACEBOOK | FOLLOW US ON TWITTER
Marks & Spencer said the lingerie was designed in collaboration with Huntington-Whiteley, adding that the range had been "designed by a woman for women, as opposed to being designed for the titillation of men".
The purpose of the campaign was not to show Huntington-Whiteley as being overtly sexy but to show the product off in the best light.
M&S said it refuted any allegation that the range or supporting campaign was degrading to women or reinforced sexual stereotypes of women, and any such allegations were not supported by the evidence it had of the success of the campaign among its target female customers.
It added that its media agency always applied "location sensitivity" to M&S's ad placements and was particularly careful when it came to lingerie, especially avoiding schools and ethnic community areas where they could be considered inappropriate or would be more likely to cause offence.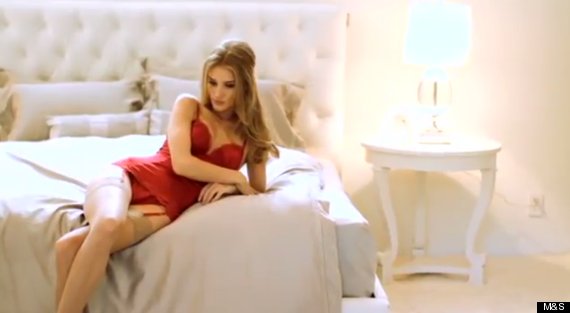 Rosie in a previous M&S ad campaign for Rosie For Autograph
The Advertising Standards Authority (ASA) said it was acceptable for lingerie retailers to show their products modelled in ads provided they did so responsibly, adding that consumers were less likely to regard partial nudity in such campaigns as gratuitous.
It did not believe that there was anything in the ads that implied sexual activity, while Huntington-Whiteley's pose and behaviour did not draw attention to particular parts of her body in a way that was sexually suggestive.
See more controversial adverts here:
100 Controversial Adverts
Levis.

Saatchi and Saatchi's campaign for The Conservative Party ahead of the 1979 general election.

Durex.

Sisley fashion brand.

Sean John's Unforgivable Woman fragrance.

Linford Christie stars in Kleenex's tissue advert.

Wonderbra's infamous advert.

Lynx.

BMW.

BaF's anti-domestic violence ad.

Red Tape menswear fashion brand.

Controversial French anti-smoking advert,

MacDonald's.

QSOL service provider.

NSPCC

A German MacDonald's advert.

Heinz.

Cadbury's.

Miquita Oliver in Women's Aid advert.

Advert for Chicolate chocolate substitute.

Skin Burn, anti-smoking ad

Barnardo's.

Tipalet cigarette advert.

Benetton

TG4 television program entitled 'Paisean Faisean'.

Courage beer.

Budweiser.

Barcardi rum.

Amnesty International

Skyy alcoholic drink.

Amnesty International

Amnesty International

Anti binge-drinking advert

Van Heusen

BMW

Pitney-Bowes Postage Meter

Government anti-drug driving advert

Anti-abortion advert

Advert against verbal abuse

Fabrica

Benson & Hedges

American Apparel

Amnesty International

Post-It

An M&C Saatchi advert for St Matthew's in the City in Aukland, New Zealand.
It said: "Although we considered that some members of the public would find the nudity in the ads distasteful, we did not consider that the ads were likely to cause serious or widespread offence, or that they were unsuitable for public display where they could be seen by children.
"We noted that M&S had applied a placement restriction such that the ads would not appear near schools and considered this was more than sufficient."