Snow has been falling all over the UK: it's been impossible to avoid it.
Not only has it been blocking our drives and pavements, but also blanketing news sites and clogging up social media feeds.
However with the curse of the cold stuff has come a new current, with not merely snow men but ambitious snow creatures appearing in gardens and parks around the country.
One of Huff Post UK's readers sent in this amazing picture of a snow shark, setting a precedent for snow sculptures we've seen so far.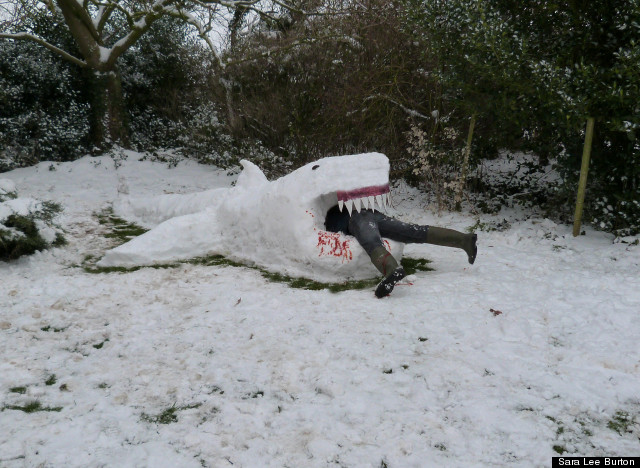 11-year-old George Burton in the snow shark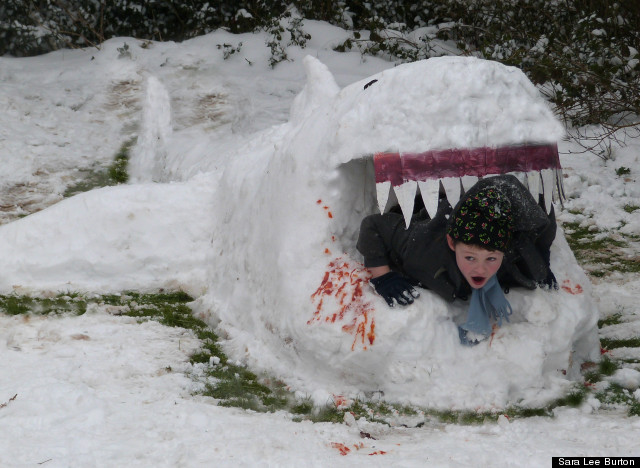 6-year-old Tyler in the snow shark
Sara Lee Burton, from Kirk Langley in Derbyshire, told the Huffington Post UK she built the snow shark after seeing a giant snow mouth online. She added: "It's starting to become a bit of a tradition in our house - building with snow since we started getting proper snow fall again. We try each year to outdo the last.
"It's amazing what you can do with painted cardboard, tomato ketchup and a little imagination."
We've seen many impressive snow creatures here at Huff Post HQ. Take a look through the best below.
(Oh and think you could done better? Send your pictures to ukpicturedesk@huffingtonpost.com and we'll feature you)
Loading Slideshow
Readers Snowmen

Richard Benton @richbenton How'd you like snow farah? pic.twitter.com/7vdqWinp

"This is a picture of my 60 year old dad and his polar bear made from snow. Made entirely from snow." - Annabelle Wright from Stoke

"Here's a picture of what my flat mate and I made (aged 32 and 31!) in Battersea Park yesterday. Neither of us are artists, but might have got carried away trying to make the best snowman in the park!" - Rikki Mistry

"This is a snowman of Darth Vader that me and my girlfriend made." - Matt King and Alice Granger, Dudley, West Midlands

"Snowman and his Snowdog." - Charlotte Gale

"My killer snowman. Zombie snowman?" - Josh Davoll

Readers Snowmen

(Credit: Twitter/@nomoredisco)

Readers Snowmen

(Courtesy of Stuart Davidson)

Readers Snowmen

(Courtesy of Stuart Davidson)

Readers Snowmen

(Credit: Twitter/@pippashawley)

"This is why living in Kilburn is ace - a snow totoro! Taken last night at the end of my mate's road." - Jody Thompson. (Credit: Mat Morrisroe)

Readers Snowmen

(Twitter/@imogen89)

Readers Snowmen

"The most self-satisfied snowman I've ever seen." - Matthew Tucker (@Matt_Tucker)

Readers Snowmen

" 'An Idiot Unthawed' made in Cambridge" - Martin Aveling.

Readers Snowmen

Richmond-upon-Thames. Courtesy of David Hobbs.

Readers Snowmen

"I made a snowdog at the weekend!" - Melanie Hall (Twitter: @MelanieHall)

Readers Snowmen

(Credit: Sarah Dean)

Readers Snowmen

Heather Scott @Winningresults @HuffPostUKPics went for traditional carrot nose pic.twitter.com/LxJcitTI

Readers Snowmen

Georgie @georgie4491 @HuffPostUKPics #rugbyleague snowman, complete with six packand sculpted muscles! Stands about 6ft 4 tall pic.twitter.com/tCzycsvW

Readers Snowmen

Martin Witney @martinwitney @HuffPostUKPics Derby snowman and companions. pic.twitter.com/FygwhU4j

Readers Snowmen

Neill Campbell @Inverneill #hpsnowman RT @Inverneill: @HuffPostUKPics @HuffPostUK 11ft 1in snowman in Foxton, Cambs made by my son's friend Ed. pic.twitter.com/e3ehJxLS

Readers Snowmen

boomboomviking Boomboomviking 29m @HuffPostUKPics @beckenham pic.twitter.com/o5G5qk88

Readers Snowmen

Spoilt Inc. @spoiltInc @HuffPostUKPics Meet Frank! #hpsnowman pic.twitter.com/im9kPKe5

Readers Snowmen

OWZ!! @owznt @HuffPostUKPics pic.twitter.com/oy1JVqCe

Readers Snowmen

Simon @drsimon22 @HuffPostUKPics pic.twitter.com/ZZMc2kNN

Readers Snowmen

Simon @drsimon22 @HuffPostUKPics pic.twitter.com/ZZMc2kNN

Readers Snowmen

Imogen @imogen89 @HuffPostUKPics pic.twitter.com/3sT15tpk

Readers Snowmen

Angela Preston @AngePreston @HuffPostUKPics #snowman pic.twitter.com/1q3EsaTk

Readers Snowmen

Jackie Head's snowman in Penge

Readers Snowmen

Farrukh @implausibleblog @HuffPostUKPics Are snow giants attacking Parliament? tinyurl.com/a7jhwm8 <-- Evidence :) #DrWho #Xmas #Was #Right

Courtesy of Andrea Mann.

Courtesy of Sam Parker.