Are Taylor Swift and Harry Styles about to get back together?
Well, while we're trying not to get our hopes up too much, they have been given a significant boost by Taylor's arrival in the UK.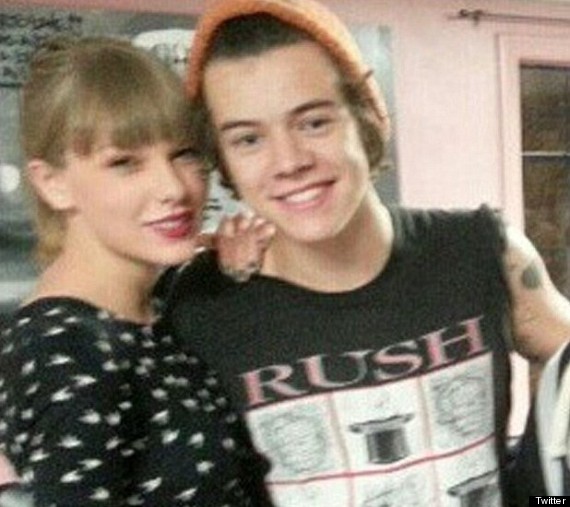 The singer arrived in the country yesterday amid rumours she's here for a 'showdown' with her ex, having not seen him since they ended their month-long, whirlwind romance, during a New Year holiday to the Virgin Islands.
"Taylor flew to Luton and then travelled to London yesterday - and there's talk of a meeting with Harry being on the cards," a source told The Sun.
"She has no obvious reason or promo duties in London this week. Harry has just got back from a small tour in Japan with the band and now has four days off.
"Out of all the hotels there are in London, Taylor has opted for one close to Harry's house."
The reports come after the news that Harry had been encouraged to make peace with Taylor by Simon Cowell, who apparently told his protégé any bad blood could harm One Direction's US career.
A source told The Mirror: "Simon gave Harry a friendly warning that any animosity between him and Taylor could jeopardise One Direction's popularity in the US.
"They're two of the world's biggest music stars, and Simon knew that, although things didn't work out between them, they were bound to meet at various events and awards ceremonies."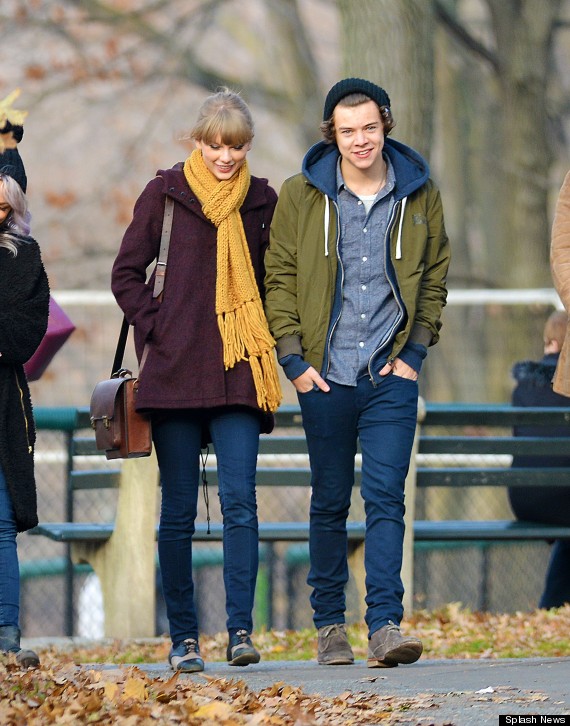 Harry and Taylor when they first went public with their romance in November
Meanwhile, Taylor is said to be growing increasingly annoyed at the interest in her lovelife and is said to be 'embarrassed' about her string of failed celebrity relationships.
"At first Taylor just thought it was funny how much interest people had in her love life and she went along with it," a source told RadarOnline.
"But now she's the butt of jokes on 'Saturday Night Live', in the tabloids and on the late night shows. She laughed it off, but the jokes made about her at the Golden Globes got under her skin."
HUFFPOST UK CELEB ON FACEBOOK | FOLLOW US ON TWITTER
It was the most controversial relationship of 2011, but Harry Styles and Caroline Flack only confirmed their romance when it ended in January 2012. Harry tweeted: "Please know I didn't 'dump' caroline. This was a mutual decision. She is one of the kindest, sweetest people I know. Please respect that."

An odd match but a lovely couple, so we were really sad to see Heidi Klum and Seal split up in January 2012, after seven years of marriage. The couple went on to have a public war of words when Hedi went public with her relationship with her body guard, with Seal saying: "I would have thought Heidi would have shown a little bit more class before deciding to fornicate with the help." Ouch.

They had spent ages avoiding questions about their relationship but not long after going public with their romance, N-Dubz bandmates Tulisa and Fazer split in January 2012. The 'X Factor' judge then went on to briefly date 'Skins' star Jack O'Connell.

Girls Aloud's Sarah Harding finally looked happy after coming out of rehab at the start of 2012, finding love with Theo DeVries. However, it was short lived, as they split in January following a shocking drunken brawl, which left the singer covered in bruises.

'Loose Woman' Denise Welch announced she had split from husband of 24 years Tim Healy live on the lunchtime talk show in February 2012, following rumours she'd had an affair. However, she revealed she and Tim decided to split at the end of 2011 and had kept the news a secret. She is now engaged to toyboy Lincoln Townley.

After 14 years of marriage, Ronan and Yvonne Keating announced their split in April 2012, having kept it secret since late 2011.They failed to get over Ronan's affair with a dancer in 2010, and now the Boyzone singer is dating an Australian TV producer.

Dannii Minogue seemed to have it all - a hunky man and gorgeous little boy Ethan. But the former 'X Factor' judge's perfect life was shattered when she split from model Kris in April 2012.

The Saturdays singer Mollie King split from model boyfriend David Gandy in April 2012, and went on to be briefly linked to Prince Harry. Meanwhile, David spoke out against his ex and claimed his "perfectionism" was the reason the relationship ended. Ouch.

Previously notoriously private Lady Gaga split with 'True Blood' star Taylor Kinney in May 2012, after meeting on the set of her 'You & I' video in 2011. However, within weeks they were back in each others arms. Aww.

Myleene Klass was left heartbroken when tour manager husband Graham Quinn suddenly walked out on her and their two daughters in June 2012.

Together 14 years but never married, Johnny and Vanessa split in June 2012. They had three kids together.

Katy Perry looked to have finally moved on from Russell Brand when she went public with Florence and the Machine guitarist Robert Ackroyd at Coachella Festival in June 2012. After breaking-up and getting back together, they ended it for good the following month and she soon begun seeing old flame John Mayer.

One of the most high profile marriages in Hollywood came to an abrupt end in July 2012 as acting duo Tom Cruise and Katie Holmes split after five years together.

Kristen Stewart was caught out in July 2012 when pictures were published of her cheating on Robert Pattinson. The couple split when news of her affair with 'Snow White And The Huntsman' director Rupert Sanders broke but after a couple of months apart they went public with a reunion in October.

Max and Michelle prompted speculation they were about to split back in April 2012, when they announced their engagement was off but they were staying together as a couple. Sure enough, a few months later in July, the Coronation Street/The Wanted union came to complete end.

They were the surprise celeb couple of the year, but it was all over for Geri Halliwell and Russell Brand nearly as soon as it had begun. After cosying up after the Olympics Closing Ceremony in August 2012, the pair begun seeing each other, but it was soon over when Russ was pictured in the arms of another woman. Awks.

Russell and Danielle had been together a long time by celebrity standards - nine years - but the two announced their divorce in October 2012, which could see her take $20m from the Australian actor.

Aren't you shocked it never worked out? Famous-for-being-famous Chantelle and famous-for-being-married-to-Jordan-and-periodically-dressing-as-a-lady Alex's relationship ended nearly as quickly as it started when they split in September 2012. The couple confirmed their split shortly after daughter Dolly's birth when Alex was arrested trying to force his way into their home. They have played out their split in various magazines since.

Young love, eh? Liam Payne split from Danielle Peazer in September 2012 having been with her for two years. The One Direction star promptly snipped off all his hair amid rumours he'd started dating Leona Lewis, although neither have confirmed or denied the romance.

Following his split from Lydia Bright, James Argent begun dating fellow 'TOWIE' star Gemma Collins. The pair were accused of faking their relationship for storylines on the show, but the romance didn't last long, as they called time on it in October 2012, amid rumours they had both cheated.

Chris Brown announced he had split from girlfriend Karreuche Tran in October 2012, amid increasing sightings of him with ex-girlfriend Rihanna. The singer blamed his 'friendship' with his ex as the reason for the split and later claimed he was 'in love with two people', prompting speculation Chris and RiRi had reunited.

After much speculation, Katie Price finally admitted she'd gotten back with former Argentinian boyfriend Leandro Penna in April 2012 and announced their engagement just a few weeks later. Sadly they couldn't make their reunion work and split (possibly for good this time) in October.