A group of men from Yorkshire who built an igloo and put it up for sale on eBay have attracted bids of nearly £600 after posting an advert for a "beautifully presented stand alone apartment."
Craig Parker, Greg Davies, Cal Baranovsky and his brother Mark braved the winter weather to construct the 12x8ft snow structure, and in a fit of inspiration, put the eskimo hideout on eBay, all in the name of charity.
Cal, 30, who owns his own plumbing business, told the Huffington Post UK: "We built on Monday and so far it's still there. In fact if it snows again we might add to it.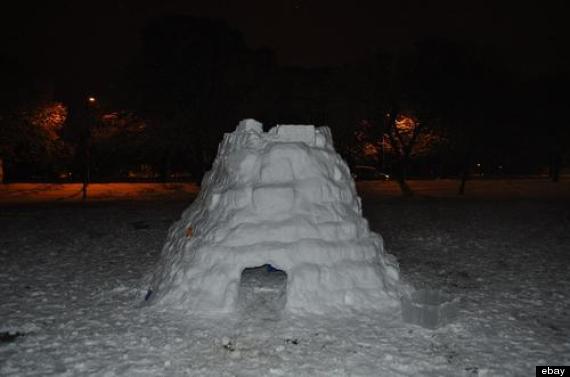 Built to last. Or not
"If it melts it melts, but I think everybody knows it's just raising money for a cancer charity and everybody has been touched by the illness in some way. So far we have raised over £700 on our JustGiving site and nearly £600 on eBay."
The igloo is tall enough to stand up in, and according to Cal, can accommodate up to 20 people. According to their eBay ad, the other features the "studio apartment" boasts are a huge garden (it's built in a park) with easy access to Sunday football and the cheap council tax band D. The lads are fundraising for Yorkshire cancer research.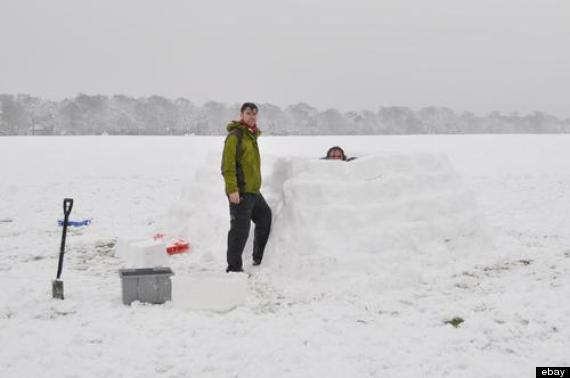 The intrepid lads mid-build
There are some caveats though, there is no fireplace (for health and safety reasons) and the toilets are a "short walk away."

Is this the most impressive snow creation you've seen yet? Have a flick through some of Huff Post UK's reader's snow beasts.
Loading Slideshow
Readers Snowmen

Richard Benton @richbenton How'd you like snow farah? pic.twitter.com/7vdqWinp

"This is a picture of my 60 year old dad and his polar bear made from snow. Made entirely from snow." - Annabelle Wright from Stoke

"Here's a picture of what my flat mate and I made (aged 32 and 31!) in Battersea Park yesterday. Neither of us are artists, but might have got carried away trying to make the best snowman in the park!" - Rikki Mistry

"This is a snowman of Darth Vader that me and my girlfriend made." - Matt King and Alice Granger, Dudley, West Midlands

"Snowman and his Snowdog." - Charlotte Gale

"My killer snowman. Zombie snowman?" - Josh Davoll

Readers Snowmen

(Credit: Twitter/@nomoredisco)

Readers Snowmen

(Courtesy of Stuart Davidson)

Readers Snowmen

(Courtesy of Stuart Davidson)

Readers Snowmen

(Credit: Twitter/@pippashawley)

"This is why living in Kilburn is ace - a snow totoro! Taken last night at the end of my mate's road." - Jody Thompson. (Credit: Mat Morrisroe)

Readers Snowmen

(Twitter/@imogen89)

Readers Snowmen

"The most self-satisfied snowman I've ever seen." - Matthew Tucker (@Matt_Tucker)

Readers Snowmen

" 'An Idiot Unthawed' made in Cambridge" - Martin Aveling.

Readers Snowmen

Richmond-upon-Thames. Courtesy of David Hobbs.

Readers Snowmen

"I made a snowdog at the weekend!" - Melanie Hall (Twitter: @MelanieHall)

Readers Snowmen

(Credit: Sarah Dean)

Readers Snowmen

Heather Scott @Winningresults @HuffPostUKPics went for traditional carrot nose pic.twitter.com/LxJcitTI

Readers Snowmen

Georgie @georgie4491 @HuffPostUKPics #rugbyleague snowman, complete with six packand sculpted muscles! Stands about 6ft 4 tall pic.twitter.com/tCzycsvW

Readers Snowmen

Martin Witney @martinwitney @HuffPostUKPics Derby snowman and companions. pic.twitter.com/FygwhU4j

Readers Snowmen

Neill Campbell @Inverneill #hpsnowman RT @Inverneill: @HuffPostUKPics @HuffPostUK 11ft 1in snowman in Foxton, Cambs made by my son's friend Ed. pic.twitter.com/e3ehJxLS

Readers Snowmen

boomboomviking Boomboomviking 29m @HuffPostUKPics @beckenham pic.twitter.com/o5G5qk88

Readers Snowmen

Spoilt Inc. @spoiltInc @HuffPostUKPics Meet Frank! #hpsnowman pic.twitter.com/im9kPKe5

Readers Snowmen

OWZ!! @owznt @HuffPostUKPics pic.twitter.com/oy1JVqCe

Readers Snowmen

Simon @drsimon22 @HuffPostUKPics pic.twitter.com/ZZMc2kNN

Readers Snowmen

Simon @drsimon22 @HuffPostUKPics pic.twitter.com/ZZMc2kNN

Readers Snowmen

Imogen @imogen89 @HuffPostUKPics pic.twitter.com/3sT15tpk

Readers Snowmen

Angela Preston @AngePreston @HuffPostUKPics #snowman pic.twitter.com/1q3EsaTk

Readers Snowmen

Jackie Head's snowman in Penge

Readers Snowmen

Farrukh @implausibleblog @HuffPostUKPics Are snow giants attacking Parliament? tinyurl.com/a7jhwm8 <-- Evidence :) #DrWho #Xmas #Was #Right

Courtesy of Andrea Mann.

Courtesy of Sam Parker.
Loading Slideshow
Winter weather Jan 25

A man uses a tractor as he tries to try and keep the roads open in Tanfield, Durham as more snows falls in the UK.

Winter weather Jan 25

A woman digs her way out after more snow falls today in Tanfield County, Durham.

Winter weather Jan 25

A woman digs her way out after more snow falls today in Tanfield County, Durham.

Winter weather Jan 25

A man uses a tractor as he tries to try and keep the roads open in Tanfield, Durham as more snows falls in the UK.

Winter weather Jan 25

A woman digs her way out after more snow falls today in Tanfield County, Durham.

Winter weather Jan 25

A woman digs her way out after more snow falls today in Tanfield County, Durham.

Winter weather Jan 25

Two woman battle through the snow after more snow falls today in Tanfield County Durham.

Winter weather Jan 25

A man shovels snow after more snow falls today in Tanfield County Durham.

Winter weather Jan 25

A woman digs her way out after more snow falls today in Tanfield County, Durham.

Winter weather - Jan 22nd

A man struggles in the snow as he walks past the starters box on the PGA Centenary Course after more snowfall today at Gleneagles Hotel in Perthshire. The course will be used for the 2014 Ryder Cup.

Winter weather - Jan 22nd

A road traffic sign covered in snow and ice at Spring Cottage, Derbyshire as the winter weather continues across the UK.

Winter weather - Jan 22nd

People struggle in the snow with shovels on a golf course at Gleneagles after more snowfall today in Perthshire.

Winter weather - Jan 22nd

A man struggles in the snow as he walks past the starters box on the PGA Centenary Course after more snowfall today at Gleneagles Hotel in Perthshire. The course will be used for the 2014 Ryder Cup.

Winter weather - Jan 22nd

A man walks his dog near Auchterarder, Perthshire after heavy snowfall overnight.

Winter weather - Jan 22nd

Loggers Trucks collect trees in Kielder Forest, Northumberland where snow fell overnight.

Winter weather - Jan 22nd

Snow and ice cover barges and boats at Foxton Locks in Market Harborough, Leicestershire as the winter weather continues across the UK

Winter weather - Jan 22nd

General view of a street in Pricetown, Dartmoor, as snow starts to fall again.

Winter weather - Jan 22nd

Don Clegg, 80, clears snow from his drive in Kielder, Northumberland as the winter weather continues across the UK.

Winter weather - Jan 22nd

Loggers Trucks battle up the hill in Kielder Forest, Northumberland where snow fell overnight.

Winter weather - Jan 22nd

A man fits snow chains to his car in preparation for driving in hazardous conditions as the winter weather continues across the UK.

Winter weather - Jan 22nd

Don Clegg, 80, in his garden in Kielder, Northumberland as the winter weather continues across the UK.

Winter weather - Jan 22nd

Loggers Trucks collect trees in Kielder Forest, Northumberland where snow fell overnight.

Winter weather - Jan 22nd

Loggers Trucks collect trees in Kielder Forest, Northumberland where snow fell overnight.

Winter weather - Jan 22nd

Mum Stephanie Koch (right) and daughter Kadie 4 enjoy the snow in Kielder, Northumberland as the winter weather continues across the UK.

Winter weather - Jan 22nd

Dogs walking in Innerleithen, the Scottish Borders as snow showers hit the East of Scotland.

Winter weather - Jan 22nd

A car sets off down a snow covered road in the Borders as snow showers hit the East of Scotland.

Winter weather - Jan 22nd

A snow covered road in Galashiels the Scottish Borders as snow showers hit the East of Scotland.

Winter weather - Jan 22nd

A horse runs along a snow covered field in the Borders as snow showers hit the East of Scotland.

Winter weather - Jan 22nd

Sheep look for food in the Scottish Borders as snow showers hit the East of Scotland.

Winter weather - Jan 22nd

A snow covered road in Galashiels the Scottish Borders as snow showers hit the East of Scotland.

Winter weather - Jan 22nd

A car sets off down a snow covered road in the Borders as snow showers hit the East of Scotland.

Winter weather - Jan 22nd

Mum Stephanie Koch (right) and daughter Kadie 4 enjoy the snow in Kielder, Northumberland as the winter weather continues across the UK.

Winter weather - Jan 22nd

Snow and ice cover Foxton Locks in Market Harborough, Leicestershire as the winter weather continues across the UK

Winter weather - Jan 22nd

Snow and ice cover Foxton Locks in Market Harborough, Leicestershire as the winter weather continues across the UK

BRITAIN-WEATHER-SNOW

A woman walks a dog through a snow covered Rose Garden at The Arno in Birkenhead, northwest England, on January 21, 2013. Britain is braced for a continuation of the bad weather which has left closed schools and caused transport chaos in recent days, with several weather warnings in place. AFP PHOTO / PAUL ELLIS (Photo credit should read PAUL ELLIS/AFP/Getty Images)

UK Hit By Heavy Snow Fall

NOTTINGHAM, UNITED KINGDOM - JANUARY 21: Freddy the Boston Terrier plays in the snow on January 21, 2013 in Nottingham, United Kingdom. The United Kingdom has suffered a weekend of heavy snowfall with many transport routes affected. (Photo by Laurence Griffiths/Getty Images)

UK Hit By Heavy Snow Fall

NOTTINGHAM, UNITED KINGDOM - JANUARY 21: Canada Geese fly from the snow covered banks of the River Trent on January 21, 2013 in Nottingham, United Kingdom. The United Kingdom has suffered a weekend of heavy snowfall with many transport routes affected. (Photo by Laurence Griffiths/Getty Images)

UK Hit By Heavy Snow Fall

NOTTINGHAM, UNITED KINGDOM - JANUARY 21: Wild birds feed on the snow covered banks of the River Trent on January 21, 2013 in Nottingham, United Kingdom. The United Kingdom has suffered a weekend of heavy snowfall with many transport routes affected. (Photo by Laurence Griffiths/Getty Images)

UK Hit By Heavy Snow Fall

LONDON, UNITED KINGDOM - JANUARY 21: A snowman complete with cigarette and coffee cup is viewed by a squirrel in St James's Park on January 21, 2013 in London, England. The United Kingdom has suffered a weekend of heavy snowfall with many transport routes affected. (Photo by Peter Macdiarmid/Getty Images)

UK Hit By Heavy Snow Fall

NOTTINGHAM, UNITED KINGDOM - JANUARY 21: Canada Geese fly from the snow covered banks of the River Trent on January 21, 2013 in Nottingham, United Kingdom. The United Kingdom has suffered a weekend of heavy snowfall with many transport routes affected. (Photo by Laurence Griffiths/Getty Images)

UK Hit By Heavy Snow Fall

LONDON, UNITED KINGDOM - JANUARY 21: A woman walks on Birdcage Walk as snow falls on January 21, 2013 in London, England. The United Kingdom has suffered a weekend of heavy snowfall with many transport routes affected. (Photo by Peter Macdiarmid/Getty Images)

BRITAIN-WEATHER-SNOW

Models pose around a plastic palm tree in the snow in front of Tower Bridge in central London on January 21, 2013, during a 'pop-up beach resort' promotion on the day that many consider to be the most depressing day of the year. Britain is braced for a continuation of the bad weather which has schools closed and caused transport chaos in recent days, with several weather warnings in place. AFP PHOTO / CARL COURT (Photo credit should read CARL COURT/AFP/Getty Images)

BRITAIN-WEATHER-SNOW

A woman walks a dog through a snow covered Rose Garden at The Arno in Birkenhead, northwest England, on January 21, 2013. Britain is braced for a continuation of the bad weather which has left closed schools and caused transport chaos in recent days, with several weather warnings in place. AFP PHOTO / PAUL ELLIS (Photo credit should read PAUL ELLIS/AFP/Getty Images)

BRITAIN-WEATHER-SNOW

People walk a dog through a snow covered Arrowe Park in Birkenhead, northwest England, on January 21, 2013. Britain is braced for a continuation of the bad weather which has left closed schools and caused transport chaos in recent days, with several weather warnings in place. AFP PHOTO / PAUL ELLIS (Photo credit should read PAUL ELLIS/AFP/Getty Images)

BRITAIN-WEATHER-SNOW

A woman walks a dog through a snow covered Rose Garden at The Arno in Birkenhead, northwest England, on January 21, 2013. Britain is braced for a continuation of the bad weather which has left closed schools and caused transport chaos in recent days, with several weather warnings in place. AFP PHOTO / PAUL ELLIS (Photo credit should read PAUL ELLIS/AFP/Getty Images)

UK Hit By Heavy Snow Fall

NOTTINGHAM, UNITED KINGDOM - JANUARY 21: Canada Geese fly past the snow covered banks of the River Trent on January 21, 2013 in Nottingham, United Kingdom. The United Kingdom has suffered a weekend of heavy snowfall with many transport routes affected. (Photo by Laurence Griffiths/Getty Images)

UK Hit By Heavy Snow Fall

LONDON, UNITED KINGDOM - JANUARY 21: A man walks on The Blue Bridge over the partially frozen lake in St James's Park on January 21, 2013 in London, England. The United Kingdom has suffered a weekend of heavy snowfall with many transport routes affected. (Photo by Peter Macdiarmid/Getty Images)

BRITAIN-WEATHER-SNOW

People walk a dog through a snow covered Arrowe Park in Birkenhead, northwest England, on January 21, 2013. Britain is braced for a continuation of the bad weather which has left closed schools and caused transport chaos in recent days, with several weather warnings in place. AFP PHOTO / PAUL ELLIS (Photo credit should read PAUL ELLIS/AFP/Getty Images)

BRITAIN-WEATHER-SNOW

Models in swimwear pose in the snow at a 'pop-up beach resort' promotion in front of Tower Bridge in central London on January 21, 2013. Britain is braced for a continuation of the bad weather which has schools closed and caused transport chaos in recent days, with several weather warnings in place. AFP PHOTO / CARL COURT (Photo credit should read CARL COURT/AFP/Getty Images)

UK Hit By Heavy Snow Fall

LONDON, UNITED KINGDOM - JANUARY 21: Pigeons look for food in a snowy St James's Park on January 21, 2013 in London, England. The United Kingdom has suffered a weekend of heavy snowfall with many transport routes affected. (Photo by Peter Macdiarmid/Getty Images)

UK Hit By Heavy Snow Fall

LONDON, UNITED KINGDOM - JANUARY 21: Pigeons try to keep out of the snow by resting on a signpost in St James's Park on January 21, 2013 in London, England. The United Kingdom has suffered a weekend of heavy snowfall with many transport routes affected. (Photo by Peter Macdiarmid/Getty Images)