Peter Odemwingie, the West Brom striker, was denied entry into Queens Park Rangers' training ground on Thursday in an extraordinary transfer deadline day saga.
Odemwingie had not been given permission to speak to QPR by his club but drove down to London regardless and having been rejected permission to enter the premises the Nigerian got back into his car and drove off.
The 31-year-old has been open in his desire to join Harry Redknapp's side on Twitter and travelled to the capital under the impression he would complete his transfer with just hours to spare.
Look out for the Ad just below here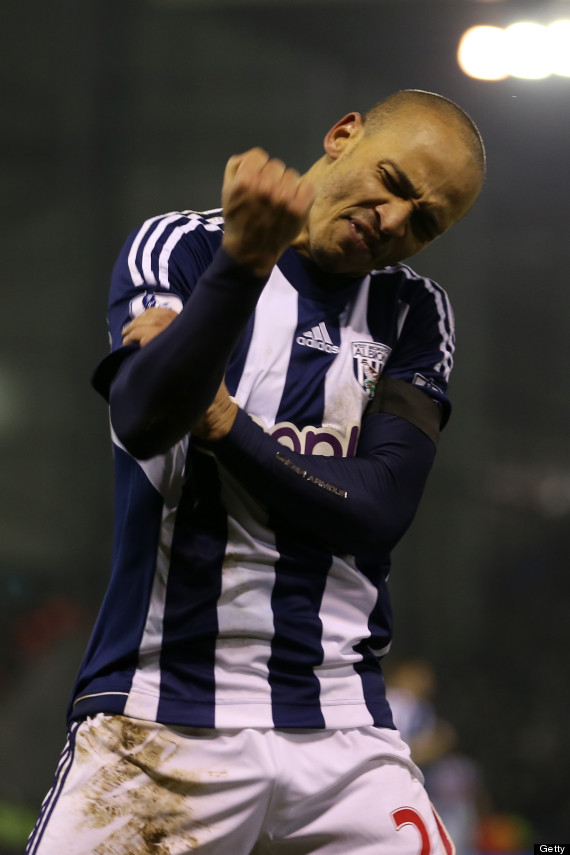 When quizzed on the mayhem, Odemwingie suggested the goalposts had been moved when the Baggies suddenly wanted Rs forward Junior Hoilett on loan.
"I am disappointed this is all happening," Odemwingie said. "I met with Dan Ashworth [West Brom technical director] this morning and we shook hands that I could leave with his blessing if the £3.5m fee was met Once the bid came in I went home and said goodbye for the day to my wife.
"Now, as I am on my way, I find that there are more complications. It is frustrating to say the least. But I am hopeful a solution can be found."
@OdemwingieP

Peter Odemwingie
I am crazy haha adviser text saying don't tweet, it weakens our position. Doesn't weaken nothing ! When I want to do something, I Do it.
QPR chairman Tony Fernandes confirmed Hoilett would not be sold and the club added that Odemwingie arrived "unannounced" and had been "denied access".
@tonyfernandes

Tony Fernandes
Junior hoillet not going anywhere. He's is a key player for the future. Needs a good run in the team. RT ...
http://t.co/brUpCxTV
It now leaves Odemwingie in the embarrassing situation of staying with West Brom for at least five months having failed in his bid to force through a move.
His club branded him "wholly unprofessional" while QPR manager Harry Redknapp added "wires got crossed somewhere".
"We were trying to sign him and the lad thought a fee had been agreed between the two clubs," Redknapp told the BBC. "It hadn't - there was still some haggling going on.
"He's a good lad - it was just a mistake. That one is dead."
West Brom manager Steve Clarke said on Tuesday he believed Odemwingie had been "badly advised" and added the situation "was not good for anybody".
Odemwingie has scored five goals this season and hit the equaliser in his last game for the Baggies, a 2-2 draw against Aston Villa a fortnight ago.
The forward, who signed for West Brom from Lokomotiv Moscow in 2010, did not feature in their 2-1 Premier League loss at Everton on Wednesday night for "family reasons".
His rashness on Thursday night was likened by the Twitteratti's wittier faction to Alan Partridge driving barefoot to Dundee while gorging on Toblerone.
@JohnBrewinESPN

John Brewin
Peter Odemwingie's "Bouncing Back" will be available in all good bookstores soon.
@The_Paris_Angel

Macca
Odemwingie is currently doing the footballing equivalent of Alan Partridge driving barefoot stuffing his face with Toblerone.
@tompmcgowan

Tom McGowan