There are concerns for the health of an orphaned baby elephant who is feared to be dying of a broken heart.
Three-month-old Joe is being cared for by keepers at Malaysia's Gunung Rara Forest Reserve after 14 rare Borneo pygmy elephants were found dead of suspected poisoning.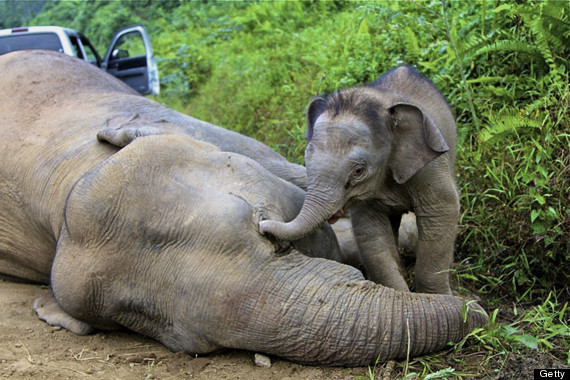 Heartbreaking: Baby elephant Joe nuzzles his dead mother
Heartbreaking photographs of the calf nuzzling his dead mother were released as keepers try desperately to persuade little Joe to eat.
He is said to have been left traumatised by the loss of his mother and the subsequent 500 mile road trip to a quarantine facility, where he has lost 10kg since his arrival.
State environment minister Masidi Manjun has pledged to imprison anyone found to have maliciously killed the "majestic" animals.
"It is a combination of anger and sadness," he said. "I am still grieving. I fail to understand human behaviour."
Pygmy elephants are found only on the northeast tip of the island of Borneo, and inhabit forests near water sources and grasslands. Borneo pygmy elephants are smaller than other Asian elephants, chubbier, and have bigger ears and tails.
Joe The Orphaned Elephant
SUBSCRIBE TO & FOLLOW UK DAILY BRIEF