The Huffington Post pictures of the day brings you the very best images from around the world chosen by our own photo editors, Elliot Wagland, Matthew Tucker and Tahira Mirza.
We would love to hear your thoughts on the stories of the day - leave a comment at the bottom of the blog.
Follow The Huffington Post picture desk on twitter.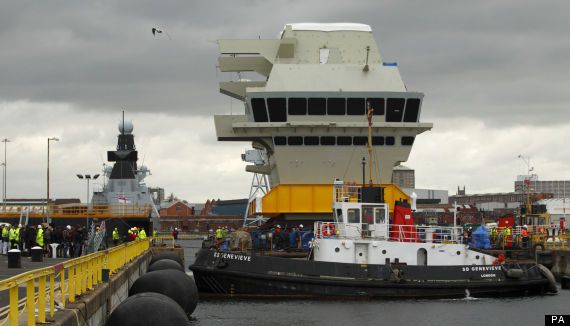 The Forward Island, otherwise referred to as Upper Block 07, of the new Royal Navy aircraft carrier HMS Queen Elizabeth, slowly navigates a lock gate at Portsmouth Navy Base. She will leave the city tomorrow for a five day voyage to Rosythe where she will be added to the rest of the vessel. The 680 tonne section will be the hub of the ship as it contains the main bridge and approximately 100 vital mission systems compartments. Once the Long Range Radar has been installed on top of the Forward Island, the ship will stand at 56 metres, taller than Niagara Falls. HMS Queen Elizabeth is the first aircraft carrier to use an innovative design of two islands. The second, Aft Island, operates as an airport control tower to co-ordinate aircraft movements, but both islands are designed with the ability to incorporate the other's role in an emergency.