Maine Coon Stewie, World's Longest Cat Who Measured Over Four Feet, Dies Of Cancer In Reno, Nevada (PICTURES)
The world's longest cat - measuring in at over a whopping four feet in length - has died of cancer at the age of eight.
Stewie, a Maine Coon whose full name is Mymains Stewart Gilligan, died in Reno, Nevada, on Monday. Owner Robin Hendrickson confirmed the sad news to KoloTV, describing him as a "special guy".
According to the Associated Press, Stewie was declared a Guinness World Record holder in August 2010 after he was found to measure 48.5 inches from his nose to the tip of his tail.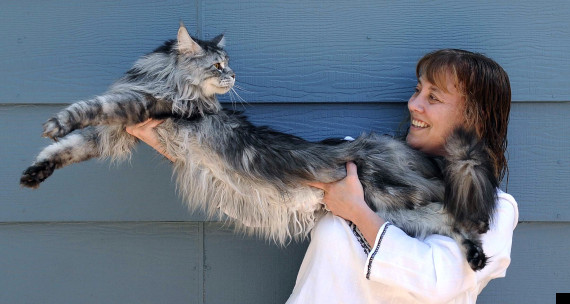 Stewie with his owner Robin Hendrickson
His owner Robin Hendrickson told the Reno-Gazette Journal Stewie had been suffering from Lymphosarcoma, a disease of the lymphoid tissues since 2011.
He was later diagnosed with tumours in his kidneys.
Stewie worked as a therapy cat to help people in medical care and served an an ambassador for animal causes.
Hendrickson announced his death on his Facebook page, stating: "At 7.37pm Stewie flew home to the Rainbow Bridge". (A reference to the mythological place where a pet goes upon its death, eventually to be reunited with its owner.)
Most Important/Influential Cats of 2012
Shishi-Maru, the scottish fold cat who took Instagram by storm, is number 29 on Buzzfeed's list of 2012's"Most Important Cats" and number 4 on MSN's "Most Influential Cats" list.

Coming in 8th on MSN's list of 2012's "Most Influential Cats," Oskar the blind kitten is an Internet star. After making his debut in 2011, the inspirational cat has won the hearts of many around the world. This year, Oskar clinched the "Best Cat Video" at "The Friskies."

This cutie perma-kitten came in second on Buzzfeed's list

It's not clear why this cart-pushing cat made Buzzfeed's "Most Important Cats" list.... but we're so taken with the adorable absurdity of it all that we don't even need a reason. The cat pushing a small cart came in 17th.

Angry, furry and hell-bent on world domination, Colonial Meow squeezed into the top 5 of both MSN's (5th) and Buzzfeed's (4th) lists of cats.

Ranking 19th on Buzzfeed's list and 13th on MSN's, Hank the Cat, who ran for Senate in Virginia, will always be remembered for looking snazzy in a bowtie.

Henri, the existentialist cat, haunted us this year with his depressing musings about life and its futility. Eerily, he came in 3rd in both Buzzfeed's and MSN's lists... What does this all mean?

Stunning Venus, the chimera cat, clinched the 10th spot on MSN's list of influential cats. She also came in 18th on Buzzfeed's list.

'Nuff said. This super chill cat came in 10th on Buzzfeed's "Most Important Cats" list.

And of course... Tard the Grumpy Cat. The top cat of 'em all.