There's another weird thing on Mars, and Nasa really doesn't know what it is this time.
You may remember the $2.5 billion Curiosity rover currently drilling rocks on the Red Planet already found strange shiny things and what was labelled a 'Martian Flower'.
But if anything, this is even weirder.
An image posted by Nasa on 30 January and taken with the right Mastcam on Curiosity shows what appears to be a 0.5cm metal spoke protruding out of a rock.
The strange sight - which looks a bit like a robotic arm - was noticed by imaging editor Elisabetta Bonora from Italy.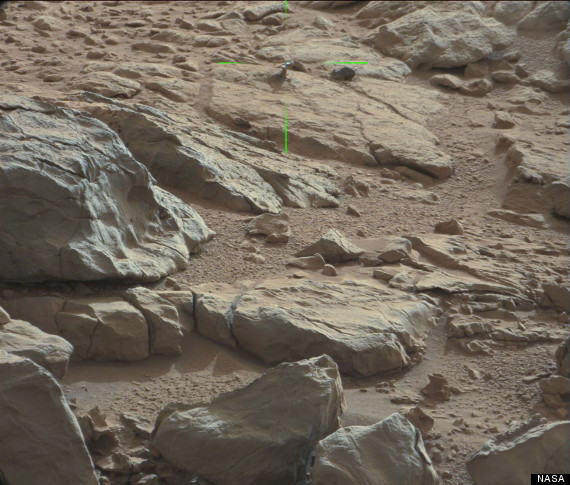 Whatever it is looks shiny, casts a shadow on the rock below and looks different to the rock it emerges from.
Universe Today speculates that it might be a different type of rock more resistant to erosion. Gizmodo instead wonders aloud whether it's evidence of an alien death ship.
What do you think? Are you convinced this is proof of intelligent life on Mars, or just another boring thing in the dirt? (Which, by the way, isn't red.)
Loading Slideshow
Mount Sharp

This image taken by the Mast Camera on NASA's Curiosity rover highlights the geology of Mount Sharp, a mountain inside Gale Crater, where the rover landed.

Base Of Mount Sharp

South/Southwest Of Landing Site

This photo is from a test series of the 100-millimeter Mast Camera on NASA's Curiosity rover. It is looking south-southwest of the landing site and taken on Aug. 23, 2012.

More From Mast Cam

Another test photo from the Mast Camera on NASA's Curiosity Rover. Again, it's looking south-southwest on Aug. 23, 2012. The gravelly area of the landing site is visible in the foreground.

Landing Site

The landing site is visibile here in this portion of a 360-degree color panorama along the heights of Mount Sharp.

Big Wheels Rolling

This photo was taken by a front Hazard-Avoidance camera on NASA's Curiosity and shows track marks from the rover's first Martian drives.

Curiosity's Second Drive

Track marks are seen here after the NASA Curiosity rover completes a successful drive to an area of bedrock.

Infinity Tracks

The donut-shaped tracks shown here make an infinity symbol, following the first two drives from NASA's curiosity rover. The drives took place on Aug. 22 and Aug. 27, respectively.

Heights Of Mount Sharp

The highest point of Mount Sharp visible from NASA's Curiosity rover is seen here in a high-resolution image taken on Aug. 18.

Traces Of The Landing

This mosaic image was created from images taken by the rover's Navigation cameras on Aug. 7 Pacific Time / Aug. 8 Eastern Time.

Curiosity's Extended Arm

This photo taken on Aug. 20 shows the many tools on Curiosity's extended arm.

Wiggling Wheels

NASA's Curiosity rover tests its wheels at its landing site on Aug. 21. Photo taken by the rover's Navigation cameras.

Laser Shots

NASA's Curiosity rover fired its laser 50 times against these rocks at a mark called "Goulburn."

Rover Takes First 'Steps'

This overhead view shows NASA's Curiosity rover after its first successful test drive on Aug. 22, 2012.

Another Look At Rover's First Steps

Here's another view of the first track marks Rover left in the Martian surface on Aug. 22, 2012.