Chris Huhne's disgrace is "in the past", the Tory battling to snatch his former seat declared as she promised a "clean campaign".
But critics speculated a 'nudge-wink' at the Huhne scandal in Conservative candidate Maria Hutchings' campaign material, which calls on votes to elect a 'local MP you can trust'.
Hutchings was speaking at the launch of what is expected to be a brutal battle with the party's Liberal Democrat Westminster coalition partners. Maria Hutchings, the Conservative Party Parliamentary Candidate for Eastleigh, during campaigning
Sat alongside party chairman Grant Shapps she also made clear she was opposed to David Cameron's gay marriage reforms and strongly eurosceptic.
Hutchings, who failed to topple Huhne in 2010 by 3,864 votes, has been picked to fight the seat again after the former cabinet minister resigned in disgrace.
Polling carried out by Tory former treasurer Lord Ashcroft in the wake of Huhne's dramatic guilty plea to dodging speeding points gave the party a three-point lead.
But - after senior figures yesterday highlighted the issue of voter "trust" - the peer warned they should "not expect many to switch out of disgust".
The Lib Dems will choose their candidate on Saturday after a hustings meeting.
Hutchings said: "We are running a clean campaign. I want to talk about the issues that affect the people of Eastleigh.
"I do not want to talk about Chris Huhne - that issue is in the past."
She said that she would have joined the scores of Tory MPs who took advantage of a free vote to register opposition to same-sex marriage legislation championed by the Prime Minister.
"I would not have voted for same sex marriage, if I had been able to."
And she said she backed the premier's efforts to secure a renegotiation of the UK's relationship with Brussels but would vote for exit if there was a referendum today.
"David Cameron has said he wants a renegotiation and I'm happy to see how that goes."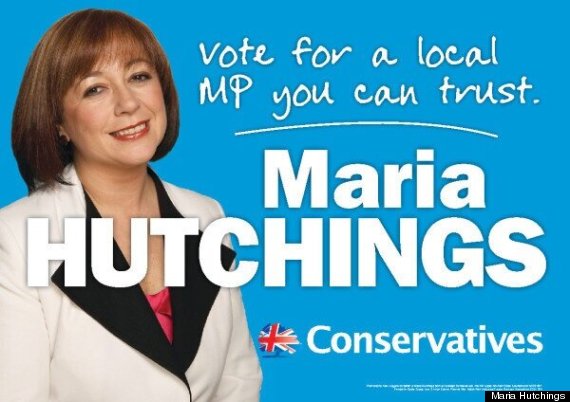 Maria Hutchings' campaign poster
Shapps denied that both parties had decided on a short campaign to limit the damage to them both and avoid further strain to the coalition.
He added: "The incumbent chose the date and they moved the writ, and we have no idea why they have done that."
Deputy Prime Minister Nick Clegg has urged voters not to exact retribution for former leadership rival Huhne's disgrace in the February 28 poll.
The Lord Ashcroft-commissioned survey put the Tories on 34% and Lib Dems on 31% - down five and 19 respectively on their 2010 showings.
Labour on 19% and Ukip on 13% were both up by nine points but despite hoping for a strong showing, sources privately accept they have little chances of winning. Maria Hutchings, the Conservative Party Parliamentary Candidate for Eastleigh, chats to Conservative Party chairman Grant Shapps
Ukip leader Nigel Farage decided not to fight the seat in person this week, seen as a boost to Mrs Hutchings' chances.
Lord Ashcroft, a major Tory donor who was deputy chairman of the party until 2010, said the poll suggested both coalition parties have "everything to play for".
He said Huhne was "a popular and, by all accounts, assiduous MP, and many in Eastleigh will be sad to see him go and circumstances of his departure".
In 2000 the Lib Dems had five MPs in the south of the county and the Isle of Wight but if they lose on February 28 there will be only one left.
For the Tories, capturing Eastleigh would be a huge prize for Prime Minister David Cameron, under fire from his backbench MPs over gay marriage, Europe and high-speed rail routes, although it may increase tension with the Lib Dems.
If the Conservatives do win, it will be the first by-election gain for a Government party since Mitcham and Morden in 1982 - even if it is from another Government party.
The dark horse in the race could be Labour, which polled less than 10% in 2010 - possibly because of tactical voting for the Lib Dems.
The party has a mountain to climb but in the last Eastleigh Commons by-election in 1994 it came second, pushing the Tories into third place. The closest Labour has ever got to winning the constituency since the Second World War was in 1966 when the Conservatives hung on by 701.
A strong Labour performance this time will be in defiance of its long-term decline in the South East.
A Ukip victory would return its first MP although it had just 3.6% in the constituency in 2010.
It has made some progress in becoming the party of mid-term protest as well as benefiting from the return of Europe to the political spotlight.
The party managed to take second place in November's by-elections for safe Labour seats at Middlesbrough and Rotherham and came third at Corby, overtaking the Lib Dems. But it was nowhere near a gain.
Its chances in Eastleigh may have faded after the decision by its leader, Nigel Farage, not to fight the by-election. He contested the seat in 1994.
The constituency is wrapped around the east of Southampton from the town of Eastleigh and Southampton Airport in the north to the Hamble in the south. This river, which joins Southampton Water, is a major yachting venue.
Growth came to the area when the London and South Western Railway's carriage and wagon works moved to Eastleigh in the late 19th century followed by locomotive building.
But with the decline in railway engineering it has now diversified into light hi-tech industries. Another employment source is the airport.
The constituency is a dormitory area for Southampton and London.
SUBSCRIBE AND FOLLOW
Get top stories and blog posts emailed to me each day. Newsletters may offer personalized content or advertisements.
Learn more