The search is over: HuffPost UK Lifestyle think we've found the meal to challenge even the sweetest tooth and the biggest belly this Pancake Day. Don't believe us? Read on.
Behold the 5,000-calorie, 10-inch high, 15-pancake strong 'Can You Hack The Stack'! (We can feel our cholesterol rising just looking at it.)
This intrepid volunteer seems confident, but we don't think he'll hack it.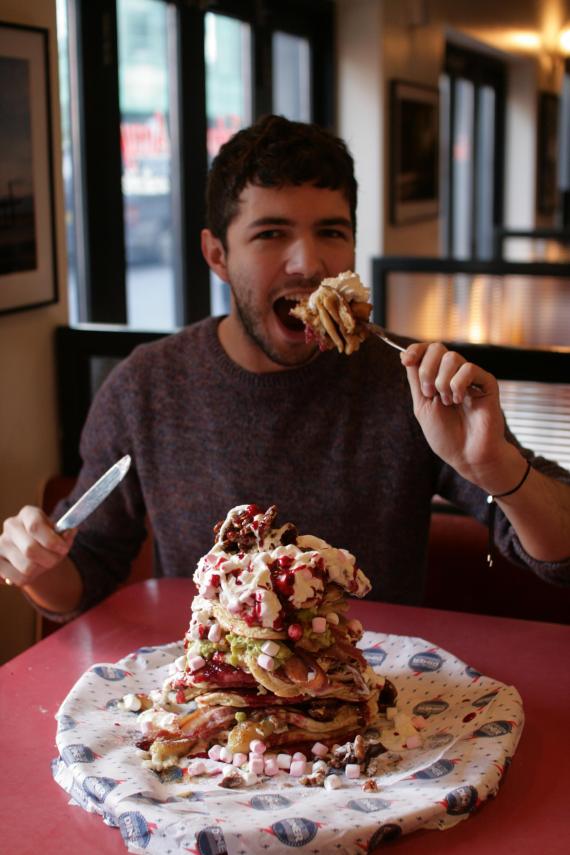 Do you think he'll manage?
Complete with a variety of toppings -- so far we spy marshmallows, bacon and whipped cream -- each pancake stack is made up of more than 16 eggs, 250 grams of butter, a kilo of flour and 100g of sugar.
It is available at London restaurant chain The Diner and counts for more than twice the average person's recommended daily intake of calories. Yikes.
See more pictures of the pancake mound here
Those who manage to defeat the stack in less than 30 minutes will be given the pancakes free of charge and be rewarded with a meal for two at a later date (obviously you're not expected to finish the pancake stack and then eat a meal straight after, that would be cruel).
Anyone left battered by the challenge will end up with a £20 bill and, quite literally, egg on their face. (Sorry, couldn't resist.)
Of course if scoffing your face until you burst isn't your thing, here are some more manageable pancake recipes
Get the Sausage Pancakes recipe by Honey and Jam We love having breakfast links on the side of our pancakes, and it's a perk when they get all mixed up with syrup. Why wouldn't we just put them in our pancakes?

Get the Chocolate Chip Oatmeal Cookie Pancakes recipe by Minimalist Baker It's like our favorite variation of an oatmeal cookie got reinvented as a pancake. We'll take a double stack!

Get the Coconut Pancakes with Grilled Bananas and Salted Caramel Rum Sauce recipe by Citrus and Candy Salted caramel rum sauce could make even the darkest days feel bright and sunny. We would like to add it to everything we eat.

Get the Whole Wheat-Flax Buttermilk Pancakes recipe by Portuguese Girl Cooks Only pancakes could look this good while still being healthy. This recipe uses flax seeds and whole wheat flour.

Get the Lemon & Raspberry Pancakes with Coconut Cream recipe by The Urban Poser Lemon, raspberries and honey make these pancakes taste light and fresh. Top with coconut cream in place of maple syrup for a new flavor.

Get the Blackberry Cobbler Pancakes recipe by Cherry Tea Cakes Of course it makes sense to add a cobbler topping to our pancakes. Why have we not been doing this our whole lives?

Get the Whole Grain Pumpkin Pancakes recipe by Honey and Jam You don't need pumpkin pie when you have pumpkin pancakes -- especially when you top them with an apple maple compote.

Get the Lemon Cornmeal Pancakes recipe by Two Peas and their Pod Who knew that pancakes could look this perfect. Yours can look like that too with this citrusy recipe.

Get the Blueberry Pancakes recipe by Cook Your Dream You can't go wrong with blueberry pancakes -- they're a classic choice.