It's no secret we are a society consumed by scandal - from politicians to sports stars to A-list celebrities in the public eye, we all indulge in our weekly dose of gossip, reaching for our glossy magazines and scouring online news sites for all of the latest celebrity tirades.
But what is it about scandal that so thrills those of us who can't look away? Is it simple senseless gossip? Or is it that, in some way, we can relate, a little bit, to public humiliation, and we gain satisfaction in the escapism of indulging in other people's lives.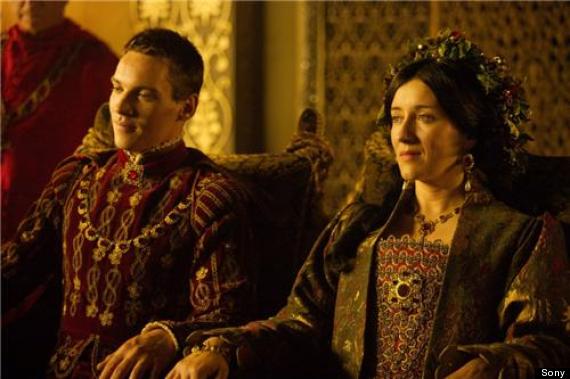 Henry VIII (Jonathan Rhys Myers) and Catherine of Aragon (Maria Doyle Kennedy) turned the English Church on its head when they divorced
For decades, the boundaries for being 'scandalous' have changed slightly and there's no better example as within the history of our very own Royal Family. They have their fair share of drama, from divorce to murder, and some of the past Royals were a bit more dramatic than others. These days getting a divorce and remarrying isn't such a scandal but when Henry VIII was doing it – it was unheard of.
The infamous King had his fair share of scandal during his reign, his notorious womanizing ways, as well as his six wives, who were either divorced, beheaded, dead or, in one fortunate case, outlived him, never mind the great lengths he went to divorce Catherine of Aragon – who was actually his brother's widow! - by breaking away from the church.
So to celebrate the King of Scandal (even by our standards) returning to our screens, we've put together a timeline of all time British Royal family drama for you to have a look at. The sex, scandal and politics of the Royal Family have been going on for decades! Who would have thought? Let's see if you find it as shocking as 'they' all did at the time...
The Tudors is back from the very beginning on Sony Entertainment Television, on Wednesdays at 9.05pm. (Sky Channel 157/Virgin 192)
Loading Slideshow
Princess Anne remarries in a Scottish Church (1992)

becoming the first Royal since Henry VIII to divorce and remarry, Princess Anne married Mark Phillips however due to strains on the relationship separated in 1989. In 1992, Princess Anne remarried Timothy Laurence. Due to this being her second marriage she wasn't even allowed in the Church of England and had to make do with the Church of Scotland.

Princess Margaret calls off the wedding to Peter Townsend (1955)

Princess Margaret was due to marry Peter Townsend in 1955, when on the day of the wedding a statement from Buckingham Palace stated that she did no longer want to go through with it. Rumours flew that it was because the Queen and Queen Mother did not approve of the pair, but it was later revealed that she just had a case of cold feet.

Henry VIII (1509 – 1547)

By far the most scandalous of our Royal monarchy, Henry VIII managed to marry his brother's widow Catherine of Aragon, behead two of his wives for treason, and break from the Catholic Church to get a divorce during his reign. Known as a lethal womaniser, he gained a reputation for having his way with many women during his reign.

King George IV (1796 – 1547)

From an early age was causing quite a scandal in the British monarchy, having a teenage affair with Mrs. Robinson, a celebrated actress. But it was his later life of gambling and affairs, all while George IV was living in an unhappy marriage to his cousin Caroline of Brunswick that caused controversy. It wasn't much of a happy ending, when Caroline died it was written on her coffin, "Caroline of Brunswick, the injured Queen of England".

Edward VIII and Wallis Simpson (1936)

When the future king fell in love with American divorcee Wallis Simpson, it was frowned upon and highly publicised as the Church of England frowned upon remarriage after divorce. When he expressed his wish to marry Wallis Simpson, it was deemed unacceptable. Following his heart as he would not give up Mrs. Simpson, Edward VIII chose to abdicate the throne.

Charles and Camillla get hitched (2005)

The high profile love triangle of Diana, Charles and Camilla, that was shrouded in controversy finally had its happy ending. Camilla Parker-Bowles and Prince Charles finally getting hitched in 2005, even though there was much speculation and drama surrounding the pair likening them to Edward VIII and Wallis Simpson but it seemed times have changed and the Royals have accepted the relationship.

Modern day party Prince, Harry (2012)

Charles' elder son is happily married and expecting a child with the nation's sweet heart Kate Middleton, but his younger is like any other 20- something, attracting wide-spread media attention. Known also as the 'pin-up' prince, the ladies swoon over his bad-boy image. Never one to shy away from a good night, Prince Harry most recently caused a stir when pictures emerged of a particularly drunken night in Las Vegas.

Duke of Edinburgh's Royal Gaffes (1963 – 2012)

The Windsor's are known for usually maintaining the Royal Etiquette, however the tight lipped family have trouble stopping the scandal around many of Philip's famous quotes, such as: 1965 - On seeing an exhibition of "primitive" Ethiopian art, he muttered: "It looks like the kind of thing my daughter would bring back from her school art lessons." 1993 - To a British tourist in Hungary he quipped: "You can't have been here that long — you haven't got a pot belly." 2011 - On approaching his 90th birthday: "Bits are beginning to drop off."

The mystery behind The Tower of London (1483)

King Richard locked his two sons away in the Tower of London, worried that they would one day want to become king. Years later, two child size skeletons were found, sparking speculation that he had intentionally killed his own children.

Queen Victoria and the Lady Flora Hastings affair (1839)

When the Queen Mother's Lady-in-waiting noticed swelling and pain of her abdomen she visited the Queen's physician, who concluded that she must be pregnant! This was a disgrace on the palace, and Queen Victoria could not support the gossip of a baby born out of wedlock. However, after her death at age 33, it was in fact a cancerous tumour on her liver. Not pregnancy then, but the damage was already done, and Queen Victoria had decreased in personal popularity.