Wayne Rooney Shares A Pic Of Son Kai Buried In The Sand On Barbados Holiday With Pregnant Mum Coleen (PICS)
Coleen Rooney and her son Kai have been away for what seems like an eternity, and there is one person in particular who is missing them - husband and dad Wayne.
The footballer can't wait to be reunited with his little family and has shared a picture of his son enjoying beach life in Barbados on Instagram.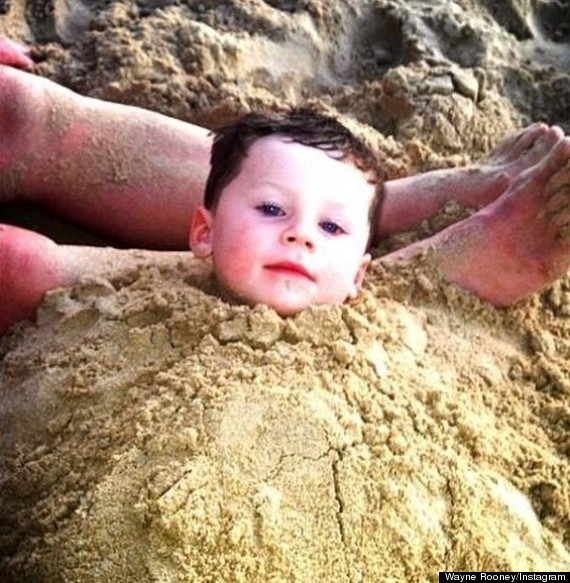 The three-year-old had been buried in the sand in the Instagram picture, which Wayne posted alongside the caption: "Kai having a bit of fun on holiday, looking forward to seeing him!"
Coleen is currently pregnant with the couple's second child and has been in the Caribbean since the death of her younger sister earlier this year.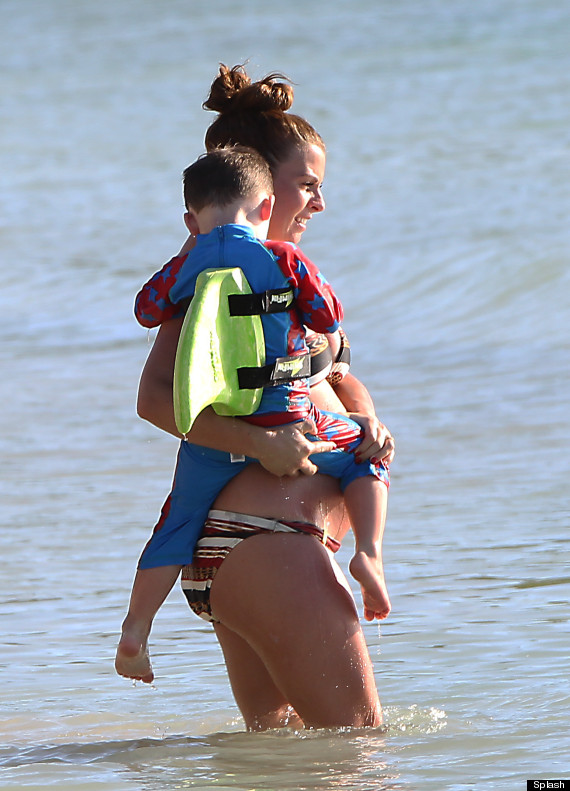 Meanwhile, Wayne is giving an 'American Idol' contestant with cystic fibrosis a VIP trip to watch him play for Manchester United
Wayne - who lost childhood friend Stephen Johnson to the disease last year - was so moved by the story of 16-year-old Kayden Stephenson on the US reality TV show that he got hold of him on Twitter.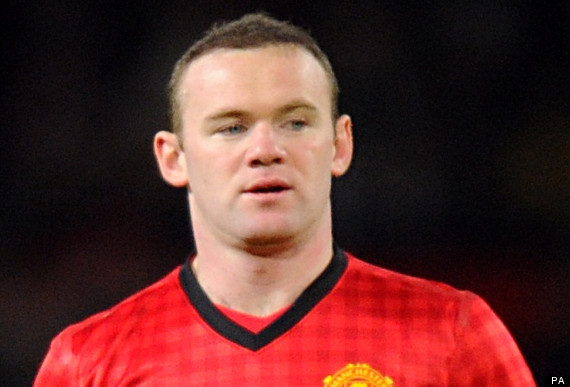 Offering to fly Kayden and his family over from Oklahoma to watch him play a match against Real Madrid, he said: "Your story inspires me, reminds me of a friend I know.
"Thank you for being brave and sharing your story. No matter what happens on Idol, music inspires people and you inspire people.
"Keep doing it, you will help a lot of people."
Kayden then replied: "OMG! Dude. I can't believe you tweeted me. I'm glad I inspired you. I'm a soccer player and you inspire me."
HUFFPOST UK CELEB ON FACEBOOK | FOLLOW US ON TWITTER
Who's the mumma? Kate Middleton Who's the daddy? Prince William Baby ETA: 2015 Interesting fact: Oh we don't know... how about the fact that when her bundle of joy is born he or she will become fourth in line to the British throne?!

Who's the mumma? Jacqueline Jossa Who's the daddy? Dan Osborne Baby ETA: 2015 Interesting fact: Jacqueline confirmed that she was expecting Dan's child just months after his son, Teddy, was born.

Who's the mumma? Una Foden Who's the daddy? Ben Foden Baby ETA: 2015 Interesting fact: Una confirmed her pregnancy after it was noticed she wasn't dancing during The Saturdays' most recent tour.

Who's the mumma? Kourtney Kardashian Who's the daddy? Scott Disick Baby ETA: Late 2014 Interesting fact: This will be the stylish reality star's third child, and will become the youngest member of the 'Keeping Up With Kardashian' cast

Who's the mumma? Dawn O'Porter Who's the daddy? Chris O'Dowd Baby ETA: 2015 Interesting fact: Dawn revealed she was pregnant while taking part in the Ice Bucket Challenge.

Who's the mumma? Martine McCutcheon Who's the daddy? Singer/songwriter Jack McManus Baby ETA: February 2015 Interesting fact: Martine revealed to Hello! magazine that she was worried her health issues meant she wouldn't be able to conceive, but confirmed she was pregnant with her first child in 2014.

Who's the mumma? Alicia Keys Who's the daddy? Swizz Beatz Baby ETA: 2015 Interesting fact: The couple confirmed on their fourth wedding anniversary that they were expecting their second child together.