The Huffington Post pictures of the day brings you the very best images from around the world chosen by our own photo editors, Elliot Wagland, Matthew Tucker and Tahira Mirza.
We would love to hear your thoughts on the stories of the day - leave a comment at the bottom of the blog.
19/02/2013 17:25 GMT
360 Degrees Of The Simone Rocha Show
A 360 degree interactive image on The Simone Rocha show during London Fashion Week Fall/Winter 2013/14 at TopShop Show Space on February 19, 2013 in London, England
19/02/2013 17:07 GMT
Hirst's Brit Figurines Delivered Damien Hirst's Brit Award trophies have been delivered to ceremony bosses ahead of tomorrow night's glitzy show.The artist is the latest designer to put his personal stamp on the prize figurines, which will be handed over to the winners at the O2 Arena in London.
19/02/2013 16:38 GMT
Fergie Seen At Airport After Announcing Pregnancy Singer Fergie (Stacy Ann Ferguson), arrives with husband Josh Duhamel at Terminal 5 of Heathrow Airport
19/02/2013 16:34 GMT
Carlotta Actis Barone Catwalk - London Fashion Week 2012 Models wearing a collection by designer Carlotta Actis Barone use the streets of London as a street catwalk on day five of London Fashion Week, Somerset House, London
19/02/2013 16:29 GMT
Crazy Discount At Pizza Parlour Lee Lazernick, right, asked his mother Thelma Lazernick, left, to pose with a customer's Ruger Mini-14 .223 semi-automatic rifle on Monday, Feb.18, 2013, at All Around Pizza and Deli in Virginia Beach, Va, where customers wearing weapons or who bring their concealed weapons permit are offered at 15 percent discount.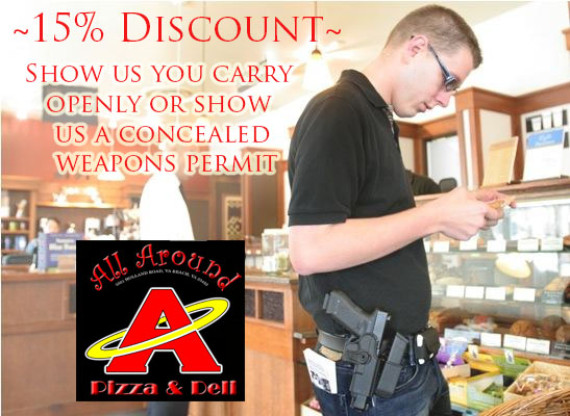 19/02/2013 16:15 GMT
Woman Gives Birth To Twin Twins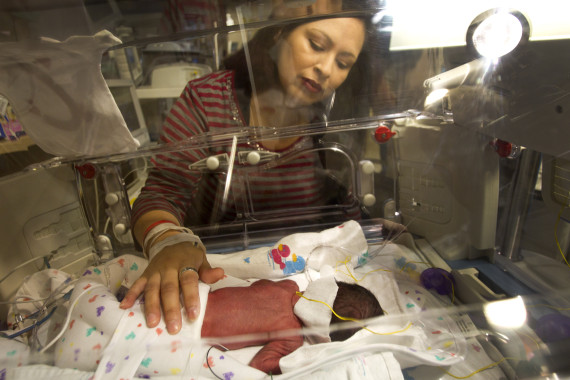 Tressa Montalvo places her hand on her newborn son, Blaine, at The Women's Hospital of Texas on Monday, Feb. 18, 2013, in Houston. Montalvo gave birth to two sets of identical twins on Valentine's Day, born at 31 weeks. The arrival of Ace and Blaine then Cash and Dylan a minute later was even more unusual because the Montalvos did not take fertility drugs or use in-vitro fertilisation.
19/02/2013 14:57 GMT
White Out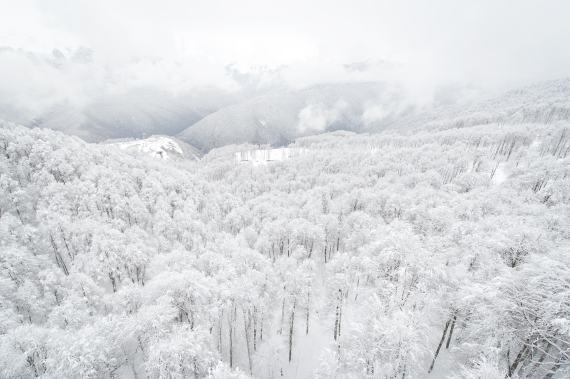 The show-covered trees and mountains above Rosa Khutor, one of the 2014 Winter Olympics venues, in the Black Sea city of Sochi on February 19, 2013. With a year to go until the Sochi 2014 Winter Games, construction work continues as tests events and World Championship competitions are underway.
19/02/2013 14:53 GMT
Swamped Rice Paddies The Yuanyang Rice Terraces, located on the southern slopes of Ailao Mountain in Yuanyang County, are about 300km south of Kunming, the provincial capital of Yunnan province. One thousand years ago, in their struggle against the difficult terrain, the Hani people's ancestors successfully crafted out terraces by their bare hands and grew rice in order to make a living. The landscape changes vividly through the year with the flooded paddies creating mirror like pools from December to April. In summer the paddies are luxuriantly green with growing rice stalks, and after the fall harvest they become naked bare earth.
19/02/2013 14:03 GMT
Spring Is Almost Here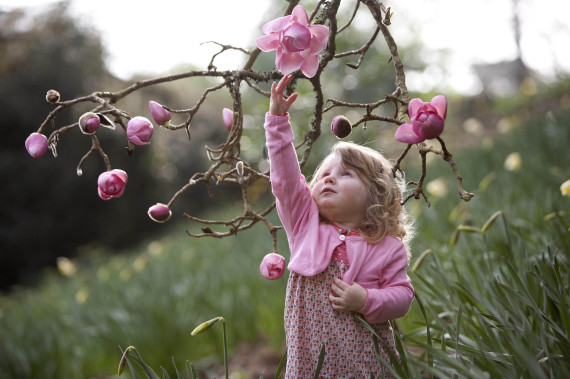 Two year old Eva Bray looks at a blooming Magnolia campbellii flower in the Trebah Gardens in Cornwall, as spring arrives in the south-west peninsula before the rest of the country.
19/02/2013 13:33 GMT
Buy A Motorcycyle Designed By Wayne Rooney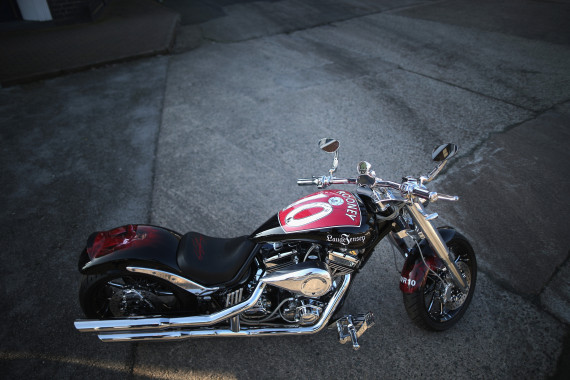 The 2012 Lauge Jensen cruiser-style motorcycle designed by footballer Wayne Rooney sits outside the Bonhams auction house on February 19, 2013 in Chester, England. Manchester United and England player Wayne Rooney designed the custom-made cruiser which was built by the Danish motorcycle manufacturer Lauge Jensen. The cruiser features an autographed 'No 10' football shirt mounted on the the petrol tank, a special shift rod incorporating 21 black diamonds and a white diamond and the rear mudguard depicts Rooney's celebration of his spectacular goal against Manchester City in 2011 . The motorcycle is being auctioned at the Bonhams auction of Sports Memorabilia in Chester on Wednesday on behalf of KidsAid, a Danish charitable foundation.
SUBSCRIBE TO & FOLLOW UK DAILY BRIEF