The Huffington Post pictures of the day brings you the very best images from around the world chosen by our own photo editors, Elliot Wagland, Matthew Tucker and Tahira Mirza.
We would love to hear your thoughts on the stories of the day - leave a comment at the bottom of the blog.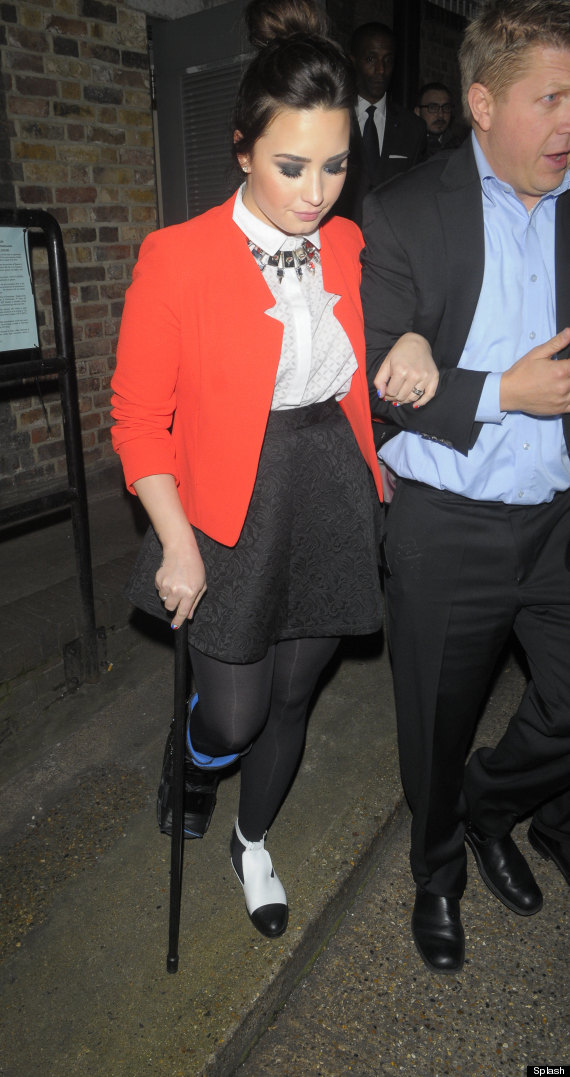 'The X Factor' USA judge Demi Lovato leaves the Brits Sony after party by the back door at The Arts Club, London.
Loading Slideshow
Hot 99.5's Jingle Ball 2014 - Show

WASHINGTON, DC - DECEMBER 15: Demi Lovato performs during Hot 99.5's Jingle Ball 2014 at the Verizon Center on December 15, 2014 in Washington, DC. (Photo by Paul Morigi/WireImage)

101.3 KDWB's Jingle Ball 2014 Presented By Sky Zone Indoor Trampoline Park And Allstate - Backstage

ST PAUL, MN - DECEMBER 08: Recording artist Demi Lovato attends 101.3 KDWB's Jingle Ball 2014 presented by Sky Zone Indoor Trampoline Park and Allstate at Xcel Energy Center on December 8, 2014 in St Paul, Minnesota. (Photo by Timothy Hiatt/Getty Images for iHeartMedia)

Now! 99.7 Triple Ho Show - San Jose, CA

SAN JOSE, CA - DECEMBER 03: Demi Lovato performs during Now! 99.7's Triple Ho Show at SAP Center on December 3, 2014 in San Jose, California. (Photo by Tim Mosenfelder/Getty Images)

London Celebrity Sightings- November 13, 2014

LONDON, UNITED KINGDOM - NOVEMBER 13: Demi Lovato is seen leaving the Royal Variety Performance at the Palladium Theatre on November 13, 2014 in London, England. (Photo by star/GC Images)

Vevo CERTIFIED SuperFanFest Concert

SANTA MONICA, CA - OCTOBER 08: Demi Lovato arrives at the Vevo CERTIFIED SuperFanFest held at Barker Hangar on October 8, 2014 in Santa Monica, California. (Photo by Michael Tran/FilmMagic)

Vevo CERTIFIED SuperFanFest Presented By Honda Stage - Show

SANTA MONICA, CA - OCTOBER 08: Recording artist Demi Lovato performs onstage during the Vevo CERTIFIED SuperFanFest presented by Honda Stage at Barkar Hangar on October 8, 2014 in Santa Monica, California. (Photo by Jason Kempin/Getty Images for VEVO)

2014 MTV Video Music Awards - Arrivals

INGLEWOOD, CA - AUGUST 24: Singer Demi Lovato arrives at the 2014 MTV Video Music Awards at The Forum on August 24, 2014 in Inglewood, California. (Photo by Jon Kopaloff/FilmMagic)

Watch What Happens Live - Season 11

WATCH WHAT HAPPENS LIVE -- Pictured: Demi Lovato -- (Photo by: Charles Sykes/Bravo/NBCU Photo Bank via Getty Images)

Florida Georgia Line Performs On ABC's "Good Morning America"

NEW YORK, NY - AUGUST 15: Singer Demi Lovato attends ABC's 'Good Morning America' at Rumsey Playfield, Central Park on August 15, 2014 in New York City. (Photo by Mike Coppola/Getty Images)

FOX's "The X Factor" Season Finale - Arrivals

LOS ANGELES, CA - DECEMBER 19: Actress/singer Demi Lovato attends FOX's 'The X Factor' season finale at CBS Televison City on December 19, 2013 in Los Angeles, California. (Photo by Gregg DeGuire/WireImage)

The Hollywood Reporter's Women In Entertainment Breakfast Honoring Oprah Winfrey

BEVERLY HILLS, CA - DECEMBER 11: Demi Lovato arrives at the The Hollywood Reporter's Women In Entertainment Breakfast Honoring Oprah Winfrey at Beverly Hills Hotel on December 11, 2013 in Beverly Hills, California. (Photo by Steve Granitz/WireImage)

PA Philadelphia Fourth-No Lovato

FILE - In this June 28, 2013 file photo, Demi Lovato performs on ABC's "Good Morning America," in New York. Philadelphia's Office of City Representatives says Lovato has canceled her appearance at Thursday's Fourth of July concert because of strep throat. She's being replaced by 22-year-old country singer Hunter Hays. (Photo by Charles Sykes/Invision/AP, File)

"The X Factor" - Meet The Judges Red Carpet Event

LOS ANGELES, CA - JULY 11: Demi Lovato attends Fox's 'The X Factor' Judges at Galen Center on July 11, 2013 in Los Angeles, California. (Photo by JB Lacroix/WireImage)

Sir Philip Green Hosts British Street Party Celebrating The Opening Of Topshop Topman At The Grove

LOS ANGELES, CA - FEBRUARY 14: Demi Lovato attends Topshop Topman LA Grand Opening at The Grove on February 14, 2013 in Los Angeles, California. (Photo by JB Lacroix/WireImage)

Fox's "The X Factor" Season Finale

LOS ANGELES, CA - DECEMBER 20: Singer/tv personality Demi Lovato attends the season finale of Fox's 'The X Factor' at CBS Television City on December 20, 2012 in Los Angeles, California. (Photo by Barry King/FilmMagic)

2012 iHeartRadio Music Festival - Day 1

LAS VEGAS, NV - SEPTEMBER 21: Demi Lovato poses backstage during the 2012 iHeartRadio Music Festival at MGM Grand Garden Arena on September 21, 2012 in Las Vegas, Nevada. (Photo by C Flanigan/FilmMagic)

Demi Lovato Visits The Young Women's Leadership School East Harlem

NEW YORK, NY - SEPTEMBER 20: Demi Lovato speaks on stage during her visit to The Young Women's Leadership School in East Harlem on September 20, 2012 in New York City. (Photo by D Dipasupil/Getty Images)

"The X Factor" Season 2 Premiere Party

HOLLYWOOD, CA - SEPTEMBER 11: Demi Lovato arrives at the 'The X Factor' Season 2 Premiere Party at Grauman's Chinese Theatre on September 11, 2012 in Hollywood, California. (Photo by Jeffrey Mayer/WireImage)

"The X Factor" Season 2 Auditions - San Francisco, CA

OAKLAND, CA - JUNE 18: Demi Lovato appears at The X Factor Season 2 Auditions at ORACLE Arena on June 18, 2012 in Oakland, California. (Photo by Steve Jennings/WireImage)

Demi Lovato In Concert

HOLMDEL, NJ - JUNE 22: Singer Demi Lovato performs at the PNC Bank Arts Center on June 22, 2012 in Holmdel, New Jersey. (Photo by Paul Zimmerman/WireImage)

Celebrity Sightings - Bauer-Griffin - 2012

NEW YORK, NY - MARCH 07: Demi Lovato is seen on March 07, 2012 in New York City. (Photo by Ignat/Bauer-Griffin/GC Images)

2012 People's Choice Awards - Arrivals

LOS ANGELES, CA - JANUARY 11: Actress Demi Lovato arrives at the 2012 People's Choice Awards at Nokia Theatre L.A. Live on January 11, 2012 in Los Angeles, California. (Photo by Jon Kopaloff/FilmMagic)

People's Choice Awards 2012 - Arrivals

LOS ANGELES, CA - JANUARY 11: Demi Lovato attends People's Choice Awards 2012 at Nokia Theatre LA Live on January 11, 2012 in Los Angeles, California. (Photo by Steve Granitz/WireImage)

2012 People's Choice Awards - Press Room

LOS ANGELES, CA - JANUARY 11: Actress/singer Demi Lovato poses in the press room at 2012 People's Choice Awards held at Nokia Theatre L.A. Live on January 11, 2012 in Los Angeles, California. (Photo by Jon Kopaloff/FilmMagic)

"VH1 Divas" 2012 - Backstage

LOS ANGELES, CA - DECEMBER 16: Singer Demi Lovato attends 'VH1 Divas' 2012 at The Shrine Auditorium on December 16, 2012 in Los Angeles, California. (Photo by Christopher Polk/Getty Images)

Fox's "The X Factor" Viewing Party - Arrivals

LOS ANGELES, CA - DECEMBER 06: Singer Demi Lovato attends Fox's 'The X Factor' viewing party at Mixology101 & Planet Dailies on December 6, 2012 in Los Angeles, California. (Photo by Imeh Akpanudosen/Getty Images)

"VH1 Divas" 2012 - Arrivals

LOS ANGELES, CA - DECEMBER 16: Singer Demi Lovato attends 'VH1 Divas' 2012 at The Shrine Auditorium on December 16, 2012 in Los Angeles, California. (Photo by Michael Buckner/Getty Images)

Fox's "The X Factor" Season Finale - Night 1

LOS ANGELES, CA - DECEMBER 19: Actress/singer Demi Lovato arrives at Fox's 'The X Factor' Season Finale Night 1 at CBS Televison City on December 19, 2012 in Los Angeles, California. (Photo by Frazer Harrison/Getty Images)

MTV Video Music Awards 2012 - Press Room - Los Angeles

Demi Lovato at the MTV Video Music Awards at the Staples Centre, Los Angeles.

Demi Lovato

Demi Lovato arrives at the 12th Annual Latin Grammy Awards on Thursday Nov. 10, 2011 in Las Vegas. (AP Photo/Chris Pizzello)

12th Annual Latin Grammy Awards - Arrivals

Demi Lovato during the 12th Annual Latin GRAMMY Awards held at Mandalay Bay Resort & Casino. Las Vegas

MTV Video Music Awards 2011 - Arrivals

Demi Lovato arrives at the MTV Video Music Awards 2011 at Nokia Theatre L.A. LIVE in Los Angeles, USA.

MTV Video Music Awards 2011 - Arrivals

Demi Lovato arrives at the MTV Video Music Awards 2011 at Nokia Theatre L.A. LIVE in Los Angeles, USA.

The 18th Annual Sir Elton John Oscar Party - Los Angeles

Demi Lovato arriving for The 18th annual Elton John AIDS Foundation Party to celebrate the 82nd Academy Awards at the Pacific Design Center in Los Angeles.

The 18th Annual Sir Elton John Oscar Party - Los Angeles

Demi Lovato arriving for The 18th annual Elton John AIDS Foundation Party to celebrate the 82nd Academy Awards at the Pacific Design Center in Los Angeles.

UK Film Premiere of Hannah Montana - London

Demi Lovato arriving at the UK Film Premiere of 'Hannah Montana' at the Odeon West End, London.

Camp Rock European Premiere - London

Demi Lovato arrives for the Disney Channel European premiere of Camp Rock at the Royal Festival Hall on the South Bank in central London.

Camp Rock European Premiere - London

Alyson Stoner, The Jonas Brothers and Demi Lovato arrive for the Disney Channel European premiere of Camp Rock at the Royal Festival Hall on the South Bank in central London.

Camp Rock European Premiere - London

Cast member Demi Lovato arrives for the Disney Channel European premiere of Camp Rock at the Royal Festival Hall on the South Bank in central London.

Fox's "The X Factor" Season Finale - Night 2

LOS ANGELES, CA - DECEMBER 20: Singer Demi Lovata arrives at Fox's 'The X Factor' Season Finale - Night 2 at CBS Televison City on December 20, 2012 in Los Angeles, California. (Photo by Frazer Harrison/Getty Images)

Fox's "The X Factor" Viewing Party - Arrivals

LOS ANGELES, CA - DECEMBER 06: Singer Demi Lovato attends Fox's 'The X Factor' viewing party at Mixology101 & Planet Dailies on December 6, 2012 in Los Angeles, California. (Photo by Imeh Akpanudosen/Getty Images)

Demi Lovato Surprises Students of The Young Women's Leadership School in East Harlem for Anti-Bullying Assembly

This image released by Starpix shows actress-singer Demi Lovato appearing at The Young Women's Leadership School in New York during a surprise visit to the school for an anti-bullying assembly on Thursday, Sept. 20, 2012. (AP Photo/Starpix, Marion Curtis)

Demi Lovato

Demi Lovato arrives at the Teen Choice Awards on Sunday, July 22, 2012, in Universal City, Calif. (Photo by Jordan Strauss/Invision/AP)

Demi Lovato

US singer Demi Lovato poses for photographs before she meets fans and signs copies of her new album, 'Unbroken', at a central London music store, Tuesday, April 3, 2012. (AP Photo/Joel Ryan)

L.A. Reid, Demi Lovato, Simon Cowell, Britney Spears

"The X Factor" judges, from left, L.A. Reid, Demi Lovato, Simon Cowell and Britney Spears attend the FOX network upfront presentation party at Wollman Rink, Monday, May 14, 2012 in New York. (AP Photo/Evan Agostini)

Demi Lovato

Demi Lovato performs during the People's Choice Awards on Wednesday, Jan. 11, 2012 in Los Angeles. (AP Photo/Chris Pizzello)

Demi Lovato

Demi Lovato is seen backstage with the award for favorite pop artist at the People's Choice Awards on Wednesday, Jan. 11, 2012 in Los Angeles. (AP Photo/Matt Sayles)

Demi Lovato

Singer Demi Lovato attends the Z100 Jingle Ball at Madison Square Garden on Friday, Dec. 9, 2011 in New York. (AP Photo/Peter Kramer)

Demi Lovato

Demi Lovato attends Z100's Jingle Ball '11 kick off party at the Aeropostale Times Square store, in New York, Friday, Oct. 21, 2011. (AP Photo/Charles Sykes)

Demi Lovato

Actress Demi Lovato arrives at the ALMA Awards in Santa Monica, Calif., Saturday, Sept. 10, 2011. The 2011 NCLR ALMA Awards are held to honor those who promote "fair, accurate and balanced" portrayals of Latinos in the entertainment industry. (AP Photo/Jason Redmond)

Demi Lovato

Demi Lovato arrives at the MTV Video Music Awards on Sunday Aug. 28, 2011, in Los Angeles. (AP Photo/Chris Pizzello)