They're both serial womanisers, so it's no wonder Russell Brand is worried about Harry Styles wading in on his turf with the ladies.
The funnyman has warned the One Direction singer off older women, saying if he continues, he'll be forced to declare an 'intergenerational sex war' with Harry.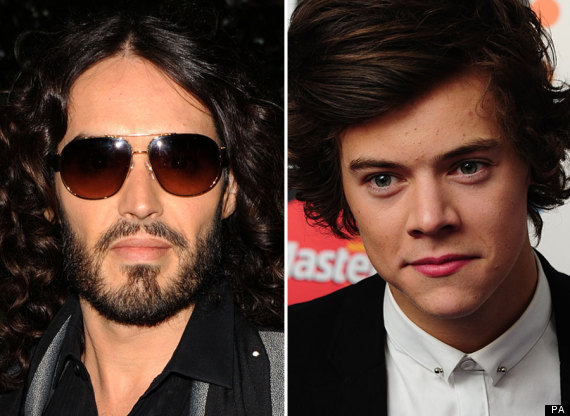 During a webchat hosted on Heatworld.com to promote his upcoming Give It Up for Comic Relief benefit, he praised the boyband, saying: "I think One Direction…seem really, really lovely. I met them at the Olympics and they were, like, really good-looking and charming, and I really liked that one Harry.
"I don't think we're competing for the same audience femalewise, so...I think those lads are about 19 and 20 years old now, aren't they? They're quite young."
However, he soon changed his mind when he learnt of Harry's penchant for an older lady and his relationship with Caroline Flack.
"That's not on. There's got to be carefully defined parameters, otherwise there's gonna be an intergenerational sex war," he joked, adding, "I like the curly hair. I think he has quite nice lips."
Russell is currently single since splitting from wife Katy Perry in 2011, and was recently linked to Spice Girl Geri Halliwell.
19 Reasons Why We Love Harry Styles
1. He's got lovely, bouncy curls which we'd love to run our fingers through.

2. He's not afraid of getting naked.

3. He's got a rather nice voice, which he could serenade us with.

4. He was the cutest kid ever - just look at those cheeks!

5. His bromance with Nick 'Grimmy' Grimshaw. We heart a good bit of man love.

6. He scrubs up well in a suit. Yum!

7. He loves animals *melts*.

8. He gave Taylor Swift enough material for about 10 more albums during their relationship.

9. He has tattoos. Lots of tattoos. OK, many are questionable but it just adds to his allure.

10. He loves his mum. Bless!

11. He always gets the best girls (we love Flacko almost as much as Harry).

12. He's part of our favouritest band ever (ok, this week) - One Direction.

13. He's got a filthy mouth.

14. He's got some flashy cars. And a Capri. This is very cool indeed.

15. He's not afraid to make a fool of himself (yes, that is him inside that thing).

16. He's touchy feely. Especially when it comes to his bandmate's bits.

17. He's the Robbie of 1D.

18. He's charitable - 1D are releasing this year's Comic Relief single.

19. He'd be an amazing mate. We are sure of this.