The Huffington Post pictures of the day brings you the very best images from around the world chosen by our own photo editors, Elliot Wagland, Matthew Tucker and Tahira Mirza.
We would love to hear your thoughts on the stories of the day - leave a comment at the bottom of the blog.
26/02/2013 15:26 GMT
Maradona Attends Press Conference In Naples Football legend Argentinian Diego Maradona juggles with a ball during a press conference on February 26, 2013 in Naples. Maradona, who rarely stepped foot in Italy since leaving under a cloud in the 1990s amid claims of collusion with mafia dons and a positive drugs test for cocaine, asked for 'justice' in his dispute with Italian tax authorities on an emotional trip to Naples, the scene of some of his greatest career successes
26/02/2013 14:53 GMT
Queen Elizabeth II Receives The Archbishop of Canterbury Queen Elizabeth II receives the Archbishop of Canterbury, the Most Reverend Justin Welby, at Buckingham Palace, London after his act of 'Homage' upon his appointment.
26/02/2013 13:53 GMT
Meet Arnie Black Necked Swan Dubbed 'The Terminator' A Black Necked Swan has been dubbed 'The Terminator' due to its habit of attacking anything or anybody that comes near his territory at the Wildfowl and Wetlands Trust at Arundel, West Sussex. Arnie and his mate Lara built their nest and laid 6 eggs in January. They soon had to deal with snow and then floods, which threatened the safety of their nest. Staff then decided to step in and offer a helping hand and Trust Superviser Sam Halpin and his team came up with a plan to keep the floodwater away from Arnie. Sam said: "The water was rising and threatened the eggs so we built a mound from pallets and sandbags lured Arnie away and lifted the nest and eggs on top of the mound. Now Arnie and Lara have a supernest but it seems to have gone to Arnie's head he won't let anything near it". The happy pair's family of cygnets is expected to arrive next month.
26/02/2013 13:17 GMT
Boris Tries His Hand At Sewing London Mayor Boris Johnson tries his hand on a sewing machine during a visit to clothing factory, East End Manufacturing in London
26/02/2013 12:02 GMT
Imogen Thomas Introduces Baby Ariana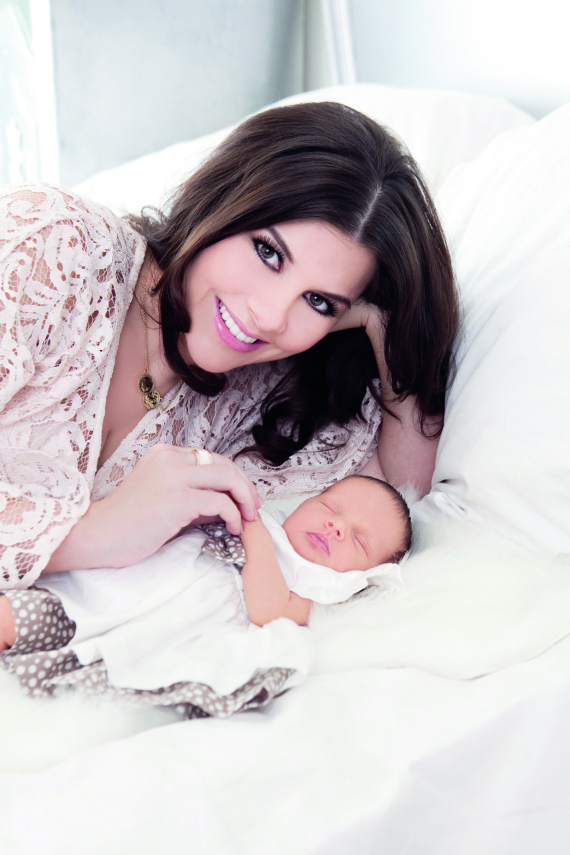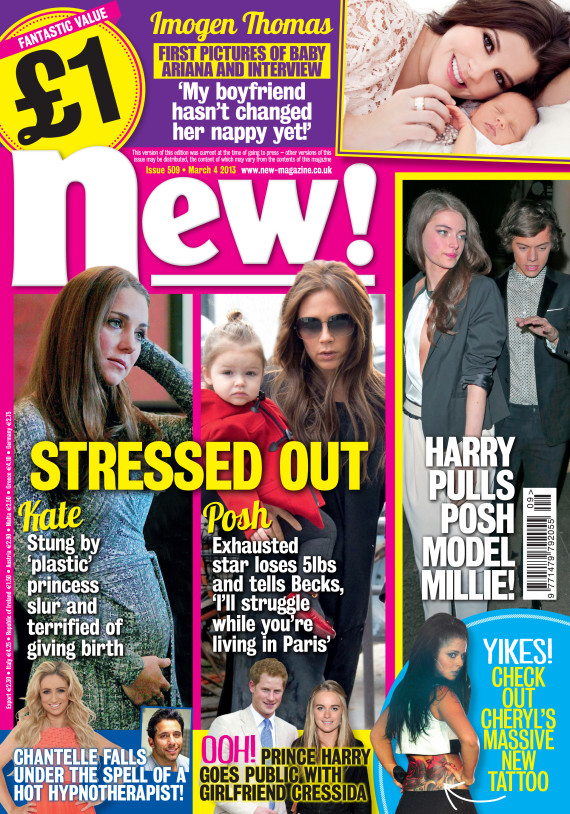 Imogen Thomas talks to New Magazine about new baby Ariana Siena
26/02/2013 11:31 GMT
Beastly Creature Washes Up In Tenby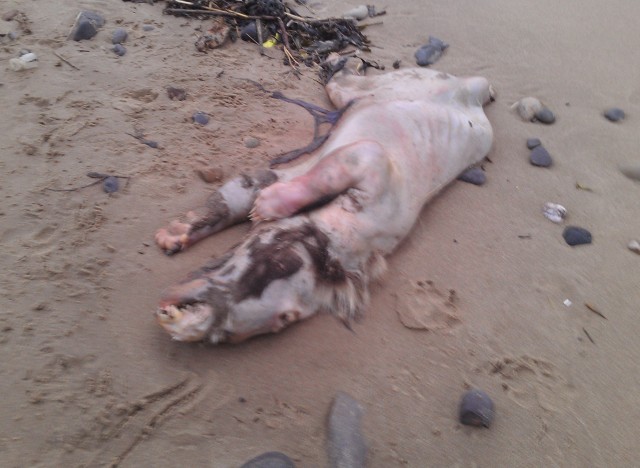 A pockmarked bloated beast has washed up on the shores of Pembrokeshire in Wales, its gruesome purple carcass mystifying residents. Remnants of brown hair on its long skull, its bloodless lips pulled back in a terrifying snarl, the long-toothed creature was found on Tenby's South Beach by a dog walker Peter Bailey the Western Telegraph reports.
26/02/2013 10:58 GMT
Jennifer Lawrence Oscar Interview Interrupted by Jack Nicholson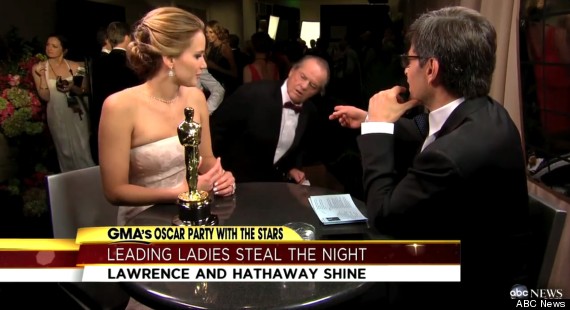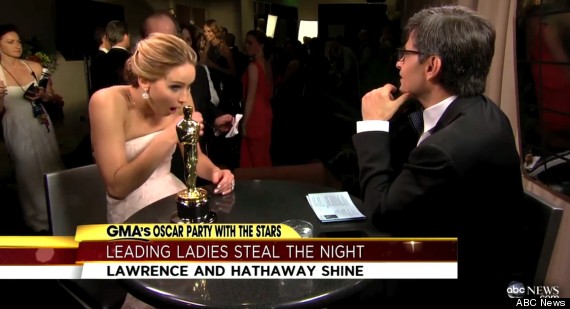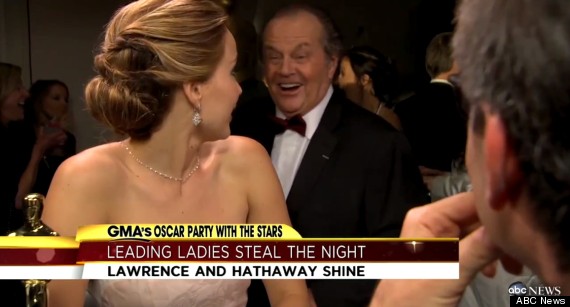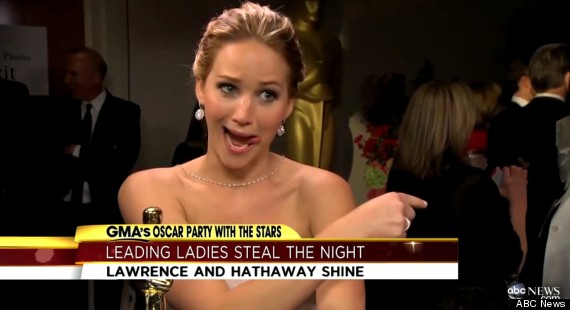 George Stephanopoulos talks to the Best Actress Winner Jennifer Lawrence who then is interrupted by Jack Nicholson who starts flirting with the young actress. From out of the background, Jack Nicholson, 75, walked into the interview and said to Jennifer Lawrence, "You did such a beautiful job. I didn't mean to cross into your interview but I had to congratulate you." "You're being really rude," Jennifer Lawrence, 22, joked after thanking him. They gushed over each others' movies and said goodbye. He exited and the actress shouted, "Oh my God," putting her hands in her face. "Is he still there?" "I'll be waiting," said Nicholson, who popped his head back into the interview as a surprise.
The embarrassing moment Jennifer Lawrence met Jack Nicholson Backstage at the Oscars and thought he wasn't around (Via E Online/abc news)
26/02/2013 10:29 GMT
West Ham's Touching Tribute To Bobby Moore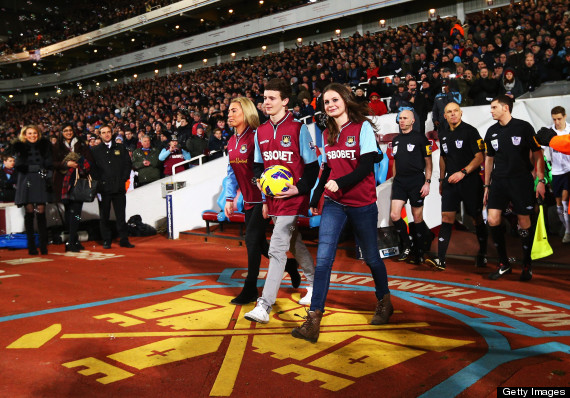 Bobby Moore's grandchildren Poppy, Freddie and Ava lead out the team's prior to the Barclays Premier League match between West Ham United and Tottenham Hotspur at the Boleyn Ground.
West Ham's touching tribute to Bobby Moore
26/02/2013 09:53 GMT
Back To Work For Oscar Winner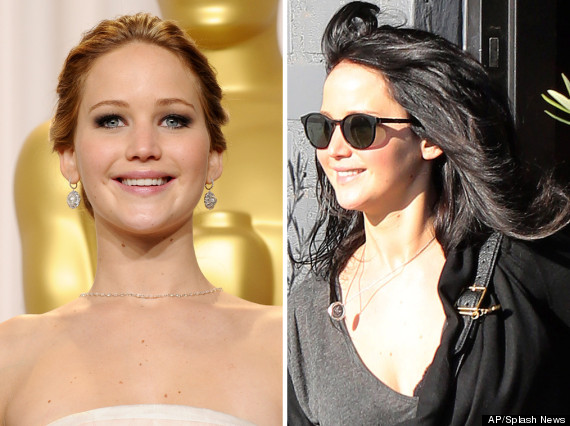 (Left) Jennifer Lawrence poses in the press room during the 85th Annual Academy Awards Oscars on February 24, 2013 (Right) Oscar winner Jennifer Lawrence steps out of the Rossano Ferretti Hairspa going from blonde to brunette as she gets ready to continue shooting for her upcoming film, "The Hunger Games: Catching Fire". The actress was all smiles as she quickly made her way to the car carrying a bag of goodies from the salon.
26/02/2013 09:52 GMT
Rush Hour Calcutta Style Indian commuters travel in a local train in Calcutta, India, Tuesday, Feb. 26, 2013. Indian Railway Minister Pawan Kumar Bansal is presenting the country's rail budget for next fiscal year in the parliament Tuesday, Feb. 26, 2013. Indian railway network is one of the world's largest, with some 14 million passengers daily and some 64,000 kilometers (40,000 miles) of railway track cut through some of the most densely populated cities. (AP Photo/Bikas Das)
SUBSCRIBE TO & FOLLOW UK DAILY BRIEF