We don't know about you, but if we had Keith Lemon coming round our gaff with a film crew in tow then we'd make sure that (a) the place was spotless and (b) anything potentially embarrassing was well and truly hidden, preferably under lock and key.
But try telling Kerry Katona that.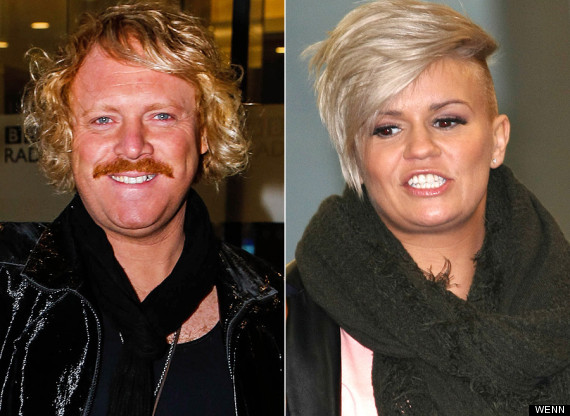 Keith and Kerry
The reality star was left red-faced after throwing open the doors of her Surry pad to the 'Celebrity Juice' star as he filmed a revamp of 'Through The Keyhole' when he uncovered a drawer of sex toys.
Oh dear.
And Keith - who replaces Lloyd Grossman on the show - then proceeded to show Kerry's stash to camera. Cue much chortling from the audience.
One audience member told The Sun: "At one point Keith pulls open a drawer and inside is a big sex toy and other kinky paraphernalia.
"He makes a big meal out of it and the audience just fell to pieces laughing. None of the panel could keep a straight face."
Kerry's latest cringe moment comes in the same week she suffered a nip slip on stage during Atomic Kitten's Big Reunion comeback gig.
We have a feeling Joey got dressed all by himself today.The poor lamb can't even tell his left from his right.

Dougie McFly really REALLY needs to leave this photo opp, like, yesterday.

Josh Duhamel: 40 going on 4.

This snap of Cheryl really reminds us something available in certain shops in the backstreets of Soho.

X Factor's Lucy whips fellow contestant Jade into shape.

Can we suggest a slightly lower slit next time, Em?

'Just keep smiling, nobody will notice'. Tess and Claudia think gurning like loons will distract from the fact that Claudia's face is stuck to Tess' hair.

Ryan Phillippe is looking pumped.

Jessie Wood: 'I don't know who you are but get your mitts of my missus'.

Brian suffers every presenter's worst nightmare: getting your mic stuck in your flies. Well, it can happen to anyone.

Errrrm , do you want to tell Harry he's sprouted a mini arm out of his back or shall we?

Yep, if we were Miranda Kerr we'd be constantly feeling ourselves up too.

We're really not sure that look's going to catch on Louie.

Not your best look Bey.

...Or yours Cheryl.

It's only a puddle, Katie love. Sheesh.

We don't what we're more surprised about... the fact supermodels eat white bread or the fact that Cara chose to wear that hat.

Anna is the latest celeb victim of the FBF. That'll be a Flash Bulb Flash.

Tim Minchin auditions for his next lead role as... Dracula. Mel C doesn't look too bothered though.

'OMG! It ain't even no pop-up'. TOWIE's Lauren tries to mask her disappointment.

Nice to see Jessica Alba's hubby Cash Warren checking that his wife's dress is still in place. What a gent!

So that's how Peter Andre hits those high notes.

No, it's not that child from The Exorcist, it's Cara Delevingne - you know, the supermodel.

Smooooooooth Mischa Barton, smoooooooth.

Either they'd run out of paper towels in the club or George has just been caught short. EIther way, he seems oblivious.

Now we can see what Penelope Cruz saw in Javier Bardem.

How's that lemon going down, Ange?