The Huffington Post pictures of the day brings you the very best images from around the world chosen by our own photo editors, Elliot Wagland, Matthew Tucker and Tahira Mirza.
We would love to hear your thoughts on the stories of the day - leave a comment at the bottom of the blog.
06/03/2013 16:43 GMT
Hugo Chavez Paraded Through The Streets The flag-draped coffin containing the body of Venezuela's late President Hugo Chavez is taken from the hospital where he died, to a military academy, where it will remain until his funeral in Caracas, Venezuela, Wednesday, March 6, 2013. Seven days of mourning were declared, all schools were suspended for the week and friendly heads of state were expected for an elaborate funeral Friday.
06/03/2013 16:27 GMT
Robbie Williams Cameo Appearance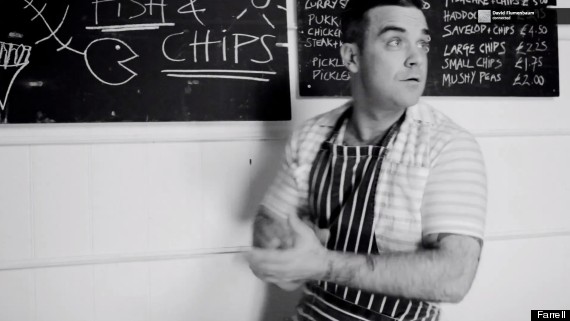 Hitting the seaside in our finest threads for a few pints and a spot of fish 'n' chips. We are proud to present to you the Farrell Spring Summer 2013 collection film with a cameo from Robbie Williams.
06/03/2013 15:52 GMT
Myleene Klass Launches Swimwear Collection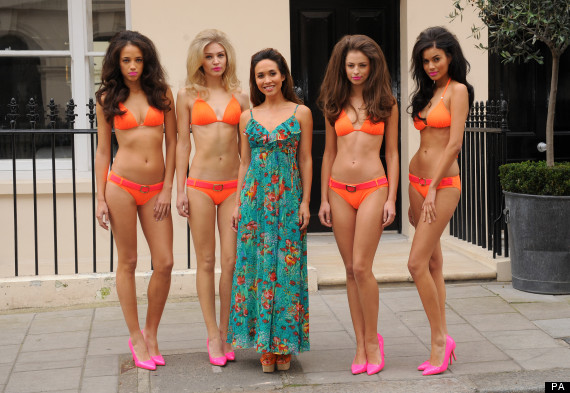 Myleene Klass (centre) at the launch of her first swimwear collection for Litttlewoods at Suffolk Place in London.
06/03/2013 14:55 GMT
Hold On To Your Hat Cardinal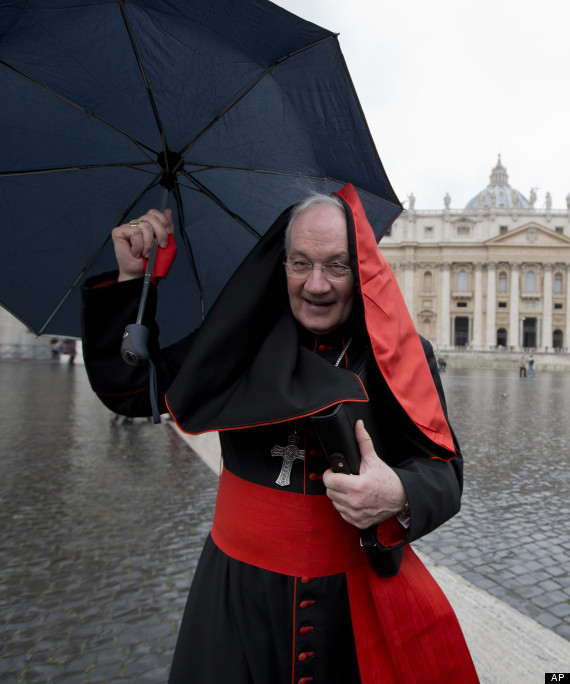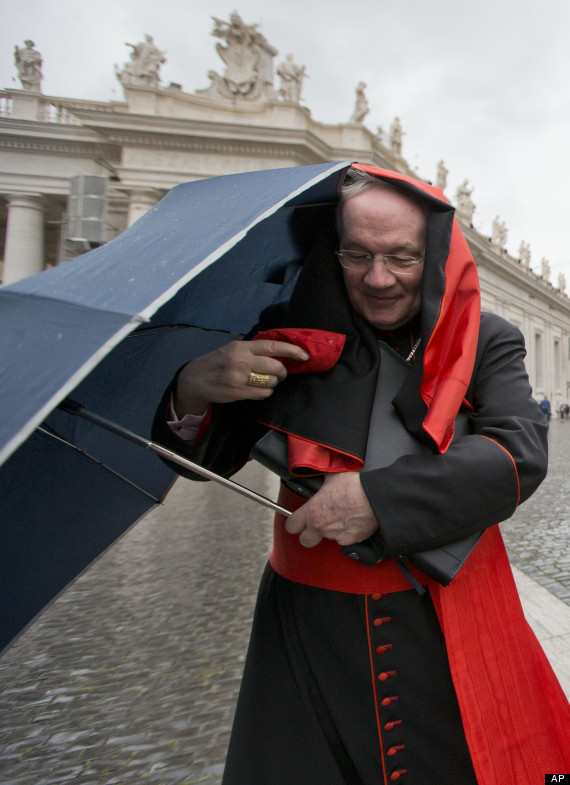 Canadian Cardinal Marc Ouellet holds on to his umbrella and his skull cap on a rainy windy day as he walks in St. Peter's Square after attending a cardinals' meeting, at the Vatican, Wednesday, March 6, 2013. Cardinals are meeting to discuss the problems of the church and to get to know one another because there is no clear front-runner in the election of the new pope.
06/03/2013 14:53 GMT
Moncler Gamme Rouge Catwalk A model presents a creation for Moncler Gamme Rouge during the Fall/Winter 2013-2014 ready-to-wear collection show, on March 6, 2013 in Paris
06/03/2013 14:49 GMT
Mari And Her Baby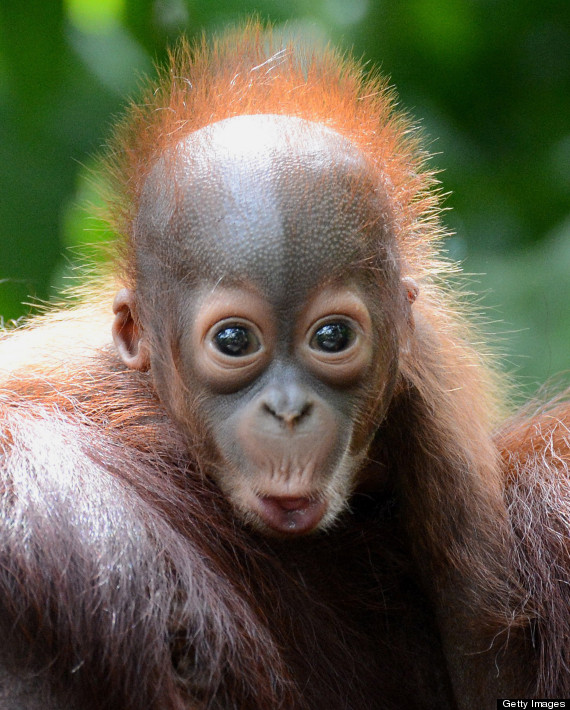 A female Bornean orangutan named Mari is seen with her still to be named son at the Singapore Zoo on March 6, 2013. The baby orangutan was born on January 21 at the zoo -- the 40th orangutan birth to date -- which has the largest social colony of endangerd Sumatran and Bornean sub-species orangutans.
06/03/2013 12:46 GMT
Tight Squeeze!! Iraqi children sit in the trunk of a taxi in Baghdad's Abu Nawas Street as they return from school
06/03/2013 12:44 GMT
Ballet Star Held In Acid Attack Pavel Dmitrichenko, the star Russian ballet dancer is seen in Moscow. Dmitrichenko, who most recently played the title role in "Ivan the Terrible" at the famed Bolshoi Theater has confessed to the acid attack on the theater's ballet chief, Moscow police said on Wednesday.
06/03/2013 12:40 GMT
British Angler Lands Monster 250lb Arapaima British adventure angler Steve Townson achieved a lifelong ambition when he landed this massive wild arapaima estimated at 250lbs from Middle River Essequibo in Guyana, South America. Steve, who has travelled the world catching exotic fish and who runs UK-based company Amazon-Angler.com - a company specialising in South American angling holidays - caught the mighty fish, plus another weighing around 150lb, on a whole 2lb piranha bait. "The Arapaima is one of the world's biggest and mightiest freshwater fish and to catch them in the wild is a rare privilege," said Steve. "They are protected and cannot be removed by law for the table." As a result of his successful exploratory trip the River Essequibo, Steve has set up trips to the area for anglers who want to catch an arapaima.
06/03/2013 12:39 GMT
Boris Johnson Visits Raymond Blanc's Brasserie Blanc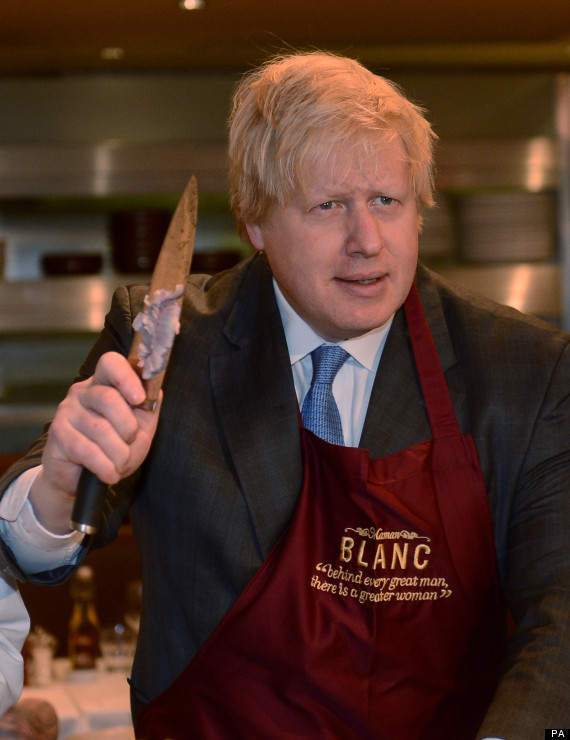 Mayor of London Boris Johnson meets workers at one of Raymond Blanc's Brasserie Blanc restaurants in the City of London where he urged the capital's food and hospitality firms to take on more young people as apprentices.The Michelin chef is taking on 21 apprentices at Brasserie Blanc restaurants across London and the UK, working in a range of hospitality roles including as chefs and front of house staff.
SUBSCRIBE TO & FOLLOW UK DAILY BRIEF