Famously gruff and tenacious, Prime Minister Winston Churchill earned a deserved reputation as the 'British Bulldog.'
The cigar-chomping, hard-drinking politician inspired the nation with his rousing speeches and roared when the British Empire needed him the most.
This portrait of his belligerent scowl came to be one of the most famous images ever of the man who led Britain through the Second World War.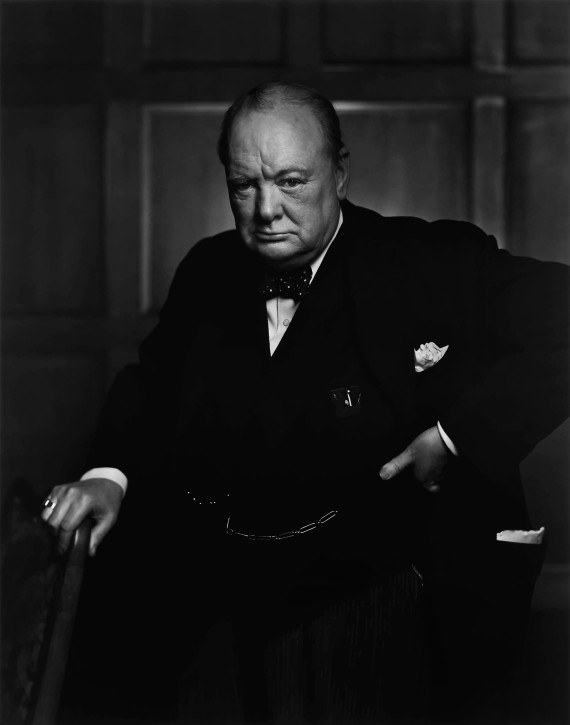 Yousuf Karsh's iconic portrait of Winston Churchill, shot in 1941
To mark the week which heralds the 67th anniversary of his Iron Curtain address, here is the entertaining story behind it.
Shot by Turkish-born photographer Yousuf Karsh, the image was taken during Churchill's visit to Canada in 1941.
The Canadian government commissioned Karsh for a portrait of the British Prime Minister following his speech at the country's House of Commons in Ottawa.
An impatient and irritable Churchill snapped to Karsh: "You have two minutes. And that's it, two minutes," Iconic Photos recounts.
When Karsh asked Churchill to remove the cigar from his mouth, the statesman curtly refused.
A somewhat more upbeat Churchill - with his trademark cigar between his lips - gives his familiar 'V' sign after a meeting with American Secretary of State John Foster Dulles
As which point Karsh walked up to him, plucked the cigar from his lips and captured his glowering expression.
Karsh, who died in 2002, said: "By the time I got back to my camera, he looked so belligerent he could have devoured me.
"The silence was deafening. Then Mr Churchill, smiling benignly, said, 'You may take another one.' He walked toward me, shook my hand and said, 'You can even make a roaring lion stand still to be photographed.'"
LIKE HUFFPOST UK POLITICS ON FACEBOOK | FOLLOW US ON TWITTER
The resultant photo was sold to Life magazine, and eventually featured on its front cover in May 1945.
Upon seeing Churchill's expression, war correspondent Edward R Murrow, was moved to remark: "Ah, there is the face which marshalled the English language and sent it to battle when we had little else," CBC News reported.
Other famous Karsh portraits include Ernest Hemingway, Albert Einstein, Fidel Castro and John F Kennedy.
Hat-tip to Reddit for reminding us of this yarn.
Loading Slideshow
Military - 615 Squadron New Headquarters Opening - Croydon

Leader of the Opposition, Winston Churchill, who is Honorary Air Commodore of 615 (County of Surrey) Squadron, Royal Auxiliary Air Force, opening the new Town Headquarters of the Squadron at Croydon.

Politics - Winston Churchill 76th Birthday - London

Winston Churchill is showered with Korea Anti-war leaflets on his 76th birthday as he left his London home for the closing day of the foreign affair debate in Commons

Royalty - Death of King George VI - Winston Churchill - St. James' Palace

His face reflecting the grief of the nation at the King's death, Prime Minister Winston Churchill leaves St. James' Palace, London, after attending the Privy Council meeting, automatically summoned on the death of the Sovereign and known as the Accession Council.

Royalty - Queen Elizabeth II and Churchill's - No. 10 Downing Street

Queen Elizabeth II is greeted by Lady Churchill and Sir Winston Churchill, as she arrives for a dinner party at No. 10 Downing Street.

Politics - Winston Churchill - RMS Queen Mary

Prime Minister Winston Churchill gives a 'victory' sign whilst on board the Cunard liner RMS Queen Mary, on which he was sailing to New York

Politics - Winston Churchill - United States Visit

Winston Churchill and his wife leave their home at Hyde Park Gate, London, on the start of their journey to the United States today

POLITICS - WINSTON CHURCHILL - V SIGN

Sir Winston Churchill gives his familiar 'V' sign after a lunchtime meeting with American Secretary of State John Foster Dulles.

Politics - Sir Winston Churchill - 10 Downing Street

Sir Winston Churchill in the cabinet room at 10 Downing Street.

Sir Winston Churchill

Sir Winston Churchill during the Second World War, circa 1940.

Winston Churchill

Winston Churchill and Sir Edward Grey.

Royalty - Coronation of Queen Elizabeth II - London

Sir Winston Churchill driving from Buckingham Palace in the Prime Ministers procession to Westminster Abbey for the Coronation of the Queen.

Politics - Winston Churchill - Madrid, Spain

Winston Churchill, mounted, ready for a polo match in Madrid, Spain.

Polo - House of Commons v House of Lords

Chancellor of the Exchequer Winston Churchill, right, playing polo for the Commons against the Lords

Soccer - FA Cup - Final - Newcastle United v Arsenal

Prime Minister Winston Churchill (second l) shakes hands with Newcastle United goalkeeper Ronnie Simpson (second r) as captain Joe Harvey (c) introduces the PM to his team before the match

Politics - Winston Churchill

Winston Churchill, portrait taken when he first took his seat in the House of Commons.

Winston Churchill and bulldog

Library picture of Winston Churchill with bulldog Barley Mow at the Consevativ Club during a polling day tour of his constituency in Woodford, Essex. It was revealed today (Monday) that the Labour Party are to use a bulldog in their party political broadcast which is being screened Tuesday night. See PA story ELECTION Bulldog. Available b/w only.

Politics - Marshal Tito Visits London

(L-R) Yugoslavian President Marshal Josip Broz Tito, British Prime Minister Winston Churchill and Foreign Secretary Anthony Eden

Weddings - Mary Churchill and Captain Christopher Soames Wedding - St Margaret's, Westminster

Winston Churchill escorting his youngest daughter Mary Churchill from their home in Hyde Park Gate, London, to her wedding to Captain Christopher Soames at St Margaret's Church, Westminster.

Politics - Winston Churchill - London

Mr. Churchill, in preparation for the coming general election, makes an electionary speech, at a sound studio in London. The record will also contain the voices of Anthony Eden and Lord Woolton.