Facebook has unveiled sweeping changes to its News Feed at a media event in California.
The revamped News Feed is much cleaner and simpier than the previous design, with a focus on higher-resolution photographs, news stories and other kinds of media.
The News Feed can now be filtered for photos, music and other kinds of media.
It also introduces a new design inspired by the Facebook mobile app, with a left-hand side navigation bar.
But the new design also includes a role for larger, 'richer' advertising which goes beyond the smaller images and text links users are used to seeing on the site.
"The story here today is trying to get Facebook out of the way as much as possible," said Chris Cox, VP of product.
The waiting list for the new design is open now at Facebook's site.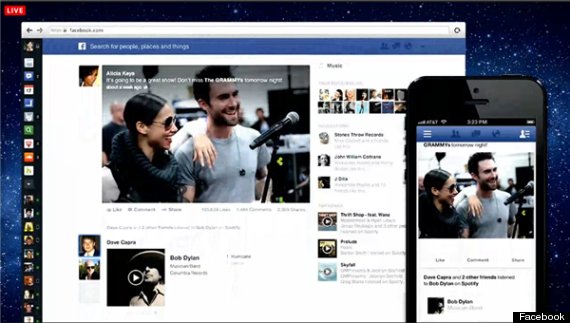 Facebook CEO Mark Zuckerberg said it would allow users to engage with more content and find the updates that matter to them more easily.
Among the other new changes, the news feed now makes it more clear where links and news stories originated and who published them - along with publishers' logos.
READ MORE: Facebook's Key Changes Timeline
Facebook said:
"Today we're announcing a new version of Facebook designed to reduce clutter and focus more on stories from the people you care about. You see all the stories you saw in your News Feed before, but with a fresh new look. We've completely rebuilt each story to be much more vibrant and colorful and highlight the content that your friends are sharing. Photos, news articles, maps and events all look brighter and more beautiful."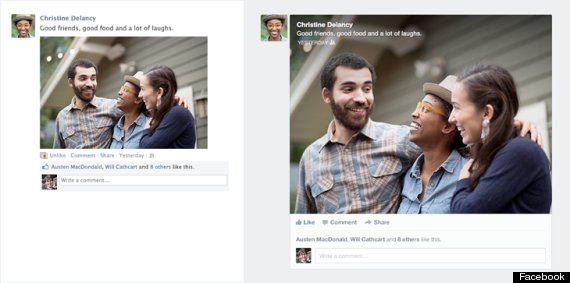 Loading Slideshow
Instagram Lets The Cat Out Of The Bag

FourSquare was designed to show the world your location -- but sometimes <a href="http://www.huffingtonpost.com/news/instagram">photo-sharing app Instagram</a> inadvertently gives us away. In fact, we're so accustomed to snapping "artsy" pics of puppies and salads that it's possible we're unintentionally sharing our whereabouts, particularly if the photos aren't categorized as "private." So if you call out of work sick, make sure you don't accidentally post a picture of yourself relaxing at the local beach. Or, to minimize unwanted attention, go to your Instagram "Options" page and select the "Photos Are Private" button.

If You See Something, Type Something?

For many years, we were able to read Facebook messages at our leisure -- and then promptly ignore them. Now, <a href="http://newsroom.fb.com/News/434/A-New-Look-for-Facebook-Messages">after a Facebook update this summer</a>, users can see when someone has read a chat or message they've sent. So if you want to avoid the awkward realization you've ignored someone, type a message back, don't open the message to begin with, or use this <a href="http://crossrider.com/install/14917-chat-undetected">Chat Undected extension</a> to regain your excuse for not responding.

Whoops, We Stalked You (And You Know It)

<a href="http://www.huffingtonpost.com/news/okcupid">OkCupid</a> and <a href="http://www.huffingtonpost.com/news/linkedin">LinkedIn</a> are used for notably different purposes, but these social networking sites share a (potentially embarrassing) feature. Both platforms show who has viewed your profile and when you're checking out someone else's, making "cyber stalking" a not-so-anonymous act. In order to privately dig into another person's information, both websites offer memberships, which will cost you a few extra bucks a month. But then, of course, you'll be able to check out as many profiles as you want, without ever being detected. Creepy? No, we find it more... <em>practical.</em>

Facebook Bares It All

Everyday we might read a few news articles online, "Like" a slew of photos on Instagram or listen to a couple tunes via Spotify. All of the above activities now have "<a href="http://www.huffingtonpost.com/2012/01/20/facebook-frictionless-apps_n_1213970.html">frictionless Facebook apps,</a>" or apps that automatically post activities to your Facebook profile without the use of a manual "share" button. Every app has different preferences, so be sure to read the details of what you're allowing Facebook to publish. We know for a fact that nothing is worse than accidentally publishing a video titled "ToPLeSs CHiCkS" to your profile, or telling the world that you read a heinously embarrassing "news" article about <a href="http://www.huffingtonpost.com/2012/05/22/miley-cyrus-side-boob-actress-sex-scenes-losing-virginity_n_1536026.html">some celeb's sideboob</a>.

The World Knows Where You Walk And Where You Talk

Sometimes we want people to know our location. But have you ever forgotten to turn off Twitter's geo-tweeting feature, which specifies your exact location, only to find you've been leaving a digital footprint for all the world to see? <a href="http://www.huffingtonpost.com/2011/03/07/what-not-to-post-on-twitter_n_829903.html#s245051&title=Confessionals_Office_Gossip">Be weary of oversharing</a> information. Twitter is an open website, so anyone can Google your name to find your Twitter handle. If you want to limit who can see your profile, go to Twitter's "Settings" page and check the "Protect my Tweets" box, or turn the location feature off (seen in the image to the left).

Facebook 'Pages' Are Actually Advertisements

Occasionally, companies will offer customers rewards for "Liking" their brand on Facebook. You might be a sucker for incentives, but don't forget -- once you "Like" an <a href="https://www.facebook.com/FacebookPages">organization's Page</a>, you'll receive corporate updates that have the potential to litter your News Feed. So "Like" accordingly!

Are You Talking To Me?

When was the last time you checked you're <a href="https://www.facebook.com/help/188872764494245/">"Other" Messages</a> on Facebook? This hidden folder displayed in the top left corner of the Messages screen holds posts from people you're not connected with on Facebook. But who remember to look there? Not us... The same rings true for Direct Messages on Twitter, or InMail on LinkedIn. While these modes of communication can be awesome resources... sometimes we forget they exist.