Kate Moss put in a model performance on air when she read an extract from steamy best-seller Fifty Shades Of Grey to raise money for Comic Relief.
The catwalk star had to suppress giggles as she read from the EL James novel during Nick Grimshaw's Radio 1 Breakfast Show.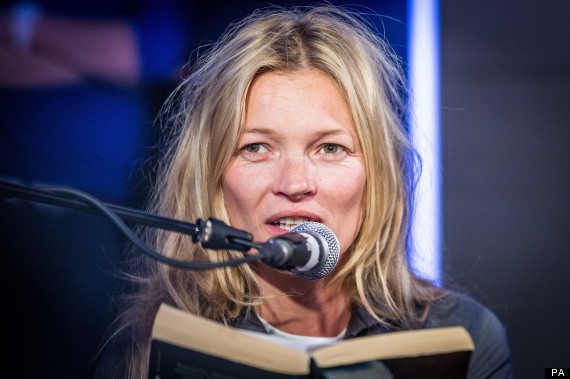 She was joined in the studio by other big names including Lily Cooper and David Walliams as they raised more than £250,000.
Grimshaw and fellow DJs Sara Cox, Greg James and Dev all posed in their swimwear to raise money for the charity appeal and members of Little Mix and Union J were challenged to eat a spoonful of cinnamon powder live on air.
Fellow DJ Scott Mills had to kiss Vanessa Feltz, before Grimshaw took a dip in a bath of worms.
He later took to Twitter, saying: "YEAHHHHHH!!! thank you SO much to everyone that donated!!! over a quarter of a milli for Red Nose Day! you're the best! xx"
Comic Relief Funniest Bits
The first two minutes of this sketch, featuring Ricky Gervais on a trip to Kenya, are entirely plausible - you think you're watching The Office star in a rare moment of sincerity on a trip abroad. Of course you're not - it's the crying celebrities of Comic Relief that he's lampooning. And himself, of course. BEST BIT: A surprise turn by Jamie Oliver eating a Burger King.

One of the most surreal moments in Comic Relief history, James Corden - playing Smithie from Gavin & Stacey - accidentally wanders into an England team meeting and proceeds to give Terry, Beckham, Lampard et al a motivation speech using the wise words of John Barnes. BEST BIT: What's written on John Terry's white board. And trying to decide which England player is the worst actor.

Jim Royle is so ill he's even put the central heating on... or is he? BEST BIT: Dave's not quite getting the idea of the parachute jump.

A theatre group decide to put on 'The Office Opera' but first need the permission of the sitcom's creator. Ricky Gervais has been sending himself up as a monstrous egomaniac ever since he became famous, but in this sketch he really goes for it... BEST BIT: Either the Henry VIII moment or Gervais's entrance at the rehearsal - we can't decide.

A classic from the archives - Match Of The Day host Des Lynam decides he is sick of talking about football and tries to engage the pundits in a discussion about literature. BEST BIT: Jimmy Hill's robot fears. And just Jimmy Hill generally.

A million pounds has been raised to convince a very young-looking Hugh Grant to make Dawn French's wish come true by giving her a snog. Those who remember this from the mid-90s will recall the build up took place throughout the night, until Dawn finally got her man. BEST BIT: Dawn's slapstick entrance.

Back when Men Behaving Badly was one of the best sitcoms on the box, Comic Relief viewers were treated to the surreal sight of Kylie Minogue showing up at the famous flat after accidentally bumping into Tony's van. BEST BIT: Gary reading out the rejection letter from Kylie Minogue's people.

How did this ever get broadcast? David and Victoria Beckham, still in the early stages of their global fame, prove themselves to be incredibly good sports as Ali G subjects them to an excruciating ten minutes of crude questions. Full of eye-watering lines, you've never liked 'Posh and Becks' more. BEST BIT: "Do you want Brooklyn to grow up to be a footballer like his Dad, or a singer like Mariah Carey?"

At the height of Spice Girls mania in 1997, Kathy Burke, Dawn French, Llewella Gideon, Lulu and Jennifer Saunders created a parody of the group called the Sugar Lumps. Seeing all ten on stage at once is now a vintage moment of 1990s nostalgia. BEST BIT: Dawn French aping Posh as she goes through the dance moves to 'Who Do You Think You Are?'.

Poor old Gordon didn't get much right as Prime Minister, certainly not in the PR stakes. But in this fantastic ensemble sketch (again with 'Smithie' at the helm), he pulls off a blinder of a moment that encapsulates all that is good about Comic Relief entertainment - a fist pump with JLS. BEST BIT: So many to mention, but Gordon steals the show.

Alan Partridge's resurrection on Mid-Morning Matters was a wonderful return to form for Steve Coogan's greatest character, and this Comic Relief sketch is as funny (and agonizing) as any of the episodes. BEST BIT: The awkward banter between Alan and Sidekick Simon is priceless comedy.

Fair play to Blair - he managed to pull off one of the nation's favourite comedy catch phrases without being toe-curlingly awful. Will Cameron attempt something as gutsy for Comic Relief 2013? We can only hope so. BEST BIT: Blair pulling off the 'Am I bothered?' routine with surprising aplomb.