Mugshots Gainesville is a handy little website that, in its own words, "records those taken into custody by local law enforcement". Local being Gainesville, Florida, in the good ol' US of A.
And why has this particular site been brought to our attention? Because of this gem: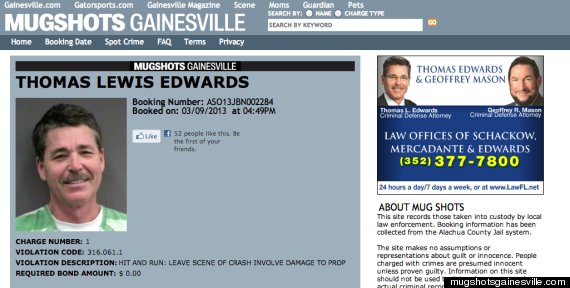 Yes, Thomas Lewis Edwards hasn't just been booked six times - for offences ranging from hit-and-run, leaving the scene of a crash and refusing to submit to a DUI test - but he's also a criminal lawyer. Whose job it is to help the kind of people who end up on Mugshots Gainesville. And hence his law firm's ad is appearing on the website... right alongside his very own mugshot.
Oh, dear. Although we hasten to add: the website says it "makes no assumptions or representations about guilt or innocence... Information on this site should not be used to determine any person's actual criminal record."
It can, however, be used to have a jolly good laugh.
Also on HuffPost:
Loading Slideshow
Kelsey Smith

Arrested for: Drink-driving.

Marsia Emanuel

Arrested for: Beating up a bus driver. She was found later at home where she dropped her underpants in front of police.

Gregory Liascos

Arrested for: Breaking into the Rice Northwest Museum of Rocks and Minerals. He was later found in, yes, a wooded area.

Randon Reid

Arrested for: Flight. As in, fleeing from the authorities. Not actual flight (see Batman).

James Brown

Arrested for: Domestic violence.

Johnathan Washburn

Arrested for: Hitting a man on the head with a skateboard after he took a picture of his bizarre triple-mohawk hairstyle.

Oneal Morris

Arrested for: Posing as a doctor and filling a women's buttocks with cement, mineral oil and flat-tyre sealant.

Cory Smits

Arrested for: Operating a vehicle while intoxicated.

Nic Cage

Arrested for: Domestic battery.

Albert Tejeda

Arrested for: Fleeing during a traffic stop. He was easily found later due to, yes, the tattoos on his face.

Mug Shot:

Arrested for: Smashing statues and furniture (because God told him to do it).

Ranaldo Jack

Arrested for: Attempted burglary. Police found him stuck in a woman's chimney - hence the soot.

Patrick Francis Brooks

Arrested for: Burglary, receiving stolen property, forgery and violating the terms of his parole for a previous conviction. His mugshot wasn't exactly repentant.

Kid Rock

Arrested for: Being involved in a brawl in a waffle house.

Heather Locklear

Arrested for: Driving erratically.

Robert Norton Kennedy

Arrested for: Assault. Though he did apologise via the medium of his forehead.

Hugh Grant

Arrested for: Hooking up with Divine Brown.