'Dallas' viewing ratings got a boost last night as viewers tuned in to see the Ewings say goodbye to JR, but it might not be enough to save the show.
The funeral scenes of one of TV's great villains drew an audience of 448,000, a share of just over 5%, which is an increase on figures for previous weeks, but a massive drop on their initial audience of approximately three million, when the series reboot was first aired last year.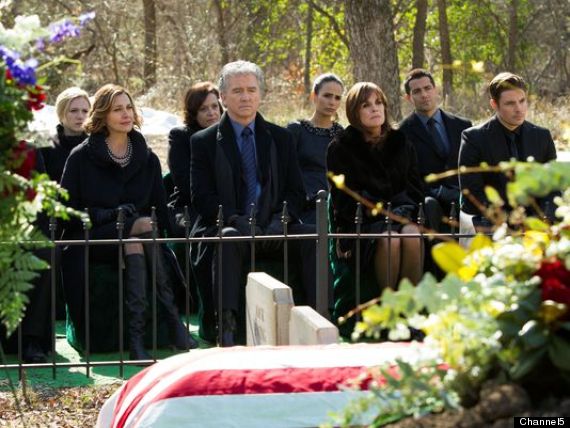 Real tears were shed during JR's funeral scene as Patrick Duffy, Linda Gray and Co said goodbye to a loved one
Channel 5 said today that no decision had been made on the future of the show in the UK, because its US producers, TNT, hadn't yet confirmed whether or not a third series will be made.
However, the Mirror this week quoted a Channel 5 source, saying: "The remake hasn't really worked and it is expensive to buy in for the number of viewers it's attracting.
"It looks as though viewers have quickly got bored. The audience was dropping like a stone. It might just be that Dallas was a product of its time. It's unlikely that a third season will be shown."
This poor showing is a sad contrast to the fortunes of the show at the height of its powers. A worldwide audience of approximately 83 million tuned in in 1980 to find out 'Who Shot JR?'
Larry Hagman died late last year, just after filming had begun on this second series. Producers have promised that JR's assassin will be revealed in the final episode of the current run.
Loading Slideshow
J.R. Ewing

J.R. Ewing is the infamous scheming patriarch of the Southfork ranch, best known for his ruthless drive for power and money. J.R. made his fortune in the oil business, often at the expense of those closest to him, including his ex-wife Sue Ellen and son John Ross. Throughout the years J.R. won himself many enemies, thanks to his unforgiving business manner and constant womanising. One of these enemies is his brother Bobby, with the explosive rivalry between the pair pushing both of them to their limits.

Sue Ellen Ewing

Sue Ellen Ewing is the former long-suffering wife of J.R. and is one of life's true survivors. Over the years she has battled alcoholism and mental illness, mostly as a result of her tumultuous relationship with J.R, but is now a powerful woman in Dallas. Despite all of her success, she still harbours regret for her mistakes with her son with J.R., John Ross, and will do anything to try and right the wrongs of her past.

Ann Ewing

Ann Ewing is the third wife of Bobby Ewing, a no-nonsense woman who possesses quiet strength and dignity. An excellent horse cutter, Ann instantly fell in love with the Southfork ranch and wasted no time in making it her home.

Bobby Ewing

The younger brother of J.R., Bobby Ewing was also a successful (if reluctant) oil baron but he lacked his brother's ruthlessness, and his insistence on playing fair caused ructions between the pair. Throughout the years Bobby has also had his fair share of love interests, with his marriage to Ann Ewing in the new series being his third. He adopted his son Christopher Ewing with his first wife Pam Ewing, and also has a biological son with former partner Jenna Wade.

Christopher Ewing

The adopted son of Bobby, Christopher Ewing has always been aware that he is not a biological Ewing, with his cousin John Ross always happy to remind him. Now an adult, Christopher has returned to Southfork with his fiancé Rebecca Sutter, and is determined to make a name for himself in the alternative fuel industry and to prove himself a true Ewing.

Elena Ramos

Elena Ramos is the daughter of the much-loved Ewing family cook, and grew up on the Southfork ranch alongside John Ross and Christopher Ewing after moving from Mexico when she was eight years old. Growing up it was always Christopher that had her heart, and the pair went on to become engaged until a misunderstanding led to them calling off their wedding and Elena fled heartbroken back to Mexico. John Ross followed her and after he confessed his love for her, Elena returned to Southfork on his arm with her own dreams of making it big in the oil industry.

John Ross Ewing

John Ross Ewing is the son of J.R., and it seems that the apple didn't fall too far from the tree. An ambitious and ruthless schemer just like his father, John Ross is determined to strike it big in the oil industry and prove himself capable of stepping into J.R.'s shoes. With his eyes set firmly on Southfork ranch and Elena Ramos, the girl he has loved since childhood, John Ross will let nothing stand in his way.

Rebecca Sutter

Rebecca Sutter is the beautiful and intelligent fiancée of Christopher Ewing, having met him in Asia shortly after his split from Elena Ramos. Rebecca is a self-made woman - having lost her parents at a young age, she worked hard to put herself through law school with her brother's support. Now living at Southfork she is determined to ensure they her wedding goes off without a hitch.