Gisele Bundchen Shows Off Daughter Vivian Lake And Amazing Post-Baby Figure In Costa Rica (PICS)
If there are any non-celeb ladies out there who have recently had babies then you might want to look away now.
This woman - Gisele Bundchen to be precise - had that child she's carrying around in what looks distinctly like a rucksack FOUR MONTHS AGO.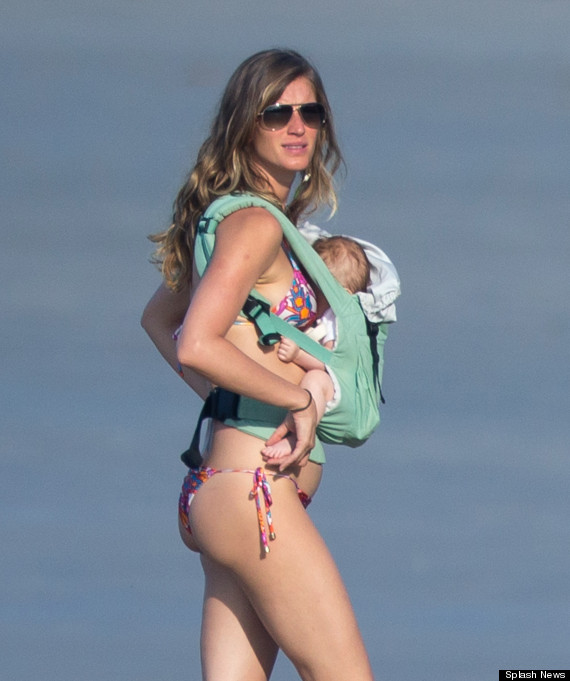 The Brazilian supermodel showed off her post-baby body (which looks very much like her pre-baby body to these eyes) during a beach break to Costa Rica.
Joining Gisele and her four-month-old daughter Vivian Lake on the trip was her American footballer hubby Tom Brady, their three-year-old son Benjamin and their pitbull, Lua.
Gisele's amazing bod might have something to do with her pre-birth fitness routine of Kung Fu and Yoga.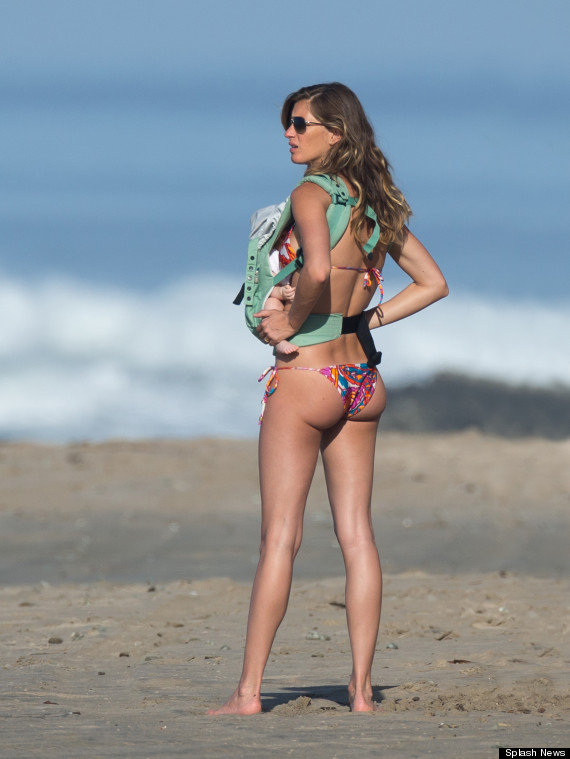 The 32-year-old told Vogue: "I did kung fu up until two weeks before Benjamin was born, and yoga three days a week. I think a lot of people get pregnant and decide they can turn into garbage disposals."
And if you think that sounds a little, well, smug then you'll no doubt be even more irritated by what she had to say about giving birth for the first time.
"It wasn't painful, not even a little bit," she told Brazilian TV show Fantastico. "The whole time, my head was so focused – every contraction, the baby is closer, the baby is closer.
"So, it wasn't like, 'Oh, what pain.' It was, 'With every contraction, he is getting closer to me.' "
Who's the mumma? Kate Middleton Who's the daddy? Prince William Baby ETA: 2015 Interesting fact: Oh we don't know... how about the fact that when her bundle of joy is born he or she will become fourth in line to the British throne?!

Who's the mumma? Jacqueline Jossa Who's the daddy? Dan Osborne Baby ETA: 2015 Interesting fact: Jacqueline confirmed that she was expecting Dan's child just months after his son, Teddy, was born.

Who's the mumma? Una Foden Who's the daddy? Ben Foden Baby ETA: 2015 Interesting fact: Una confirmed her pregnancy after it was noticed she wasn't dancing during The Saturdays' most recent tour.

Who's the mumma? Kourtney Kardashian Who's the daddy? Scott Disick Baby ETA: Late 2014 Interesting fact: This will be the stylish reality star's third child, and will become the youngest member of the 'Keeping Up With Kardashian' cast

Who's the mumma? Dawn O'Porter Who's the daddy? Chris O'Dowd Baby ETA: 2015 Interesting fact: Dawn revealed she was pregnant while taking part in the Ice Bucket Challenge.

Who's the mumma? Martine McCutcheon Who's the daddy? Singer/songwriter Jack McManus Baby ETA: February 2015 Interesting fact: Martine revealed to Hello! magazine that she was worried her health issues meant she wouldn't be able to conceive, but confirmed she was pregnant with her first child in 2014.

Who's the mumma? Alicia Keys Who's the daddy? Swizz Beatz Baby ETA: 2015 Interesting fact: The couple confirmed on their fourth wedding anniversary that they were expecting their second child together.