The Huffington Post pictures of the day brings you the very best images from around the world chosen by our own photo editors, Elliot Wagland, Matthew Tucker and Tahira Mirza.
We would love to hear your thoughts on the stories of the day - leave a comment at the bottom of the blog.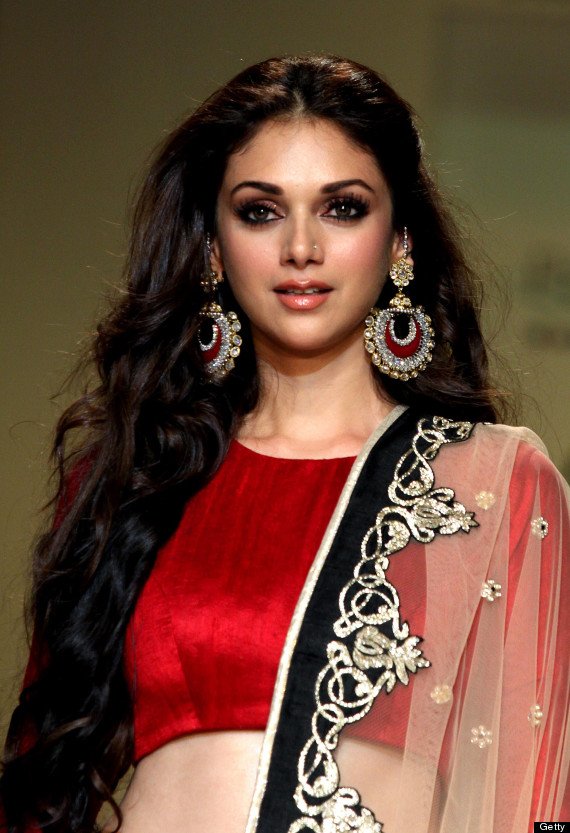 Indian Bollywood film actress Aditi Rao Hydari showcases a creation by designer Payal Singhal during a fashion show on the fourth day of the Lakme Fashion Week (LFW) summer/resort 2013 in Mumbai on March 25, 2013.
Loading Slideshow
FASHION-IND-LAKME

A model showcases a creation by designer Swapnil Shinde during a fashion show on the third day of the Lakme Fashion Week (LFW) Summer/Resort 2013 in Mumbai on March 24, 2013. AFP PHOTO (Photo credit should read STR/AFP/Getty Images)

FASHION-INDIA-LAKME-BOLLYWOOD

Indian Bollywood film actress Aditi Rao Hydari showcases a creation by designer Payal Singhal during a fashion show on the fourth day of the Lakme Fashion Week (LFW) summer/resort 2013 in Mumbai on March 25, 2013. AFP PHOTO (Photo credit should read STR/AFP/Getty Images)

FASHION-INDIA-LAKME-BOLLYWOOD

Indian Bollywood film actress Aditi Rao Hydari showcases a creation by designer Payal Singhal during a fashion show on the fourth day of the Lakme Fashion Week (LFW) summer/resort 2013 in Mumbai on March 25, 2013. AFP PHOTO (Photo credit should read STR/AFP/Getty Images)

FASHION-INDIA-LAKME

A model showcases a creation by designer Farha and Firdos during a fashion show on the fourth day of the Lakme Fashion Week (LFW) summer/resort 2013 in Mumbai on March 25, 2013. AFP PHOTO (Photo credit should read STR/AFP/Getty Images)

FASHION-INDIA-LAKME-BOLLYWOOD

Indian Bollywood film actress Vidya Malvade showcases a creation by designer Farha and Firdos during a fashion show on the fourth day of the Lakme Fashion Week (LFW) summer/resort 2013 in Mumbai on March 25, 2013. AFP PHOTO (Photo credit should read STR/AFP/Getty Images)

FASHION-INDIA-LAKME

Indian Bollywood film actress Tanisha Mukherjee poses during the fourth day of the Lakme Fashion Week (LFW) summer/resort 2013 in Mumbai on March 25, 2013. AFP PHOTO (Photo credit should read STR/AFP/Getty Images)

FASHION-INDIA-LAKME

A model showcases a creation by designer Payal Singhal during a fashion show on the fourth day of the Lakme Fashion Week (LFW) summer/resort 2013 in Mumbai on March 25, 2013. AFP PHOTO (Photo credit should read STR/AFP/Getty Images)

FASHION-INDIA-SYIEM

(L-R) British actress and model Hazel Keech, Chitrangada Singh and Prachi Desai pose during the fourth day of the Lakme Fashion Week (LFW) summer/resort 2013 in Mumbai on March 25, 2013. AFP PHOTO (Photo credit should read STRDEL/AFP/Getty Images)

FASHION-INDIA-LAKME

(L-R) British actress and model Hazel Keech and Indian film actresses Chitrangada Singh and Prachi Desai pose during the fourth day of the Lakme Fashion Week (LFW) summer/resort 2013 in Mumbai on March 25, 2013. AFP PHOTO (Photo credit should read STR/AFP/Getty Images)

FASHION-INDIA-LAKME-BOLLYWOOD

Indian Bollywood film actress Vidya Malvade showcases a creation by designer Farha and Firdos during a fashion show on the fourth day of the Lakme Fashion Week (LFW) summer/resort 2013 in Mumbai on March 25, 2013. AFP PHOTO (Photo credit should read STR/AFP/Getty Images)

FASHION-INDIA-LAKME

A model showcases a creation by designer Farha and Firdos during a fashion show on the fourth day of the Lakme Fashion Week (LFW) summer/resort 2013 in Mumbai on March 25, 2013. AFP PHOTO (Photo credit should read STR/AFP/Getty Images)

FASHION-INDIA-LAKME-BOLLYWOOD

Indian Bollywood film actress Aditi Rao Hydari showcases a creation by designer Payal Singhal during a fashion show on the fourth day of the Lakme Fashion Week (LFW) summer/resort 2013 in Mumbai on March 25, 2013. AFP PHOTO (Photo credit should read STR/AFP/Getty Images)

FASHION-INDIA-LAKME

A model showcases a creation by designer Payal Singhal during a fashion show on the fourth day of the Lakme Fashion Week (LFW) summer/resort 2013 in Mumbai on March 25, 2013. AFP PHOTO (Photo credit should read STR/AFP/Getty Images)

FASHION-INDIA-LAKME

A model showcases a creation by designer Payal Singhal during a fashion show on the fourth day of the Lakme Fashion Week (LFW) summer/resort 2013 in Mumbai on March 25, 2013. AFP PHOTO (Photo credit should read STR/AFP/Getty Images)

FASHION-IND-LAKME

A model showcases a creation by designer Swapnil Shinde during a fashion show on the third day of the Lakme Fashion Week (LFW) Summer/Resort 2013 in Mumbai on March 24, 2013. AFP PHOTO (Photo credit should read STR/AFP/Getty Images)

FASHION-IND-LAKME

A model showcases a creation by designer Swapnil Shinde during a fashion show on the third day of the Lakme Fashion Week (LFW) Summer/Resort 2013 in Mumbai on March 24, 2013. AFP PHOTO (Photo credit should read STR/AFP/Getty Images)

FASHION-IND-LAKME

A model showcases a creation by designer Swapnil Shinde during a fashion show on the third day of the Lakme Fashion Week (LFW) Summer/Resort 2013 in Mumbai on March 24, 2013. AFP PHOTO (Photo credit should read STR/AFP/Getty Images)

FASHION-IND-LAKME

Models showcase creations by designer Swapnil Shinde (2L) during a fashion show on the third day of the Lakme Fashion Week (LFW) Summer/Resort 2013 in Mumbai on March 24, 2013. AFP PHOTO (Photo credit should read STR/AFP/Getty Images)

FASHION-IND-LAKME

A model showcases a creation by designer Swapnil Shinde during a fashion show on the third day of the Lakme Fashion Week (LFW) Summer/Resort 2013 in Mumbai on March 24, 2013. AFP PHOTO (Photo credit should read STR/AFP/Getty Images)

FASHION-IND-LAKME

A model showcases a creation by designer Swapnil Shinde during a fashion show on the third day of the Lakme Fashion Week (LFW) Summer/Resort 2013 in Mumbai on March 24, 2013. AFP PHOTO (Photo credit should read STR/AFP/Getty Images)

FASHION-INDIA-KHANNA

A model showcases a creation by designer Arjun Khanna during a fashion show on the third day of the Lakme Fashion Week (LFW) Summer/Resort 2013 in Mumbai late March 24, 2013. AFP PHOTO/STR (Photo credit should read STRDEL/AFP/Getty Images)

FASHION-IND-LAKME

A model showcases a creation by designer Swapnil Shinde during a fashion show on the third day of the Lakme Fashion Week (LFW) Summer/Resort 2013 in Mumbai on March 24, 2013. AFP PHOTO (Photo credit should read STR/AFP/Getty Images)

FASHION-IND-LAKME

A model showcases a creation by designer Krishna Mehta during a fashion show on the third day of the Lakme Fashion Week (LFW) Summer/Resort 2013 in Mumbai on March 24, 2013. AFP PHOTO (Photo credit should read STR/AFP/Getty Images)

FASHION-IND-LAKME

A model showcases a creation by designer Krishna Mehta during a fashion show on the third day of the Lakme Fashion Week (LFW) Summer/Resort 2013 in Mumbai on March 24, 2013. AFP PHOTO (Photo credit should read STR/AFP/Getty Images)

FASHION-INDIA-KHANNA

A model showcases a creation by designer Arjun Khanna during a fashion show on the third day of the Lakme Fashion Week (LFW) Summer/Resort 2013 in Mumbai late March 24, 2013. AFP PHOTO/STR (Photo credit should read STRDEL/AFP/Getty Images)

FASHION-IND-LAKME

A model showcases a creation by designer Saileex during a fashion show on the third day of the Lakme Fashion Week (LFW) Summer/Resort 2013 in Mumbai on March 24, 2013. AFP PHOTO (Photo credit should read STR/AFP/Getty Images)

FASHION-IND-LAKME

A model showcases a creation by designer Krishna Mehta during a fashion show on the third day of the Lakme Fashion Week (LFW) Summer/Resort 2013 in Mumbai on March 24, 2013. AFP PHOTO (Photo credit should read STR/AFP/Getty Images)

FASHION-IND-LAKME

A model showcases a creation by designer Krishna Mehta during a fashion show on the third day of the Lakme Fashion Week (LFW) Summer/Resort 2013 in Mumbai on March 24, 2013. AFP PHOTO (Photo credit should read STR/AFP/Getty Images)

FASHION-IND-LAKME

A model showcases a creation by designer Swapnil Shinde during a fashion show on the third day of the Lakme Fashion Week (LFW) Summer/Resort 2013 in Mumbai on March 24, 2013. AFP PHOTO (Photo credit should read STR/AFP/Getty Images)

FASHION-IND-LAKME

A model showcases a creation by designer Krishna Mehta during a fashion show on the third day of the Lakme Fashion Week (LFW) Summer/Resort 2013 in Mumbai on March 24, 2013. AFP PHOTO (Photo credit should read STR/AFP/Getty Images)

FASHION-IND-LAKME

A model showcases a creation by designer Swapnil Shinde during a fashion show on the third day of the Lakme Fashion Week (LFW) Summer/Resort 2013 in Mumbai on March 24, 2013. AFP PHOTO (Photo credit should read STR/AFP/Getty Images)

FASHION-IND-LAKME

A model showcases a creation by designer Swapnil Shinde during a fashion show on the third day of the Lakme Fashion Week (LFW) Summer/Resort 2013 in Mumbai on March 24, 2013. AFP PHOTO (Photo credit should read STR/AFP/Getty Images)